HAF Virtual Event: A conversation with The Pew Research Center
June 30, 2021 @ 8:30 pm

-

9:30 pm

EDT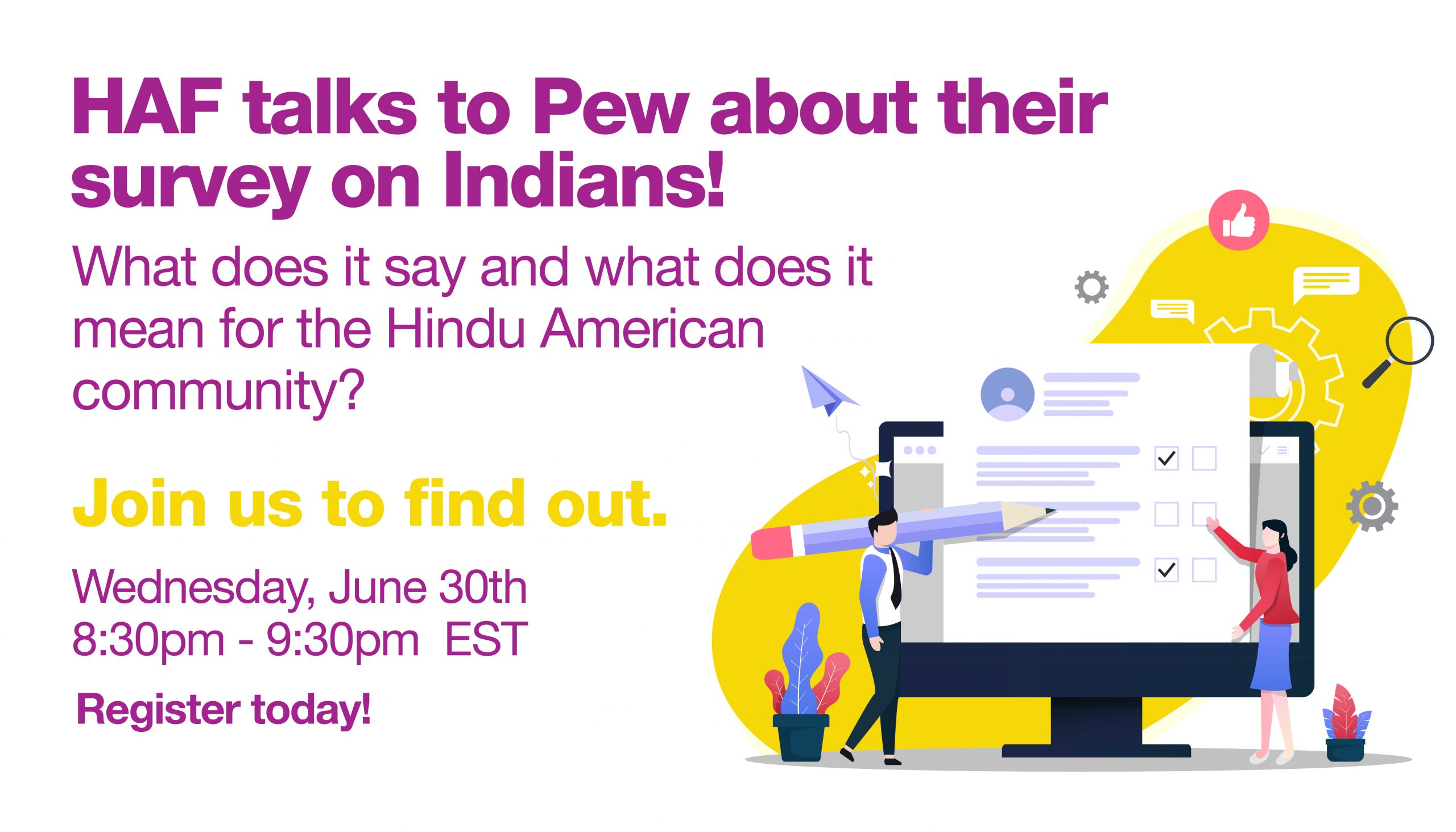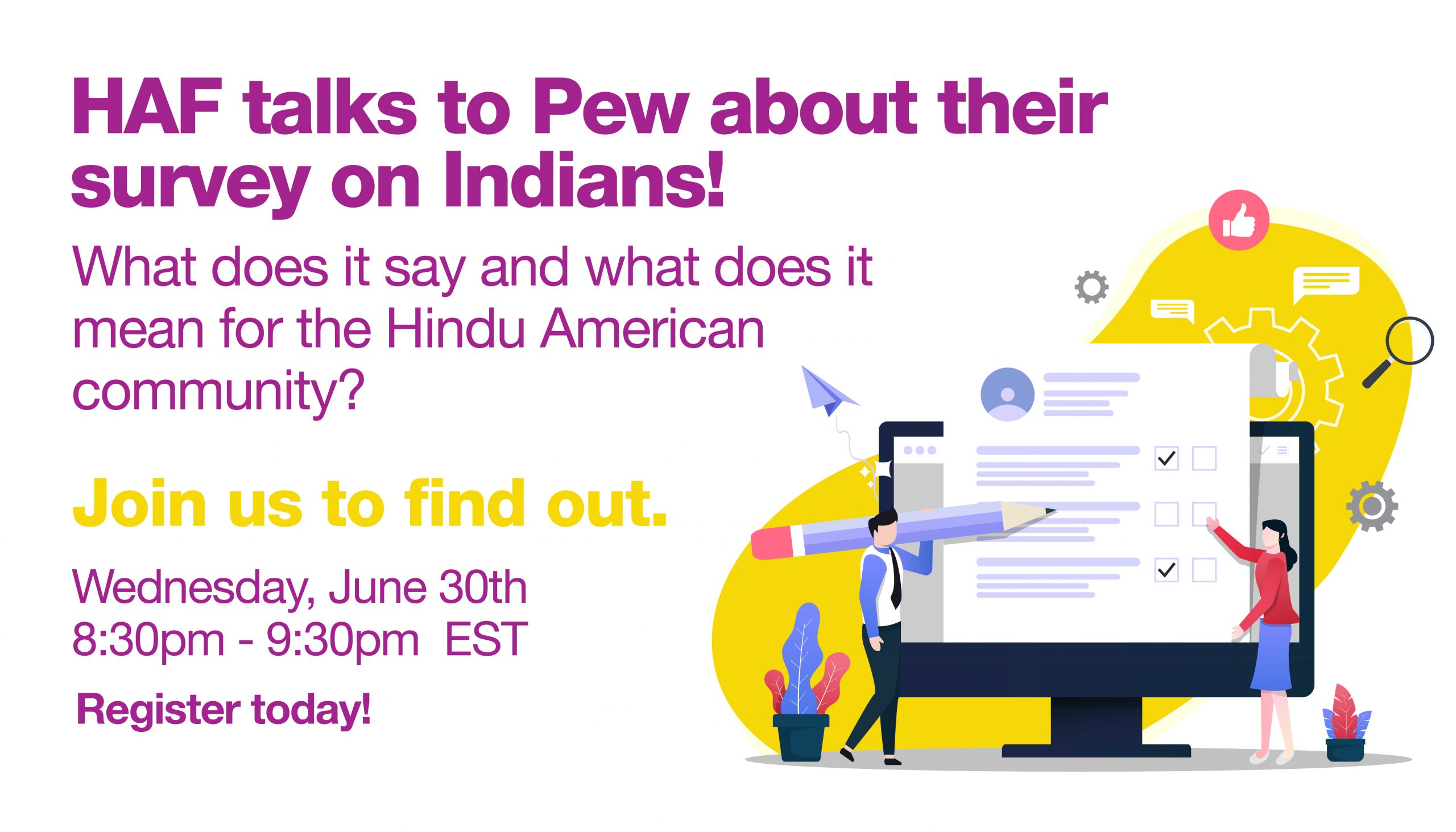 HAF Virtual Event: A conversation with The Pew Research Center
Date: Wednesday, June 30, 2021 | Time: 8:30 – 9:30 pm ET / 5:30 – 6:30 pm PT | Facebook Live
Join us on Facebook Live as the authors from The Pew Research Center discuss findings from their newly released survey on Indians.
The survey reached almost 30,000 Indians in 17 different languages.  It focused on:
their religious experience, examining several broad themes, such as observances and beliefs
how they define their religious and national identities
how religious groups view each other
their attitudes toward pluralism and diversity
the connection between economic development and religious observance
Find out the key takeaways and what they mean for the Hindu American community. You'll also have an opportunity to have your questions answered.
We will be live streaming this conversation on Facebook Live (@hinduamerican). Registration no longer required.
Neha Sahgal
Neha Sahgal is associate director of research at Pew Research Center, specializing in international polling on religion. Sahgal is involved in all aspects of survey research, including designing the questionnaire, monitoring field work, evaluating data quality and analyzing results.
Sahgal has been invited to speak about the project's research at universities, religious organizations and government agencies such as the U.S. Department of State and the European Union. She also talks about the Center's findings in international print and broadcast media.
Before joining the Pew Research Center, Sahgal worked at The Asia Foundation in San Francisco. She received her doctorate in government and politics, with a concentration in the comparative politics of the Middle East and South Asia, from The University of Maryland in 2008.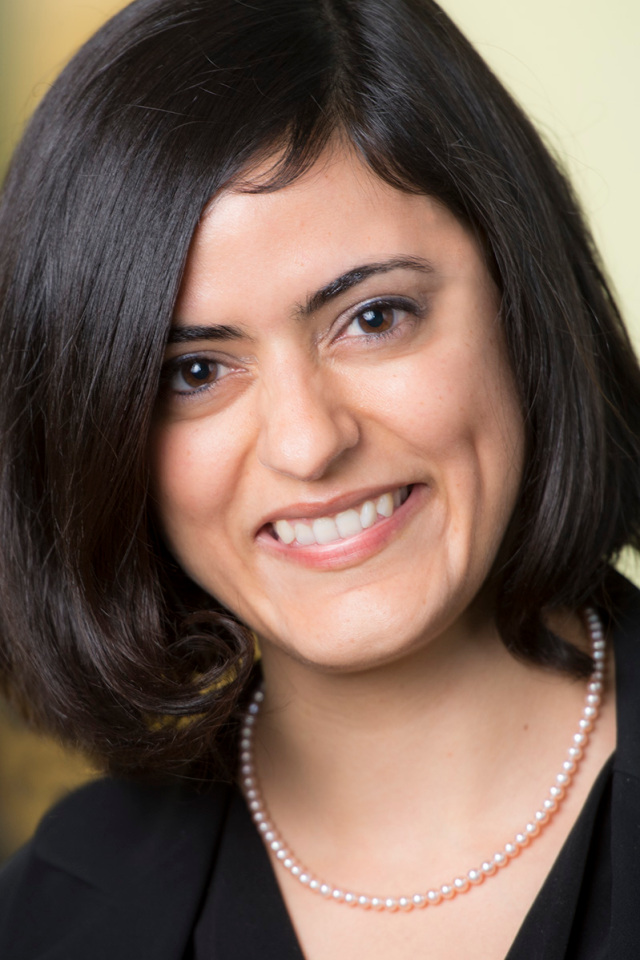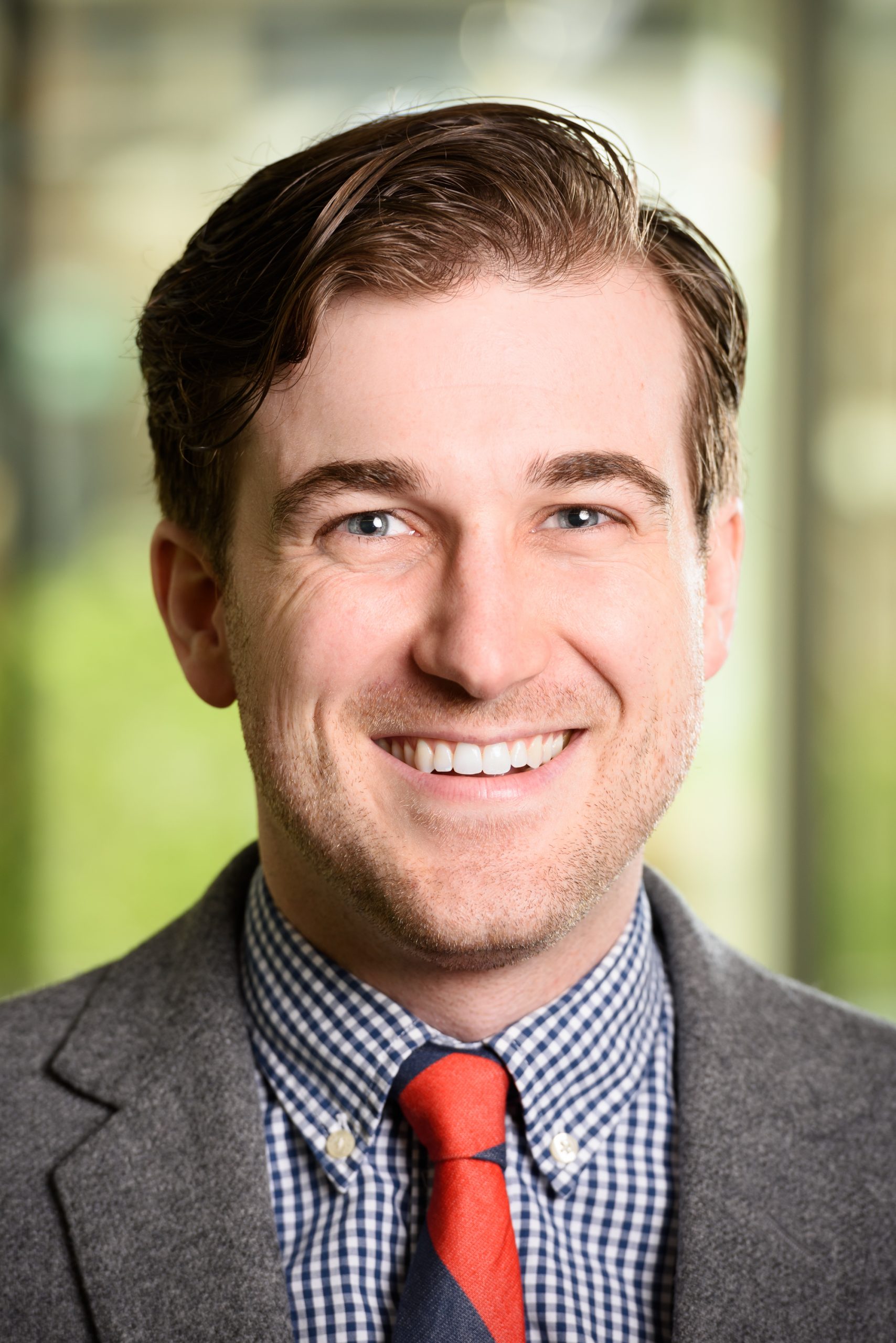 Suhag Shukla, Esq.
Suhag Shukla, Esq. is HAF Executive Director and a co-founder of the Foundation. Ms. Shukla has helped steer the Foundation to being recognized as a leading voice for civil rights, human rights, and religious freedom. She is actively involved with Chinmaya Mission, serves on the board of the Bhutanese American Organization of Philadelphia, and is a thought partner for the Interfaith Center of Greater Philadelphia's Paths to Understanding Public Art Initiative. Shukla is a member of the board for the National Museum of American Religion and serves on religious advisory committees for the Council on Foreign Relations, the Humane Society of the United States, and the Department of Homeland Security's Subcommittee for the Prevention of Targeted Violence Against Faith–Based Communities and is a member of the First Amendment Center's Committee on Religious Liberty and the United Nations Women's Gender Equality and Religion platform. Shukla was named one of twelve "faith leaders to watch in 2017" by the Center for American Progress.