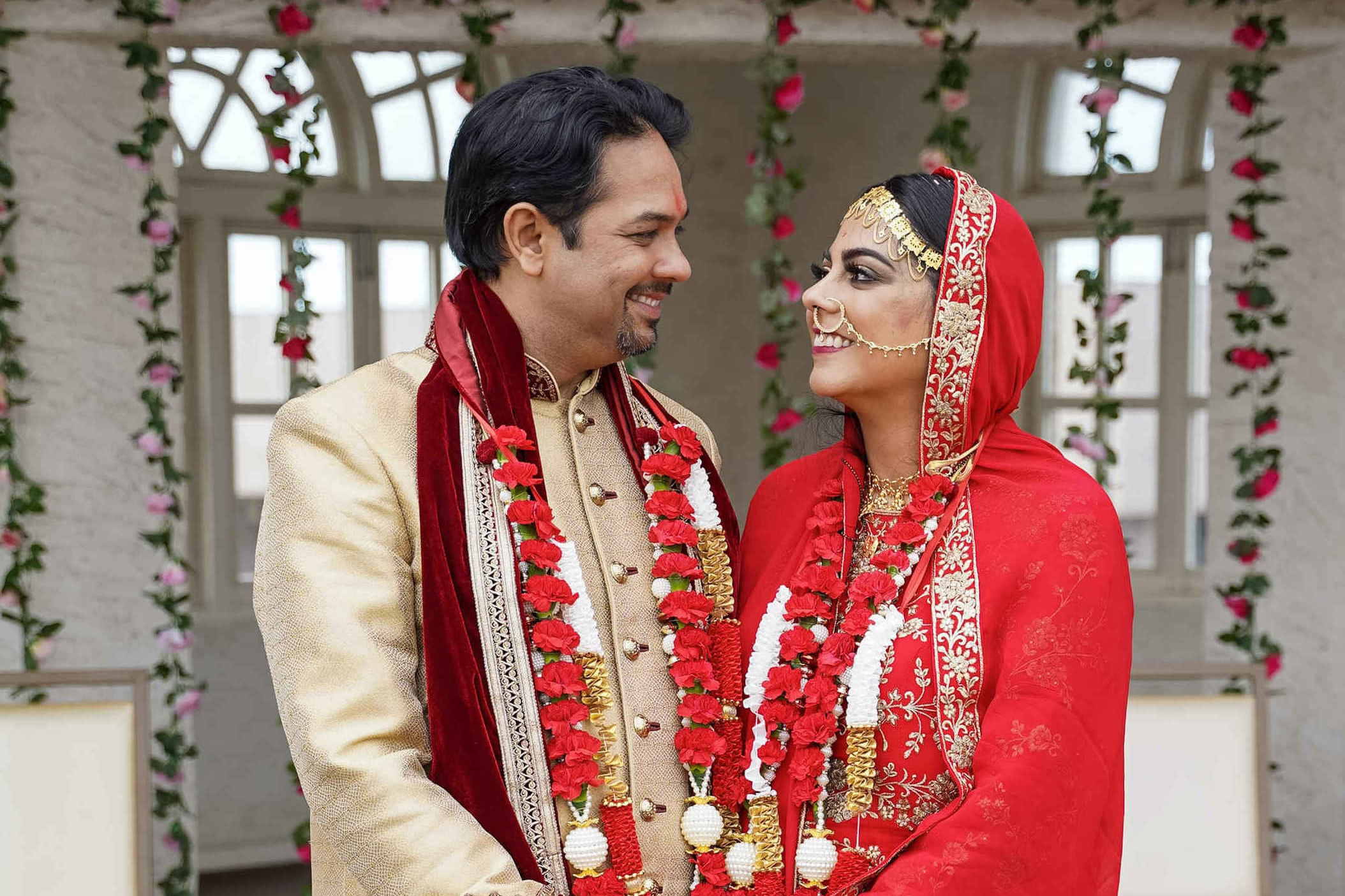 Many women around my age have fond memories of 1990s classic Bollywood movies, but none reign supreme than the much beloved Dilwale Dulhania Le Jayenge, commonly memed as DDLJ.
There are many unforgettable moments in this film but it's the tense scene when Simran and Raj (Kajol and Shah Rukh Khan) fast for each other during Karwa Chauth that stood out to me as a child.
Throughout the day, Simran is fasting, not for the well-being of the man she is engaged to, but for Raj whom she actually loves and her father disapproves of. Raj, who also fasts, and Simran scheme throughout the day and joke with one another to distract themselves from their hunger. This pivotal moment in the film peaks when the moon appears and it's time for Simran to break her fast, which traditionally should be done by her partner who gives her the first bite of food for the day. However, Simran pretends to faint from hunger, thus creating a distraction and allowing Raj to give her a bite of food and in turn her fasting becomes in honor of him…of them.
Like many Hindu holidays, the timing of Karwa Chauth or Karva Chauth is lunar-based, so the date changes annually in the Western calendar. It falls on the 4th day (chauth) of the month of Kartik (October-November).
Karwa Chauth is maintained primarily by Hindu families in the northerns states of India, in which wives fast for the longevity and health of their husbands.
The festival is for married women, known as suhagan, but many unmarried women celebrate in hopes of meeting their ideal life partner.
The fast is broken once darkness falls and the moon is visible. It is often the husband who gives the wife her first bite of food as a thank you for selflessly keeping his well-being in mind.
I was about five years old when my family moved to Des Moines, Iowa from the UK and Karwa Chauth was a smidge less dramatic without the magnificent DDLJ soundtrack on loop.
Karwa Chauth takes place in the fall/winter months so the idea of fasting becomes less appealing as temperatures cool. But my mom and her group of friends had their own traditions to help make the day special. They would take the day off from their respective jobs, get together for a midday movie and an afternoon cup of tea at one of the aunties' homes. Often, our house was the central spot for all things celebratory. Sometimes group trips were made to the nail salon or nails were done at home to help make the day go by faster in hopes of forgetting that many of them hadn't eaten since before sunrise.
In some communities, married women would buy new karwa (spherical clay pots) and decorate them with bangles, sweets, make-up items, and small clothes inside. The women would then exchange these karwa on Karwa Chauth.
Prior to Karwa Chauth, my Wadimama (paternal grandmother) would send a package for Mom containing lipstick, mehndi cones (henna), costume bangles, an ornate dupatta (scarf) and Indian sweets known as mithai.
This is commonly referred to as part of sargi and is customarily given by the mother-in-law or eldest sister/sister-in-law in the paternal house.
Sargi customarily contains kheer (vermicelli) — and had my dad's family lived closer, they likely would have all gotten together to eat breakfast before sunrise — so over time for many families, sargi has transformed into a collection of sweets and decorative items for the daughter-in-law.
The idea of the decorative items is to revisit the beauty rituals often performed by brides so as you're fasting, you're also thinking about the vows you took on that day.
But no one wants to sit around in a sari all day, hungry and waiting for the moon to rise. So after school, all of us children would join our moms at the designated house with fathers joining later on after the workday was done. That's when all of the moms would change into salwar kameezes (Indian pantsuits for women) or Indian fusion outfits to prepare for the puja as seen by the picture below of my parents in 1998.
During puja, offerings were given to the murti (deities), bhajans (devotionals) were sung, and later on games were played, such as passing a thali (tray) with sweets and diya as we all waited for the moon to appear. By this time, pizza had usually been ordered for the kids to eat as the adults wouldn't eat til much later.
As the moon became visible, all of the parents would head outside with their puja thali (prayer trays), with items such diya (clay light), karwa (pitcher), incense, mithai (sweets), kumkum (red vermillion powder), and rice.
Many of the women also brought a decorated sieve tray with them, called a jaali, to view the moon once it rose and then to look through at their husband. There are several regional legends and cultural traditions to this part, some view the moon as a form that Lord Brahma takes that day or as a form of Lord Shiva and his son, Lord Ganesh. Some view the moon as a symbol of love and beauty so by viewing it through the sieve it allows women to pay respects by the moon by not looking at it directly, or that the filtered views of the moon signify receiving only blessings of happiness in life. Some believe that a couple enjoys a happy married life that lasts for as many holes as there are in the sieve, and some believe that by looking at your husband through the sieve, it removes all the evil effects from him. Nowadays, thanks to Etsy and Amazon, you can get decorated jaali, but they weren't always as commonly found, so many women used their dupatta to view the moon. After this, the husbands give their wives water and something sweet to break the fast.
Role of Family and Community
Most of the Hindu families in Des Moines were away from relatives abroad, so we regularly gathered to honor annual Hindu and American holidays. The solidarity of Karwa Chauth celebrations centered around the community of support these women developed and the connections they had with their respective husbands, as for many this was their only family in the United States.
I didn't know it at the time, but these rituals were similar to the popular narratives of what Karwa Chauth meant to married women.
In older times, it was common for married women to live with their in-laws, which could be isolating and difficult as new bonds had to be formed and trust had to develop. With technology not being what it is now, newly married women could go long stretches of time without speaking to their own family or the friends they left behind. It was therefore encouraged for friendships to form between women of the same age in the same village, so a new bride would develop her own relationships outside of her new family. Similarly, for my mom and her friends, Karwa Chauth also honored the connections they made as they became one another's support.
In addition to the relationship between a husband and wife, there are also elements to Karwa Chauth that recognize the traditional relationship between a daughter-in-law and her in-laws, particularly her mother-in-law.
Much of the significance of Karwa Chauth recognizes the importance a married woman plays in her in-law's home and the reciprocal relationship they develop as women in a joint family. This is why it is the mother-in-law that provides the sargi for the fast as she recognizes the sacrifice the daughter-in-law makes for the son in honor of his well-being. Likewise, the daughter-in-law honors her mother-in-law by giving her a gift consisting of mithai or the puja offerings after the ceremony is completed.
Historically, this festival was celebrated as a prayer for the long life of soldiers in the war, and by extension today refers to the long life of one's husband.
There are many origin legends to Karwa Chauth, but my favorite is the popular tale of Queen Veervati who had seven attentive and loving brothers. On her first Karwa Chauth, the queen fasted, but the rigorous ritual of consuming not even a drop of water caused her a lot of stress. Her brothers, wishing to not see their sister suffer, tried to help by placing a mirror on a tree so that it looked like a moon rising. Thinking it was time, she prematurely broke her fast, which led to her husband dying as she began eating. At night Goddess Indrani came to visit the queen and explained that her brothers had tricked her and that she would need to repeat the fast, and only then would her husband come back to life.
Another variation of this story is that the brothers built a massive fire behind a mountain instead and tricked Queen Veervati into believing that the glow of the fire was the moon, leading the queen to break her fast prematurely and her husband's death. In this version, the queen runs to her home to try and save her husband, but on the way she encounters Lord Shiva and Goddess Parvati, who reveal to her the brothers' trickery. To help, Goddess Parvati cuts her own finger to give the Queen a few drops of her healing blood, and instructs her to complete the fast in the future. Queen Veervati sprinkles Parvati's blood on her dead husband, bringing him back to life so they can be reunited.
This story also appears in the Mahabharata, where Draupadi seeks help for Arjun and asks Lord Krishna, who reminds her of the fast kept by Goddess Parvati when she needed guidance from Lord Shiva, who in turn reminded Goddess Parvati the story of Veeravati in describing the Karwa Chauth fast. These legends are usually told on Karwa Chauth as a powerful reminder of the inner strength and resolve women have.
My first Karwa Chauth
In March 2020, I married Vijay, an amazing Tamilian man who had never seen DDLJ. And by April, I had rectified that (spoiler alert: he didn't love it "so long," "SRK overacts" and "I think Asha is a better singer than Lata"). But for me, this was the first time in a while that I had seen this film so I was interested to know if I still loved it and I did.
Growing up, for me there were so many things about Simran that emulated my own life: we are both Punjabi, both part of the Indian Diaspora in the United Kingdom, and we both had an interesting eyebrow situation. However, the character of Simran was a bit older than me so seeing her traveling abroad with friends and her seamless transformation from a student to an elegant young woman was inspiring.
But now, I related to the movie differently as I was a new bride and I had a new balance to shift: my American ways with the Hindu customs I grew up with. So I noticed different things when viewing the film after so long: Simran was true to herself, she was outspoken and she was challenging cultural and societal norms while forging new grounds and maintaining religious traditions.
As a new bride, November 4th will be my first Karwa Chauth and in preparation, we've ordered a complete puja thali with all items including a jaali. Vijay will keep the fast with me that day.
But we had a little practice back in July when we celebrated Varalakshmi Vrat (Varalakshmi observance), which is popular in many of the southern states in India, such as  Tamil Nadu, Karnataka, Andhra Pradesh, Telangana. It's also celebrated in Maharashtra and Uttar Pradesh.
Similar to Karwa Chauth, there are messages of health, happiness, longevity, and prosperity. Though many may say that elaborate preparations are not needed, I was still asked nicely by my mother-in-law to get dressed up (I didn't have the patience that day for a sari), as in Tamil tradition, the wife is treated like Lakshmi in that she is considered an embodiment of her and is honored with a special prayer.
Observing Varalakshmi Vrat is equivalent to worshipping Ashtalakshmis (eight different forms of Lakshmi). In this picture, you can see the kumkum (red vermillion) and the mali (sacred thread) around my wrist, but in true fusion confusion, I have it on my left wrist when it should actually be on my right for this tradition.
We listened to Aarti on Bluetooth as we stood near our home puja with our small but growing collection of murti (deities). Later that day and after the sun had set, we had food delivered and spent the day feeling blessed and in love.
As like many things right now, a critical lens is being applied to religious customs and cultural rites.
The narrative for some is that holidays like Karwa Chauth put men on a pedestal and perpetuate antiquated stereotypes about gender. But as a proud feminist and first- generation Hindu American, I find such critiques biased and simplistic.
I have always heard that Hinduism is a way of life and I have always listened to how Hinduism could be practiced, but I've always interpreted it's meaning based on my experiences and the examples set by my family and community.
I have never relied on any one interpretation of a pluralistic tradition. Nor have I ever thought that in my relationship, my partner's well-being is more important than mine.
Instead, I view Kurwa Chauth as a modern-day Valentines day with the couple honoring each other and remembering the vows they both took on their wedding day.
Though many Bollywood films like Hum Aapke Hai Koun and Kabhi Khushi Kabhie Gham (KKKG) show Karwa Chauth as a large celebration filled with family and friends.
I view my first Kurwa Chauth as being deeply personal and reflective of my own interpretations of a holiday. I am still developing my own relationship combined with the fond memories I witnessed my mom and her friends celebrating. As a new Bay Area transplant and in this covid-era, I won't be able to get together with friends who are keeping Karwa Chauth, but maybe one day that will change. For me, Karwa Chauth is about celebrating our marital commitment and the longer we live and are together, the hope of a happy married life isn't just reliant on me. It takes two of us.
As for my Des Moines community, many moved to warmer temperatures and resettled in different parts of the US, with many of us "kids" keeping in touch and attending each other's weddings. My own parents left in 2004 and settled closer to my Mama (maternal uncle) in San Antonio. After 44 years of marriage, my mother still keeps Karwa Chauth, but now my dad keeps the fast with her as a sign of solidarity and, in his own way, to pray for her long and healthy life. She sends my sister-in-law sargi every year, but in a truly modern touch, includes a gift card so she can pick out her own lipstick and nail polish. It's a good reminder that while things may change in how they are celebrated, the connections and the underlying meanings they hold stays the same.