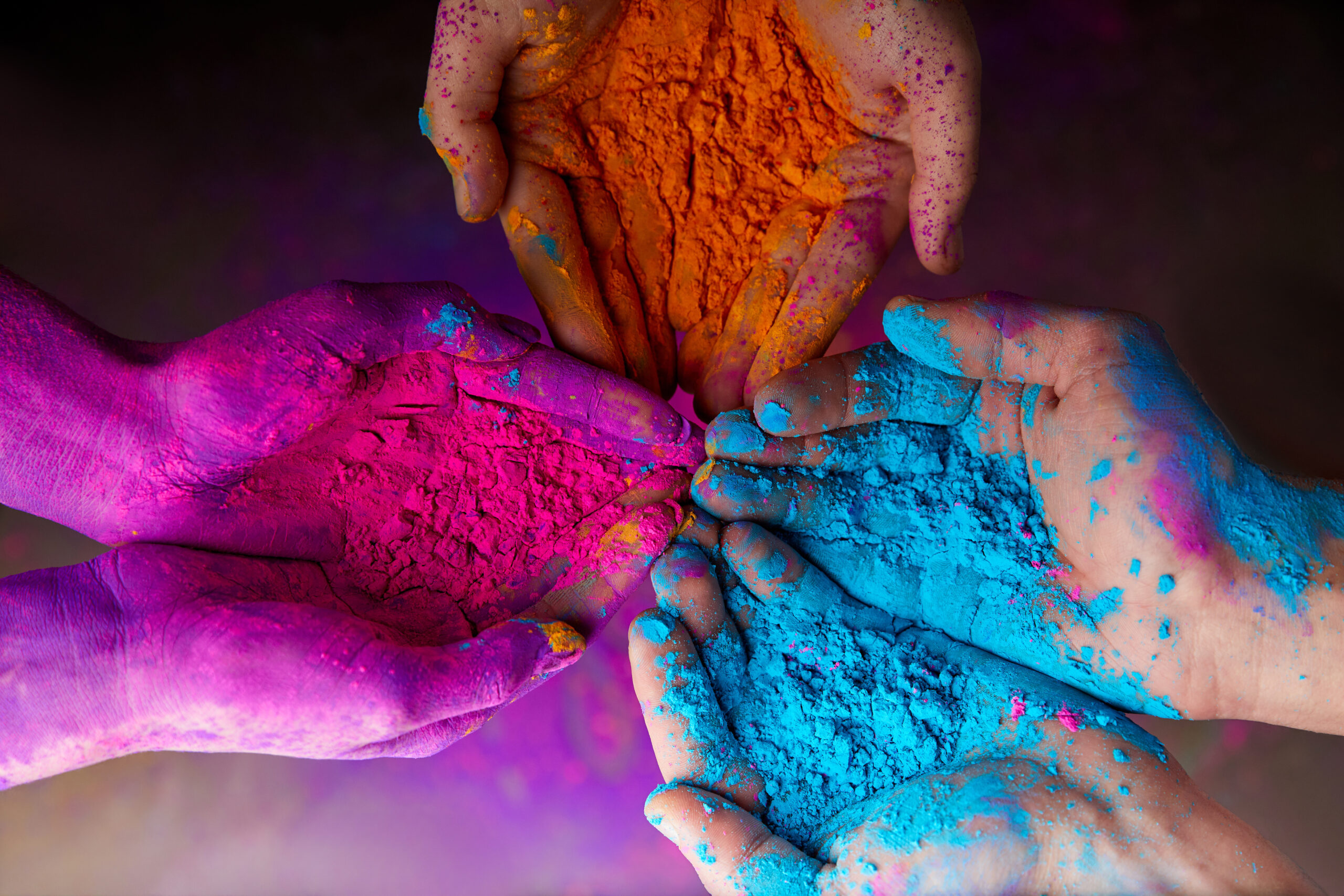 1) Holi is known as the "Festival of Colors"
Falling on the purnima (full-moon day) of Phalguna (the last month of the Hindu lunar calendar that occurs sometime between late February and the middle of March), Holi is a Hindu spring festival that is often referred to as the "Festival of Colors," as it is best known for the throwing of colored powders and water. 
Though Holi originated in India, where it is recognized as a national holiday, its vibrant and joyous mood has made it incredibly popular outside of the country. Thus it's celebrated throughout the world by people of all nationalities, religions, and backgrounds.
Legends connected to the origin of Holi vary, and while some Hindu communities prefer one story over the other, the messages of goodness, renewal, and love are always the same. 

2) Holi commemorates the day Holika failed to kill Prahlad
One of the more popular stories related to Holi centers around the evil king Hiranyakashipu and his demonic sister Holika.
Having terrorized and conquered the entire universe, Hiranyakashipu believed himself to be all-powerful, and expected everyone to worship him as if he were God. 
His five-year-old son Prahlad, however, was a great devotee of Vishnu — someone Hiranyakashipu felt particular disdain towards for having killed his brother Hiranyaksha. When Hiranyakashipu thus discovered his own son not only worshipped Vishnu, but was openly glorifying him to his schoolmates, he became enraged.
Unable to curb Prahlad's devotion to Vishnu, Hiranyakashipu decided to have the boy killed. Despite trying various ways to end Prahlad's life, Hiranyakashipu failed. The prince came out of every deadly situation completely unharmed. Frustrated, Hiranyakashipu eventually asked his sister Holika, who had a special power that prevented her from being hurt by agni (fire), to bring Prahlad into a fire pit with her, where he would hopefully burn to ashes. 
Fully surrendered to Vishnu, Prahlad fearlessly entered the fire. Vishnu, who is not only known as the protector of the universe but also the protector of his devotees, shielded Prahlad from harm and reversed Holika's power so that she burned instead. 
Besides being a reminder of the power of good over evil, the story of Prahlad teaches us the potent strength imbued in those who remain humble, kind, and tolerant throughout the many negative situations life inevitably presents.

3) Holi honors the love between Radha and Krishna
Another popular story connected to Holi involves Krishna when he was a boy growing up in the village of Vrindavan. 
One day Krishna asked his mother why he was so dark-skinned, while Radha (the local beauty and his dearest friend), along with his other friends, were so fair. His mother jokingly responded by saying if he threw different colors on Radha's face, he could change her complexion to whatever color he liked. 
Being a mischievous prankster who liked to lovingly tease and taunt those who lived in the village, Krishna took his mother's advice and began drenching Radha and her friends with water and various colors. As more of the young villagers joined in on the fun, the activity became a regular pastime through which Radha and Krishna could playfully express their love for one another. 
In addition to honoring the divine affection Radha and Krishna have for each other, Holi is meant to remind us that in spite of our outward differences, everyone is equal and should be treated as such, which is why the celebration is known also as the "Festival of Love."

4) Holi marks the beginning of spring harvest
The community aspects of Holi, coupled with the fact that spring is the time many in India harvest wheat, cause some people to liken the holiday to the American tradition of Thanksgiving. On the eve of Holi, it is customary to light a bonfire and roast a special blend of gram, wheat, and other grains as an offering that promotes a feeling of companionship among those who are celebrating. This blend is called holuk, which means to offer sacrifices or prayer as thanks for a good harvest.
As Holi occurs right before the lunar new year, when the hardships of winter fade and the warmth of spring starts to set in, the holiday is a time for new beginnings, reminding people to shed negative habits of the past and move forward with renewed inspiration.

5) How to celebrate Holi
Depending on regional traditions and where you are in the world, Holi can be a two-day festival or an afternoon celebration. The first evening is known as Chhoti Holi (small Holi) and usually involves a symbolic bonfire where people gather around to sing and dance in hopes of overcoming negative energy by making a conscious effort to let go of bad thoughts and actions from the previous year. 
On the next day, people of all ages wear white and throw gulal (colored powder) and/or colored water at one another. In the evening, everyone gets together with their friends and family to enjoy festive food, sweets, and each other's company. Rangolis (colored patterns of flowers, powder, rice, or sand) are painted on the floor in front of houses, temples, and businesses; children are given new toys; and festive music and beats create a fun-filled atmosphere. 
The most well-known aspect of Holi — the throwing of colors — has been commercialized over the years in popular marathon events like Color Run. Holi is ultimately a festival meant to bring people of all backgrounds together in love and appreciation, and is in no way a celebration only for Hindu participation. But when key elements of the festival are presented without paying homage to or mentioning Hinduism, India, or the stories connected to Holi, the essence of the event often gets lost as an ancient spiritual tradition becomes culturally appropriated.
There are no formalities with Holi, and everyone is encouraged to take part in the celebration, but like any Hindu holiday, it's best to participate with an understanding of  that holiday's origin and ultimate divine purpose. 
Much of the information in this piece came from an HAF's educational Holi toolkit written by Hindu American Foundation's Director of Education Dr. Shereen Bhalla.