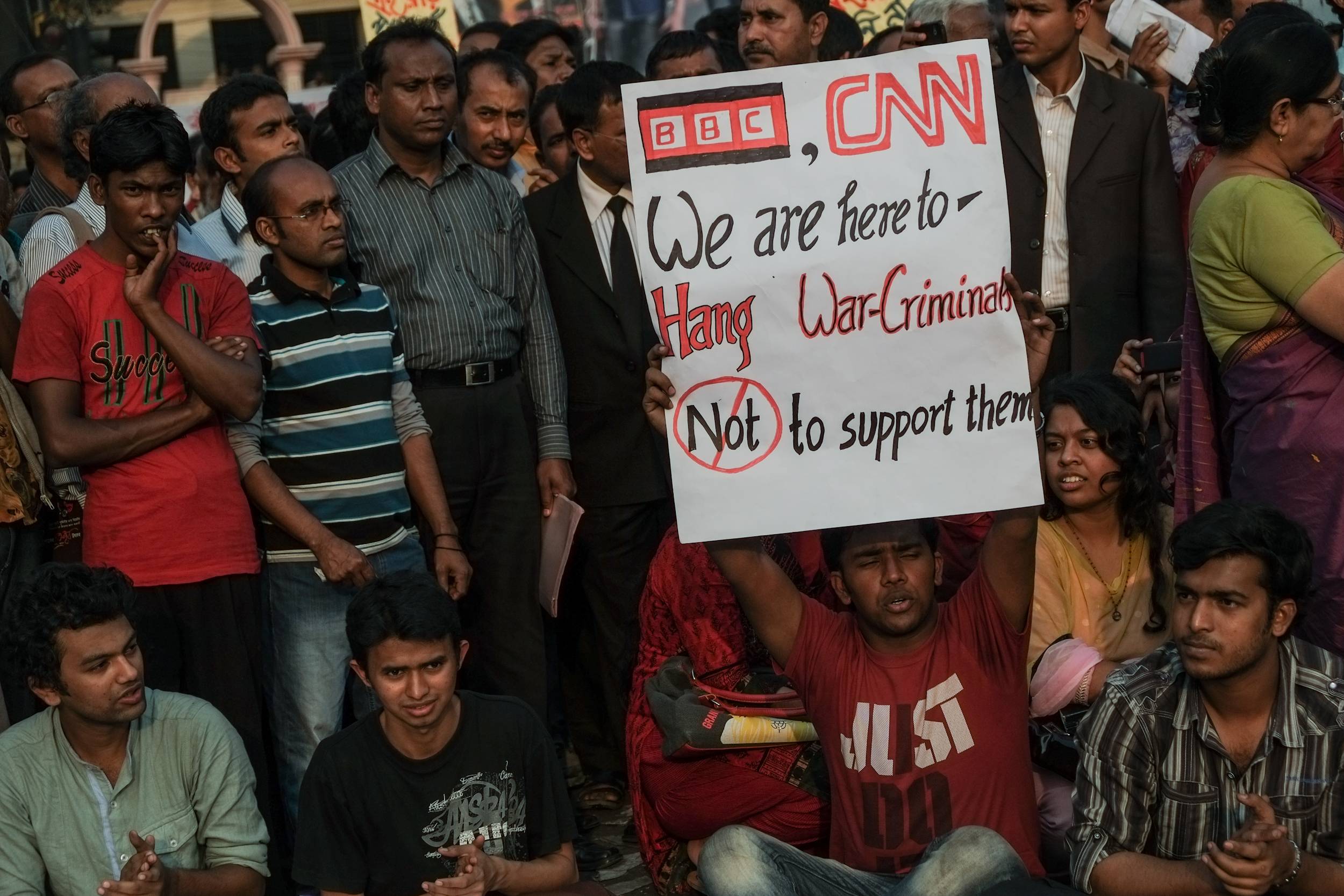 This past January, a group of policemen discovered a bomb-making factory owned by Islami Chhatra Shibir (ICS) in the Mohakhali district of Dhaka, Bangladesh. There, they found 130 crude bombs, two litres of petrol, 1 kilogram of gunpowder, and many other bomb-making materials. Less than a month later, a shootout between Jamaat-e-Islami (Jel) and police led to the discovery of a number of bombs and weaponry.
Who are these organizations, and why do they have access to so much artillery?
Jamaat-e-Islami (Jel) and its student counterpart, Islami Chhatra Shibir (ICS), are both radical Islamic groups who desire to create a theocratic Islamic state in Bangladesh. Jel and ICS constitute the most influential extremist Islamic organizations, and as such, have consistently used violent means to achieve their religio-political objectives. Their actions date back to the 1971 War of Independence, when they collaborated with the Pakistani army in terrorizing the ethnic Bengali population of East Pakistan; the collective violence committed by JeI/ICS led militias in conjunction with the Pakistani army led to the deaths of three million, the displacement of ten million, and the rape of 200,000 women. This was only the beginning of their reign of terror; since then, Jel-ICS members and supporters have created chaos and instability to rid Bangladesh of its minorities, and this activity can no longer be overlooked.
As Rukhsana Hasib, a Bangladeshi American activist whose family was separated and killed due during the 1971 War, recently noted at a Congressional Briefing on the escalating crisis in Bangladesh, "For Jamaat and other extremists, anyone who opposes their philosophy of a distorted view of Islam is the enemy. These extremists are strongly principled and are willing to kill and die for their cause. That makes them powerful and dangerous. Jamaat-e-Islami, the most known group in Bangladesh, is a terrorist organization and must be branded as such."
It's time to take action. And the first step in doing so involves the U.S. Department of State designating Jel and ICS as Foreign Terrorist Organizations (FTOs) under Section 219 of the Immigration and Nationality Act of 1965. This designation requires the following criteria to be met:
(1) the organization must be foreign
(2) it must engage in terrorist activity or retain the capability and intent to engage in terrorist activity
(3) this activity must threaten the national security of the United States.
It's not only clear that Jel and ICS are both foreign organizations based in Bangladesh, but also that their engagement in terrorist activities is extensive and widespread. Their tactics range from bombings and attacks on private residences, businesses, and places of worship to political assassinations to the rape and forced conversion of Hindu girls. In just the past two years, Jel-ICS activists have attacked a number of innocent civilians, specifically targeting those from the Hindu minority. After Jel leader and convicted war criminal Muhammad Kamaruzzaman was killed in April, Jel-ICS activists incited violent riots, burned 30 vehicles, and set off a series of 30 bombs throughout Dhaka.
In addition to this unwarranted violence, Jel and ICS threaten American national security interests in South Asia due to their sizable role in recruiting and supporting terrorist groups based in Bangladesh and the wider region. Evidence shows that both organizations have been associated with active terrorist groups across the subcontinent, including the Taliban, al-Qaeda, and Lashkar-e-Taiba (LeT); several ICS students fought under Osama bin Laden's leadership during the Taliban's regime in Afghanistan.
Jel has also illegally obtained money for groups associated with al-Qaeda and the International Islamic Front and has channeled funds to other militant groups by means of its control over Islami Bank Bangladesh.
Besides military and monetary support, Jel and ICS have also directly collaborated with other terrorist organizations. Jama'atul Mujahideen Bangladesh (JMB), an organization closely affiliated with Jel, has carried out several high-profile bombings and was responsible for a bomb blast in West Bengal, India. This blast was part of a plan to target Hindu religious festivals in collaboration with the Indian Mujahideen, which has officially been designated as an FTO. This intimate partnership between Jel and JMB and the violence caused by Jel-ICS supporters show their intent to further their religio-political goals and the pressing need to label Jel and ICS as FTOs.
Jel and ICS have brought inconceivable harm to ordinary citizens of all backgrounds in Bangladesh. Since their inception, both organizations have engaged in terrorist activities and have provided assistance to the wider militant network in South Asia, impacting stability across the region as a whole. Protecting this country's stability, maintaining regional security, and preventing the growth of Islamic extremism are key to securing U.S. national interests in South Asia.
Ultimately, all of this evidence points to one conclusion: Jel and ICS are both foreign terrorist groups that threaten U.S. security in South Asia, and we can no longer watch in silence. The United States must designate both organizations as FTOs to officially stigmatize Jel and ICS, freeze their financial assets, and provide a strong foundation for action against their future operations.