On October 24th, commenting on the appointment of Rishi Sunak at Prime Minster of the UK, the first non-white and Hindu to hold the position, PEN  International board member Salil Tripathi tweeted:
"The continued denial of Sonia Gandhi's Indianness reveals more about the churlish meanness, racism, and misogyny of Sanghis than their pride over a cow worshipper becoming Britain's PM for a short stint. Sunak is a flawed inheritor who will lead Tories to defeat against Starmer."
The characterization of Sunak as a "cow worshipper" is beyond the pale a Hinduphobic slur and deserves condemnation. The phrase and its derivatives are commonly uttered during actual hate crimes against Hindus and is akin to any of the more common racist or religiously bigoted insults used against Latinos, black people, Jews or Muslims that are recognized as hate speech. Unquestionably, Mr Tripathi intended the phrase as a pejorative against Hindus. When asked in a tweet reply about his intent, Tripathi stated: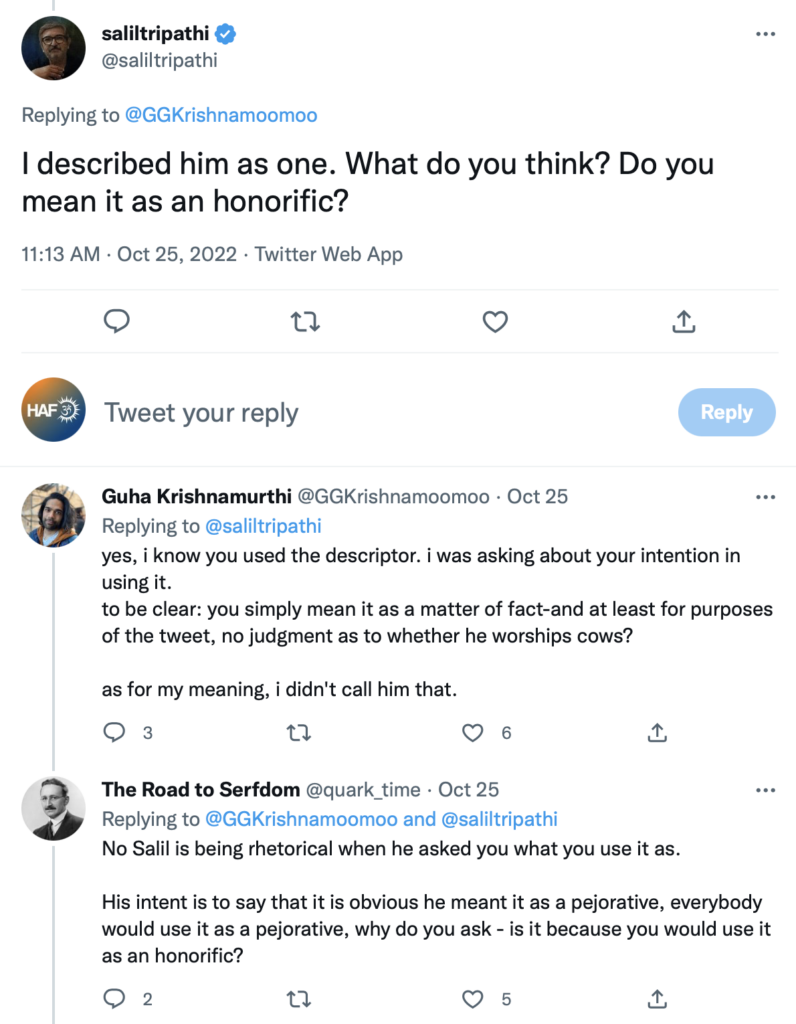 PEN International's charter states:
 "Members of PEN should at all times use what influence they have in favour of good understanding and mutual respect between nations and people; they pledge themselves to do their utmost to dispel all hatreds and to champion the ideal of one humanity living in peace and equality in one world." 
Mr Tripathi's tweets linked above clearly contradict the spirit of this charter.
Like PEN International, HAF fully supports free speech and free expression, and Mr. Tripathi freely shared his clearly jaundiced view of Mr. Sunak. However, biogted statements, rooted in ugly stereotypes long used to demonize and otherize Hindus, such as those made by Mr Tripathi, cannot go unchallenged. 
HAF calls on PEN International to publicly reaffirm its commitment to supporting mutual respect between peoples and championing the ideal of one humanity living in peace and equality. 
We call on Mr Tripathi to retract these tweets and issue a public apology for using such bigoted language.