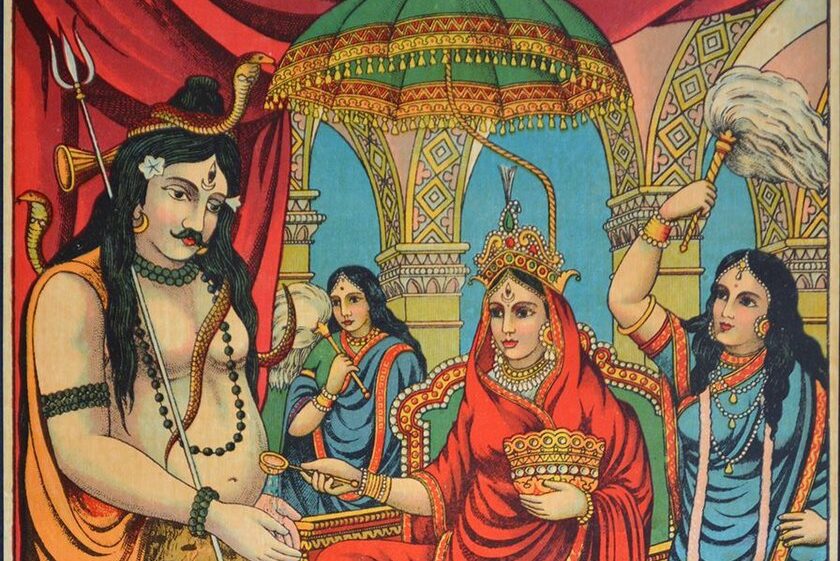 Divinity, according to Hindu thought, has both a male and female feature, of which Shiva and Parvati are said to be manifestations.
Considered the first and greatest of all yogis, Shiva represents spiritual masculinity, a transcendent consciousness, steadfast, stable, and peaceful — undisturbed by the mundane notion of attraction/aversion caused by life's dualities (e.g., hot/cold, old/young, ugly/beautiful).
Parvati, on the other hand, represents spiritual femininity, known as shakti, or the dynamic power latent in transcendent consciousness, who creates and maintains the world around us, providing — like a mother — the resources required for our growth and development.
A symbol of spiritual harmony, Shiva and Parvati are like yin and yang, eternally connected in a sacred balance that constitutes the Divine whole.
Once, however, legend has it the couple got into an argument when Shiva claimed everything in the world was nothing more than an illusion, insisting even the food people ate to survive wasn't real.
Disturbed by his dismissal of material nature, Parvati couldn't help but feel belittled. If he thought creation had no real significance, then what did he think of her — it's governing deity?
"If everything I supply is just an illusion," she angrily declared, "then let's see how everyone gets on without me!" Thus losing her temper, she vanished from the world and became hidden to the eyes of all, even her beloved husband, Shiva.
As one might expect, havoc ensued upon Parvati's disappearance. Without her presence, the natural functions of the cosmos ground to a halt. As time stood still, seasons were unable to change, causing severe droughts and infertile lands, resulting in a barren universe.
Afflicted by the pangs of hunger, men, kings, and gods alike abandoned all regulated activities, scouring creation for food. Even the sages stopped performing their spiritual duties, exclaiming "the pursuit of salvation is impossible without the sustenance to do so!"
Witnessing their suffering, Parvati became deeply affected. Fueled by her motherly affection, she decided to come out of hiding. Assuming a form known as Annapurna (the goddess of food and nourishment) she reappeared in Kashi (present-day Varanasi), and opened up a kitchen, from where she began distributing food to anyone and everyone who came to her.
When Shiva heard of this kitchen, he led a group of starving mendicants to its location, and carrying a begging bowl, approached its proprietor — his wife — who in all her celestial splendor, served him with her own hands.
Deluged in her devotion, Shiva became overcome by humility, understanding the error of his ways.
As fire would be deemed incomplete, to say the least, without the expression of its energy, like light, Shiva too is incomplete without Parvati, who acts as his energetic force, bestowing the light of the Divine by her outpouring of love.
To dismiss everything in the world as nothing more than an illusion, therefore, would be highly fallacious, for it's through the vehicle of material nature that we in this world are able to regularly receive and experience the love and compassion of the Divine.
Food accepted with a feeling of deep gratitude towards its spiritual source, for example, creates a mood of loving reciprocation that inspires divine personalities to infuse it with the transformative power of their compassion, as illustrated by Annapurna.
When eaten, such food nourishes not only the body, but the spirit, further awakening us to the Divine reality from which everyone and everything originates and is thereby connected.
As such, it is common practice for Hindus all over the globe to formally offer a prepared meal to their ishta deva, or cherished form of divinity, before eating the meal themselves.
It should hence come as no surprise that there are many who continue to receive Annapurna's compassion through her food to this day, especially the places where she is worshiped most extravagantly.
One of these places can be found in the very city she made her appearance, Varanasi, where the Annapurna Devi Mandir, a temple dedicated in her honor, runs a free kitchen for devotees year-round so that no one goes hungry.
And during festivals like Navaratri, food is distributed on an even larger scale, inviting all to come and receive an extraordinary kind of compassion.
The kind that can only be displayed by Divinity's feminine aspect.
If you enjoyed this piece, then you may also be interested in reading "All about Shabari: the woman whose devotion transcended the boundaries of tradition"