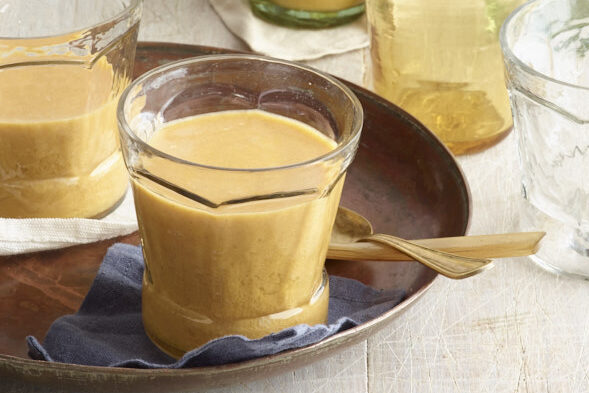 Sweet Potato Smoothie
from What to Eat for How You Feel: The New Ayurvedic Kitchen, by Divya Alter (Rizzoli, 2017)
You might have doubts about whipping a sweet potato into a smoothie, but you will be thrilled to discover how delicious it is. Its delicate orange color, soft texture, and warming cozy effect will appease your airiness and ground you to your essence of bliss. Because it is filling but not heavy, I'll make this smoothie on a cold day for breakfast or at night when it is too late to eat a full meal but I still need to satisfy my hunger.
Serves 1 or 2 (makes about 2 cups)
Prep: 1 minute (with already made almond milk)
Cook: 15 minutes 
Gluten free; Dairy free
1 cup peeled and diced sweet potato or jewel yam

½ teaspoon Sweet Masala (page 220) or one pinch each of ground cinnamon, cardamom, cloves, and nutmeg

6 strands saffron (optional)

1 or 2 Medjool dates or 2 to 3 smaller dates, pitted and chopped

½ cup water

1 cup almond milk, plus more if needed

¼ teaspoon vanilla extract

For Fiery digestion:

Omit the saffron and enjoy as is or substitute fresh coconut milk for the almond milk.

For Earthy digestion:

Omit the dates and add ¼ teaspoon ground cinnamon in Step 1.
1. Place the sweet potato, Sweet Masala, saffron, date, and water in a small saucepan. Bring to a boil, then reduce the heat to low, cover, and simmer for about 10 minutes, until the sweet potato is cooked through.
2. In a blender, combine the boiled sweet potato mixture, the almond milk, and vanilla and blend until very smooth. Add more water or almond milk to adjust to your preferred consistency.
3. Serve hot or warm.
Notes:
For a more filling breakfast, add ¼ cup rolled oats plus ½ cup extra water in Step 1.

You may substitute warm cow's milk for the almond milk.