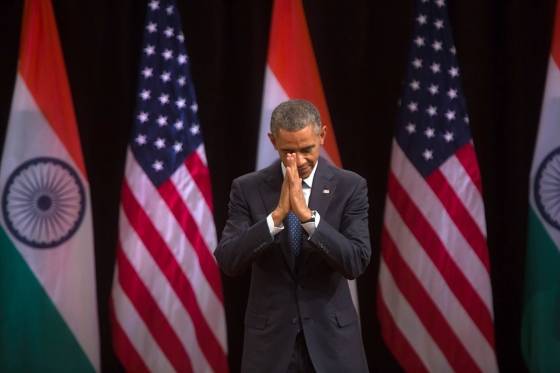 About two years ago, I was in the process of applying for college. In all my essays, I wrote about my passion for human rights, education, saving the environment, and my project about injustices faced by women in South Asia. I was trying to convince these universities about my passion for saving the world and that I would be a perfect addition to their campus. However, not in a single essay did I highlight the fact that I am Hindu. I didn't write about the joy and passion I have for attending mandir events. I didn't write about how mandir has helped me through the most trying times in my life.  Instead I shied away from it because I didn't associate it with my plans to save the world. Fast forward two years, and I'm at my first college internship working alongside  people that do all the things I mentioned in my essays. But, they do it through the one part of myself I didn't mention : the Hindu American.
When I applied to the Hindu American Foundation's Advocacy Summer internship I didn't expect to be moved so immensely by the work done by HAF.  Immediately, I was thrown into the world of advocacy by participating in HAF's annual DC Advocacy Days, where our delegation met with over 50 Congressional offices and then hosted a grand reception. In the meetings, we discussed HAF's advocacy work along with three legislative priorities.  At our reception, prominent leaders were honored for their contributions to and support of the Hindu American community.  The many Congressmen who were eager to address the attendees at the reception ensured that the microphone was continuously occupied throughout the evening. Surgeon General Vivek Murthy was honored with our Pride of the Community Award, and he gave a moving speech about how Hinduism shaped his successful path.  It was exciting to see how many leaders recognised the importance of our community.
Many weeks later into my internship, I've accompanied HAF staff to meetings at Senate offices, talks given by ambassadors, briefings at the State department, and meetings with other advocacy groups. What particularly struck me at an interagency meeting on hate crimes legislation was the diversity of representation. Almost every group that should have been represented was at this meeting.  There were no arguments about who was more affected or who deserved more attention. Everyone there agreed on the need for action so that all groups can benefit. So often, DC is portrayed as a place where everyone fights for their own interests rather than working together.  So, it was an eye-opening experience to witness a room full of different groups collaborating together. Attending this meeting made it clear to me why our community needs an organization like HAF. We were the only Hindu American voice present at this group. If we hadn't been there, who would have spoken up for us?
Growing up, I always separated my Hindu identity from my interests. It was put away in a box that I took out only when I attended mandir. I felt openly identifying as Hindu set me behind others. I felt our concerns were not as valid and didn't apply to the wider global community.  Turns out, I was wrong.  Our experiences and views are crucial. I'm learning that I don't need to set aside my Hindu identity in order to be an effective change maker.  I can use my identity as a Hindu American woman to enact change.
Working with HAF has re-inspired this idealistic high school senior who thought she could change the world.  I've witnessed first hand how an advocacy group does indeed enact real change on various levels. The world of an advocate is about giving voice to a group or a community.  In our case, it's the Hindu American community.   From collaborating with other groups to ensure the confirmation of the first Hindu American Surgeon General to informing corporations such as Dollar tree why they should withdraw an "Om" printed shoe insole to traveling internationally on human rights fact finding missions and testifying before Congress about them, HAF is a true presence and leader.
Two years ago, I told universities that I was ready to take on all the world's challenges and was ready to use dialogue to achieve world peace.  I know that change doesn't come all at once. It's a long process with multiple actors, all working towards a bigger goal. Working with an advocacy organization has showed me that I can't expect quick solutions to the world's problems. It has taught me to have patience and perseverance.
Defining one's identity can be complicated. My experience this summer has lead me to realize that my identity as a Hindu American and my interests of helping the world can successfully coexist. The Hindu values I grew up with can be applied to my passions. In fact, what I've learned is that my faith is intrinsic to my goals.  To quote my Guru HDH Pramukh Swami Maharaj, "Our life is only worthwhile if we do good deeds and walk the path towards God." I hope to continue being an advocate for our community and rising up to the challenge.  And I hope to always carry this newfound comfort that my faith and my goals go hand in hand. For this, I will always be grateful for this summer that I spent with HAF.