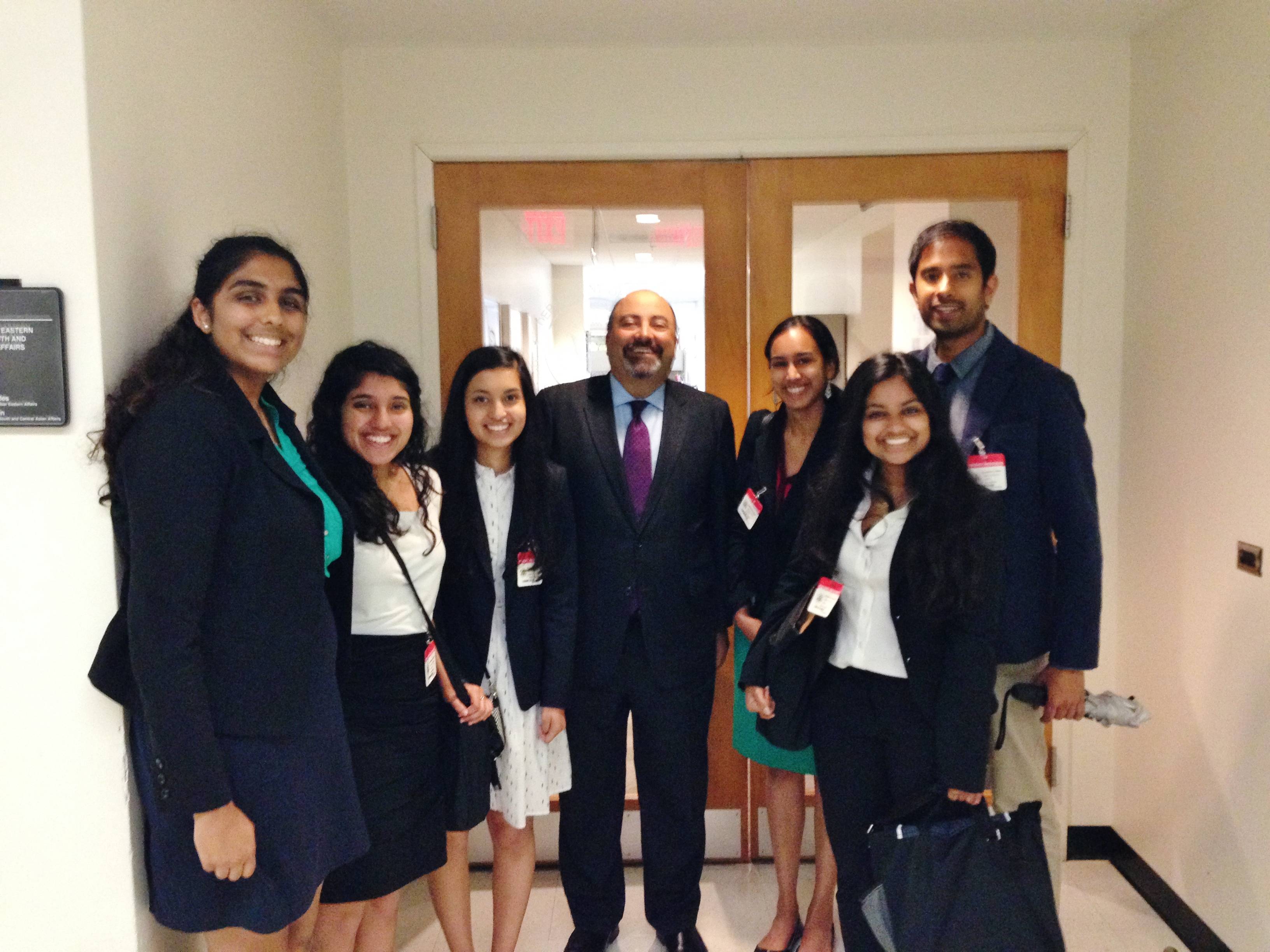 Every year, college students begin the hunt for summer internships. These can help us to gain skills, expose us to new career paths, help us figure out what fields we like and dislike. These opportunities have come to be expected of us in our journey as college students. However, many of us have never had the opportunity of holding a 9 to 5 job, and the responsibilities it entails.
The Hindu American Foundation's Advocacy Internship is my first experience with a real day to day job. I had worked in a library for three years as a shelver – literally shelving the books. Don't get me wrong, the other librarians were my second family, but organizing books doesn't come with the same responsibilities and demands as working in the arena of advocacy.
I came into the office thinking, "I don't know how they chose me! I have no skills!" But I realized that we don't have to enter a job knowing everything – we have to be willing to learn, and that's what makes a job or an internship valuable. I didn't come in knowing how to make simple infographics, create a google survey, or start new databases from scratch. These are things I've had to do for various projects at HAF, but the underlying theme I've found is that I can learn through experience.
One of the toughest questions in my second round of interviews for this internship was about juggling work. I was asked how I would balance multiple projects with time sensitive deadlines – and I had no clue what to say. I had never been encountered with such a situation, besides juggling preparation for multiple tests during a hectic finals week. After that question, I was sure I blew it. In reality, managing different projects is not so different than studying for a myriad of tests. I have learned to prioritize those with immediate deadlines, stay focused, and most importantly, not waste any time.
When I told people I was going to DC for an advocacy internship, it was met with a lot of "Cool!" "DC is awesome, they have a lot of museums!", and most frequently, "What does an advocacy intern do?" At the time, I wasn't sure either. I knew we were going to be doing some necessary and routine work, along with other work that was more suited to our interests. This is something I greatly value about the staff at HAF; they definitely take our interests and skills into consideration. I have had the privilege of working on a number of projects tailored to my interests – law, business, and education. For example, I had the privilege of communicating with Dollar Tree, a national business, about an offensive shoe insole that featured the "om" symbol on the bottom. Joined by the persistence of the HAF staff, we were able to ensure that Dollar Tree would no longer stock the product. These types of projects are directly related to the rights of members of the Hindu community in America and the right to live in a world without faith-based prejudice and discrimination.
HAF has also exposed me to a plethora of new internship and career paths. I have been introduced to diplomats, leaders of human rights groups, leaders in government agencies, and other advocacy groups. I didn't even know what a foreign service officer was before I came here, but I soon learned from the best, meeting with the Deputy Assistant Secretary for South and Central Asia, Atul Keshap.
After the experience of this summer, I feel I have a better understanding of what it means to be a good worker. I still have a lot to learn and a long path of improvement throughout my career. However, I am thankful to the Hindu American Foundation for giving me the valuable opportunity to discover possible career paths, learn skills through work experience, discover my working style, and learn about advocacy, as these skills will prove to be invaluable to me in my search for future internships and careers.