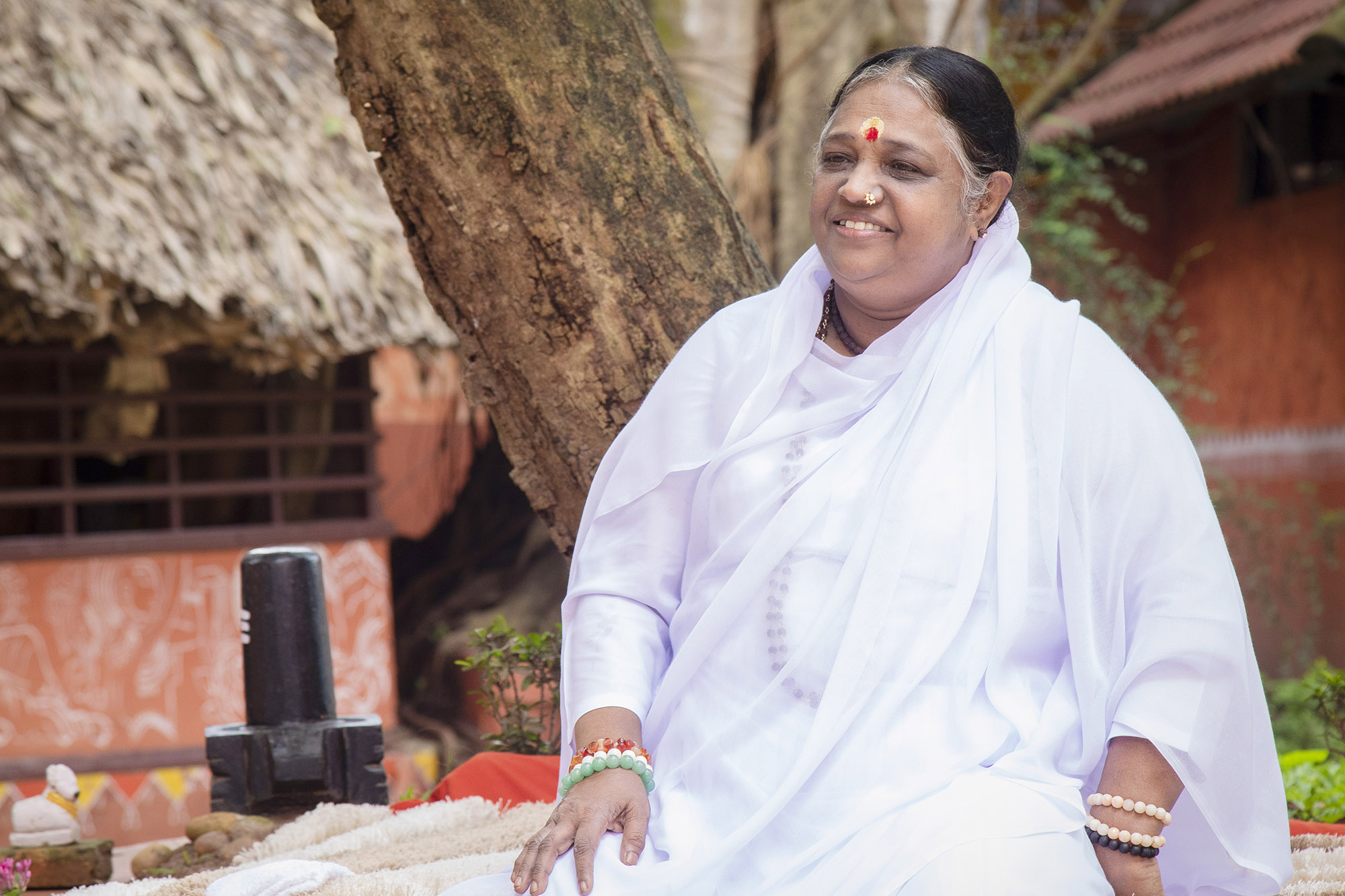 The state of Kerala is commonly known as God's own country and is the home of Mata Amritanandamayi, a female Hindu guru who is known for showering compassion and affectionate hugs upon her devotees who fondly refer to her as Amma. Like many other female saints, Amma's spiritual journey began at a tender age. However, she experienced immense suffering as a child after she was faced with poverty; but that did not stop her from caring for others in need as Amma strongly believed that easing the suffering of others is crucial to upholding one's
dharma
. Her experiences as a young girl formed her conviction to lead a life of service, despite encountering disapproval for her actions of seva as a woman, from society.
Amma's journey of selfless service continues to spread to several countries including the United States, Sri Lanka, and Japan, and her passion for various issues like women's rights, climate change, and poverty propelled her mission to build a more caring and equitable society. She is recognized not only for her work but also for her humble and loving nature by people around the world. She has given blessings to over 40 million people wholeheartedly and forms a motherly connection with each of her devotees. Amma is sought after by many for her spiritual knowledge and she has inspired countless people to take on a similar path of service. 
One of Amma's international humanitarian initiatives, Embracing the World, is a heartwarming film born out of the need to help orphans who were in desperate need of care. The main message of the film is to showcase how one idea can create immense change and improve numerous lives. Similarly, each of Amma's projects embodies this larger meaning of individual action for the greater good.
Mata Amritanandamayi's projects extend beyond spirituality as she is also the esteemed founder of Amrita Institute of Medical Sciences that has been accredited several times for its high standards of affordable care. Amma is also the recipient of many awards such as being recognized by The Huffington Post as one of the 50 most powerful women religious leaders. Amma is frequently invited to speak at honorable institutions like the United Nations and summits related to global peace and climate action. She also focuses on improving access to education and has established several schools and learning centers for those in need. Her most recent award was the "Medal of Honour" for her extensive efforts for more than 25 years in the fields of human rights, medical care, education, and much more. 
Although Amma is well recognized for her efforts around the world, she is most importantly known for always establishing a motherly connection with those she interacts with. Of the many people who have had the fortune of meeting Amma, author and journalist Khuswant Singh said "in all my life, I have not met a warmer personality than Amma. Even an agnostic like me had great difficulty in holding back my tears." It is without a doubt that the very embrace of Amma has the power to relieve worries and clear the doubts of anyone who seeks her blessing.
Amma's core principles and teachings emphasize the importance of discipline, meditation, selfless service, destroying our ego, and most importantly universal love. She teaches that all of our actions must focus on love as it conquers all else.