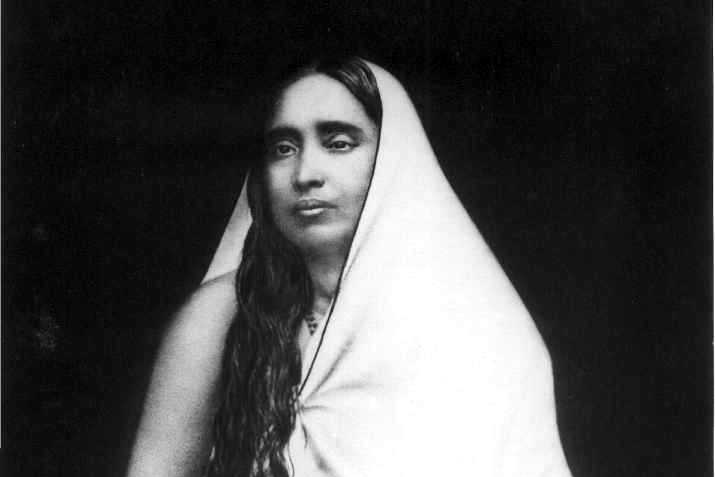 The Divinity of God expresses itself in many ways. One of them being the spiritual power that Sri Sarada Devi presented to this world. Also known as the "Holy Mother," Sarada Devi was born on December 22, 1853, and was revered for her inherent simplicity and dedication to her many roles as a disciple, wife, and teacher.
Her passion for service and motherly affection towards her devotees were evident as she frequently said "I am the Mother, who will look after them if not I?"
As a young girl, Sarada Devi was extremely fond of caring for the poor, assisting her parents in household work, looking after her siblings, and much more. All of which contributed to her inclination towards leading a spiritual life.
Soon, she became Sri Ramakrishna Paramahamsa's disciple and later, his wife, but took on the role of his spiritual counterpart rather than a partner. Much of her religious knowledge came from Ramakrishna's teachings yet her innate spiritual potential was no surprise to him or his disciples. She soon was regarded by all as the "Universal Mother."
Following Sri Ramakrishna's passing, Sarada Devi went on a pilgrimage to Vrindavan and experienced an increase in spiritual consciousness but faced many challenges as well. She later accepted the role of a guru and continued to maintain her motherly connection with people and inspired them by living up to her spiritual values. Those who were once Ramakrishna's disciples then became the children of Sarada Devi. She embraced countless people with no regard for their past deeds, good or bad, and welcomed them with open arms. Despite being brought up in a conservative society, her progressive views carried her compassion even further and attracted people from all walks of life.
Later on in her journey, she was known for being Swami Vivekananda's keen supporter in his work to empower people in India. She also focused on caring for girls and women as she was involved in a school for girls started by Sister Nivedita who believed that Sarada Devi's life "was one long stillness of prayer."
Among many of Sarada Devi's qualities, she was admired for her simple and peaceful nature. Regardless of the situation, she handled challenges calmly with an awareness of God and remained committed to her desire to build a more peaceful world that did not see faults in others. Rather, she strongly believed in looking within oneself first and bettering ourselves.
Sarada Devi was a symbol of wisdom, purity, and the start of a spiritual awakening in a modern society. Her dedication towards accepting people of all backgrounds spread to devotees around the world and she is remembered to this day for her role as the Mother of Humanity.