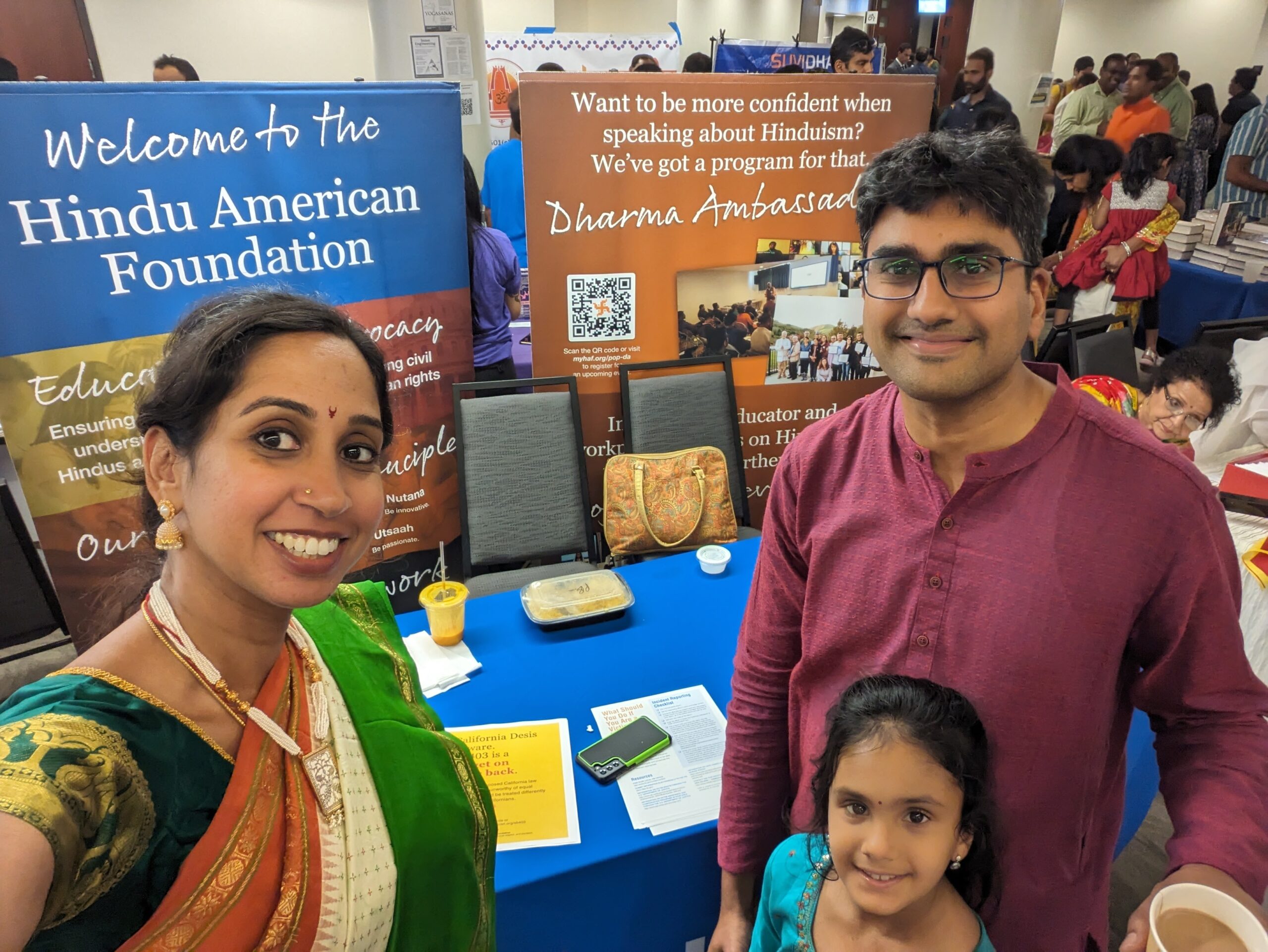 This past weekend, August 19th, 2023, was an exciting, significant event for me as a Sacramento County resident. Being the newly appointed California Regional Director of the Hindu American Foundation ( HAF), I attended one of the area's largest gatherings, the Mega India Day Celebration and Fair, held by the Indian Association of Sacramento (IAS). 
Established in 2003, the Hindu American Foundation is the largest and oldest education and advocacy organization and the pre-eminent voice for Hindu Americans. HAF had a booth at the fair to showcase its work and promote the cause of the Hindu American community's representation and protection. 
In light of the increasing Hinduphobia in California, the need of the hour is educating everyone about the struggles of the Hindu American diaspora in preserving their civil rights and religious liberty in American society. 
I was excited to meet my Sacramento Hindu American community and learn about their triumphs, challenges, and ongoing work. 
I chose to wear a beautiful South Indian silk saree in the colors of the Indian flag. It was my first saree purchase as an undergrad student in my ancestral hometown of Chennai in Southern India, a gift from my maternal grandparents. They were the ones to sow, deep in my psyche, the seeds of activism and giving back to the community. Growing up, I watched my maternal grandpa consistently rallying for the community, questioning bad laws, and doing his very best to cut red tape and better the lives of those around him. Attending the IAS fair felt like coming full circle for me. I was overjoyed as I drove to the California State University (CSU) campus, which hosted the fair. 
From the moment I stepped in, the meticulous organization of the event was apparent. It was cool and comfortable indoors despite a scorching Sacramento summer afternoon. The organizers used the space well, with three large separations for booths, vendors, and entertainment. An approximate six thousand folks trickled in throughout the day. 
There were also two relevant and vital panel discussions on Women's Empowerment and Mental Wellness. Well-known Sacramento Indian American leaders like Siri Pulipati, Rancho Cordova Council Member, and Dr. Bhavin Parikh, Adult and Geriatric Psychiatrist at Kaiser, graced the panel. They were amongst the many other local community and government leaders I met like Roseville Mayor Bruce Houdesheldt, Folsom Vice Mayor YK Chalamcherla, and City Council Members Sarah Aquino and Lisa Kaplan. 
Meeting the leaders was just the beginning of a very enriching afternoon of new connections across all walks of life. The Sacramento Indian-American community, with a robust presence of Hindu Americans, has brought much color and progress to this region. 
Sacramento Hindu Americans contribute across all professions and industries ranging from tech to science, education to medicine, and civil services to businesses. In particular, Hindu Americans' significant contribution to all the departments in the federal and state agencies has catalyzed economic growth here. Many Hindu families have called Sacramento home for decades and painted its landscapes with the rich colors of Indian art and culture. Numerous Hindu temples weave in spirituality and faith in this small but strongly-knit community of Hindu Americans who have coexisted peacefully with their diverse neighborhoods. Being an Indian classical dancer myself, I've been a witness to multiple celebrations and festivals of Indian performing arts that showcase the tremendous talent that is evident in this community. Unlike their Bay Area counterparts, the Sacramento community is a small, silent, but nevertheless significant force to reckon with!
The IAS fair allowed me to meet with artists, techies, teachers, civil servants, and entrepreneurs, including entire smiling, happy families and little kids dressed in colorful, traditional outfits. Many teenagers and high schoolers were present, too, volunteering in the booths and representing their local organizations like Hindu Swayamsevak Sangh and Annapoorna Foundation, where they give back regularly through community wide food feeding programs, education and recognition programs to name a few. 
There was a cheerful vibe and an intense pride amongst everyone to call Sacramento their home- evident in the energetic and beautiful Indian ethnic and modern performances in the auditorium by children and adults alike. In addition, the vendor section had small businesses serving delicious, mouth-watering Indian food, intricate articrafts, jewelry and Indian wear. Wherever we, the Indian diaspora, call home, we also bring our flavorful food, customs and traditions that speak to the heart of our culture. 
The fair, to me, represented the beauty of Sacramento county- a potpourri of cultures, ideas, and possibilities! After all, this county, with its affordable real estate, acres of beautiful nature surrounding the American River, vibrant college/university ecosystems, and excellent school districts is a magnet for families and immigrants. 
I was thrilled to meet everyone, and so were they to finally see a solid local representation from a seasoned advocacy organization like the HAF. I got a very warm welcome from everyone. 
Being the capital of California, Sacramento is also where all the action happens regarding legislation. It's been the hub of Hindu Americans fighting the Hinduphobic, highly divisive, and discriminatory SB-403 bill. 
HAF recognizes the need to build a solid Hindu community here in Sacramento that can voice the concerns of its fellow Californian Hindu Americans at the state legislature and carry on the legacy of peaceful, prosperous, and engaged American Indian communities. 
At the end of the day, I came out of the fair feeling very grateful for my attendance at the fair. I was excited to take my passion for serving my community to the next level through HAF. 
We here at HAF are bubbling with ideas to build the Sacramento Hindu American community, showcase its best, and protect its religious liberty and rights. Community-level meetups, speaker events, fundraising dinners, educational workshops, and much more are in the offing. 
The time for the Sacramento Hindu American community has truly arrived! It's easy to sidestep a smaller community like us. But when we step in to protect and preserve what's small and significant, we also create ripple effects across more prominent communities. 
As the saying goes, a journey of a thousand miles starts with the first step! And here I am starting with my first step, advocating for and educating about my beautiful, precious Sacramento Hindu-American community. It's both an absolute honor and a privilege to be the voice of my fellow Hindus here. 
I look forward to working with everyone!