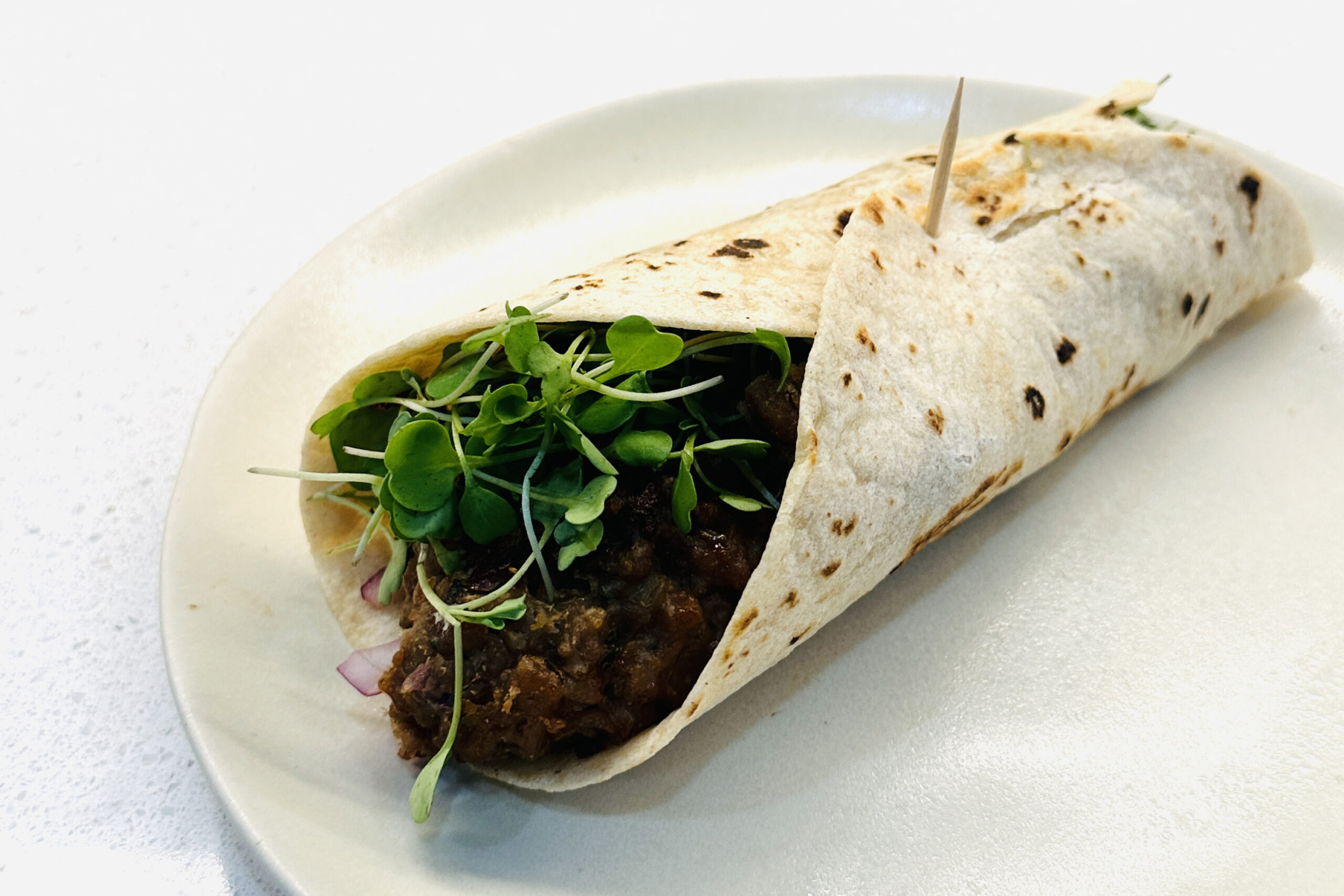 This January, HAF's Senior Director of Communications Mat McDermott is participating in Veganuary. As part of that we're sharing some of the vegan recipes he's been making.
I normally don't go in for vegan recipes that recreate ones traditionally made with meat. There are so many vegan things to eat without having to do so. But this January I've decide to challenge myself by going against my habit and cook some plant-based meat alternatives.
This recipe is an adaptation of the cumin-coriander patties in Jefrey Alford and Naomi Duguid's Mangoes & Curry Leaves cookbook, done as a wrap.
INGREDIENTS
1lb   Beyond Meat plant-based ground
0.5 cup   shallot, minced
1 tsp   ginger paste
1 tsp   cumin, ground
1 tsp   coriander, ground
0.25 tsp   cayenne
1 tsp    sea salt
0.25 cup   Harmless Harvest unsweetened plain coconut yogurt
0.5 cup    cilantro, chopped
3   10" wheat tortilla or roti
toppings as desired (in the photos for this I have used garlic chutney, quick-pickled red onions, and micro arugula)
NUTRITION
Servings: 3
Nutrition per serving (approximate):
490 calories
34g protein
36g carbs
25g fat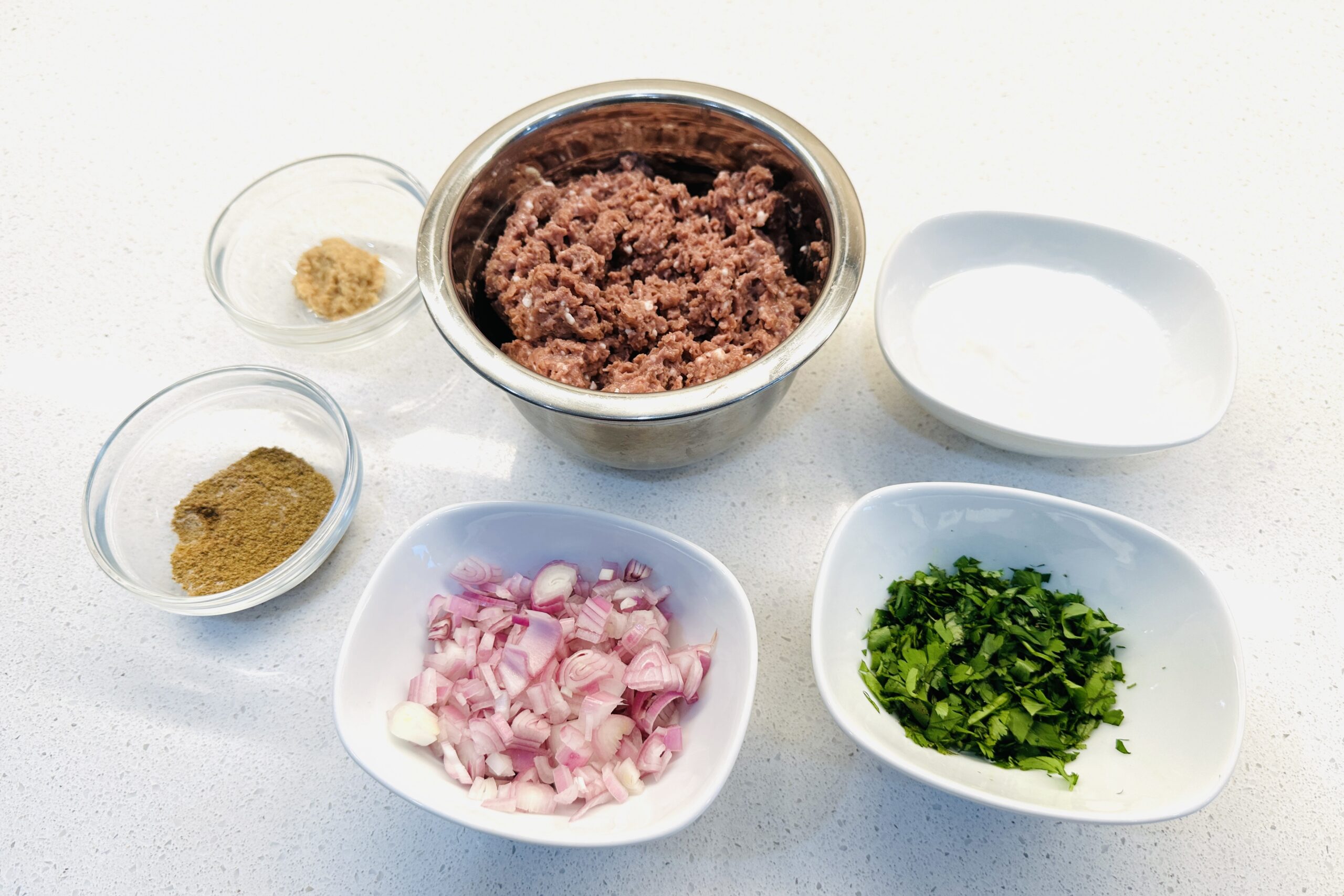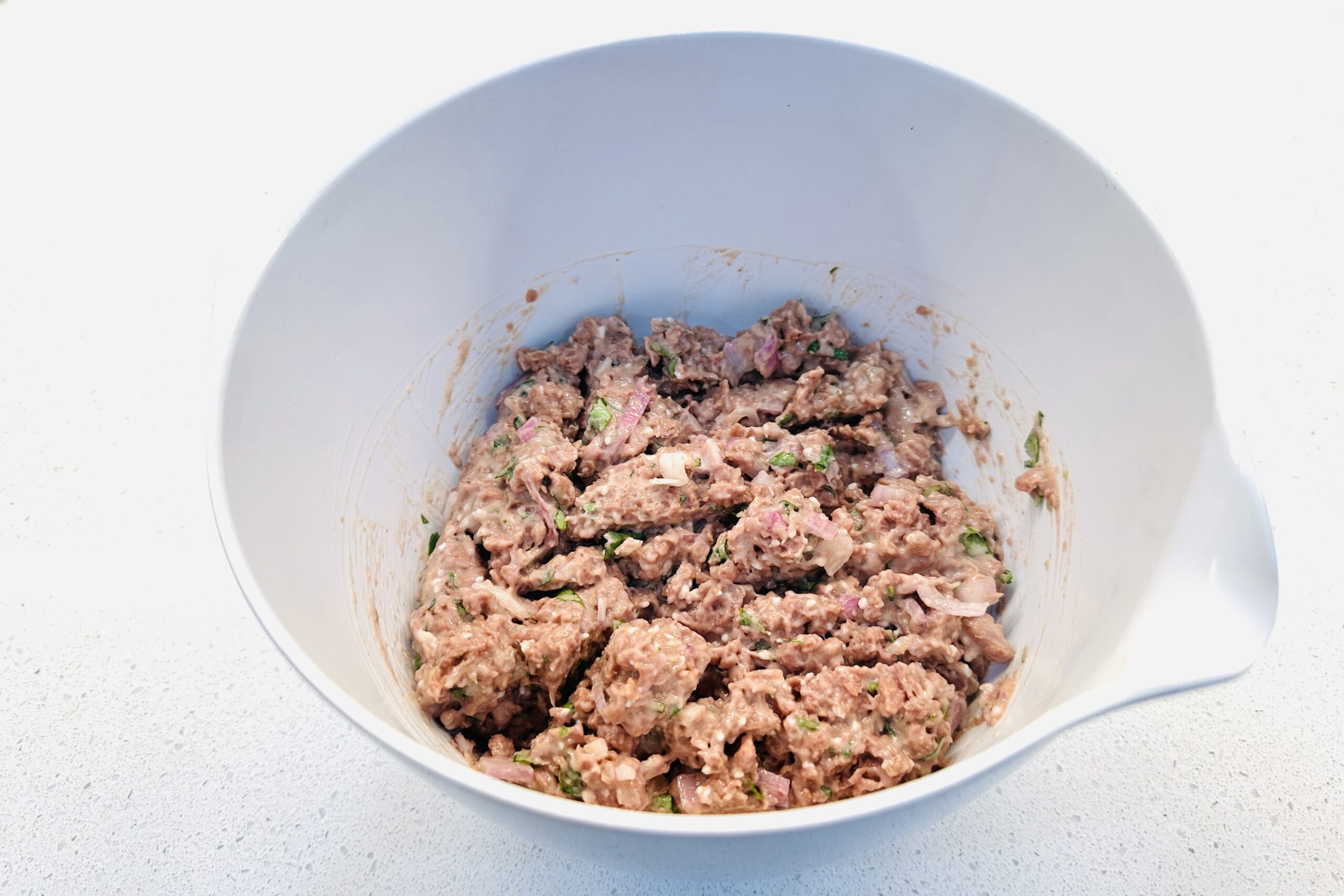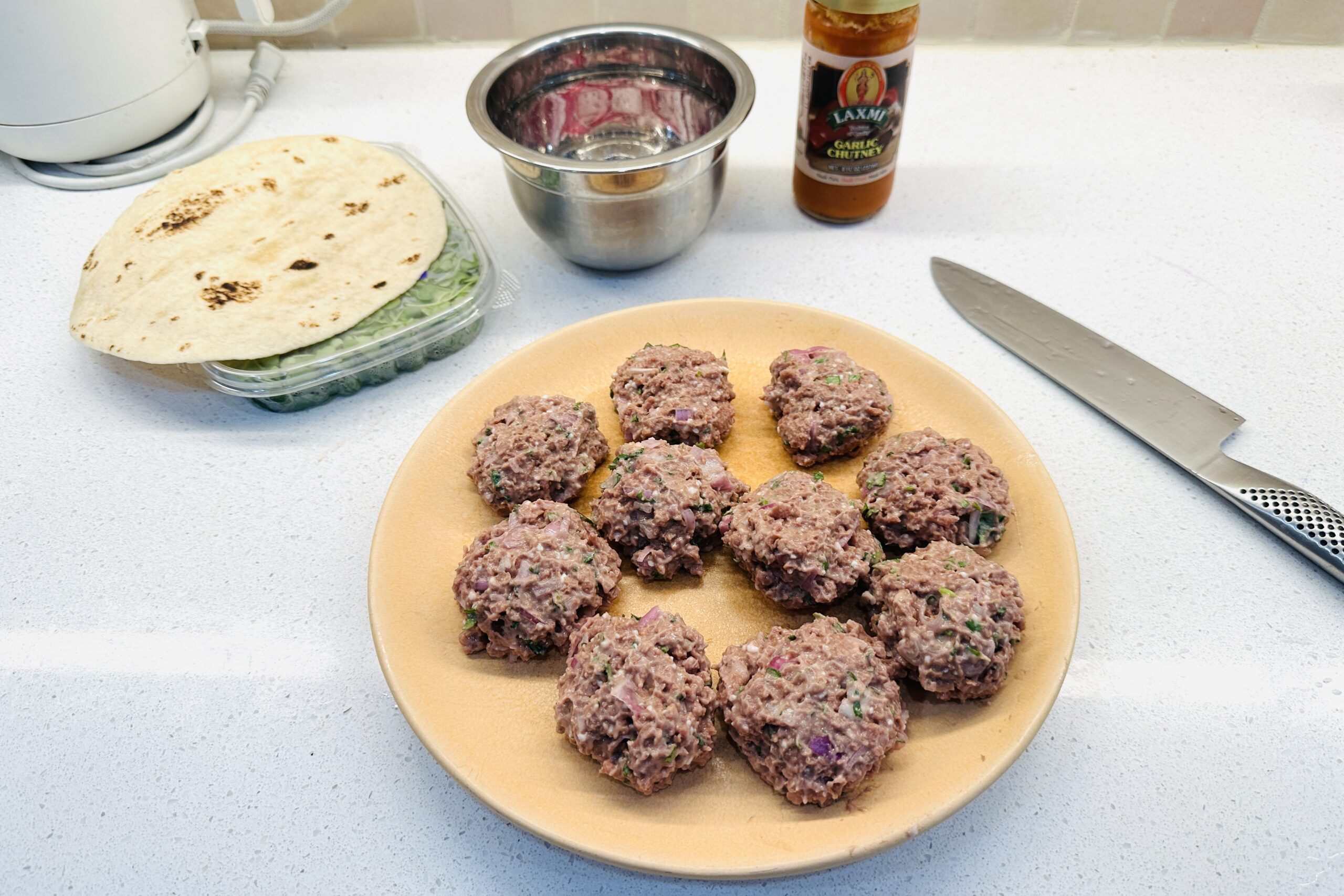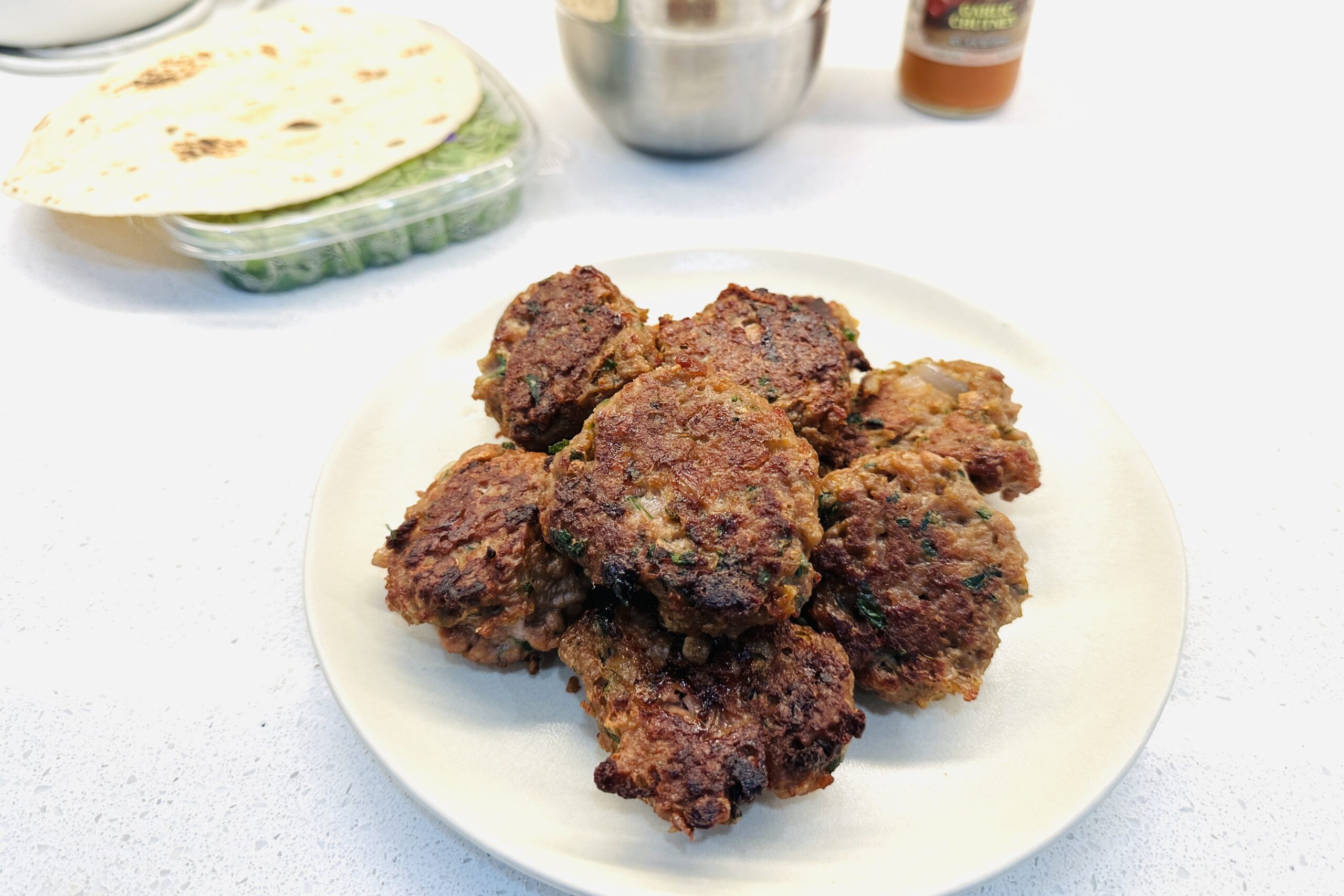 METHOD
Combine all the ingredients in a mixing bowl. Thoroughly combine.

Using your palm, form the mixture into nine equal sized patties, roughly 2" in diameter and 0.75" thick. (Chef's note: Yeah, I made ten in the photos. Good on you for noticing. I had a bit left over after forming nine, so added one extra. The nutrition facts are based on one-third of the original mixture per wrap.)

In a shallow pan, fry the patties for roughly 7 minutes per side. Towards the end of the time check to see that they are browning well, adjusting time and position in pan as required. They will be thoroughly cooked through when done. 

On a dry pan warm your tortilla or roti, until small dark spots form and the flatbread becomes slightly crispy.

Assemble your wrap: a) 

Take three of the patties and cut them in half; b) 

Place your ingredients in thin line in the center of your wrap; c) 

Place the halved patties on top; d) 

Fold over the sides, securing with a toothpick.