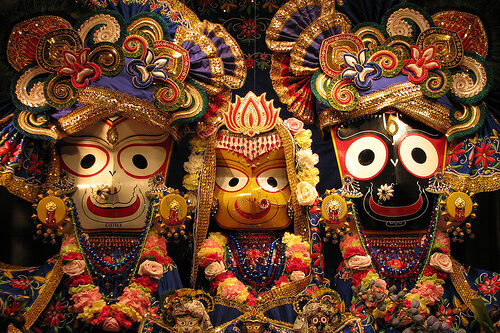 Sometime during the early days of colonial rule in India, the British had their first encounter with one of Hinduism's most ancient festivals known as Ratha Yātrā.
In the city of Puri, during the month of Āshādha (June-July), amidst a sea of hundreds of thousands of people, three chariots — decorated by brightly colored canopies of yellow, red, green, and black silk— towered three stories high.
On one chariot was Lord Jagannātha, black in complexion and known as "the lord of the universe." On another was Jagannātha's brother, Lord Baladeva, with the white hue of a cloud. And on the third was their sister, Lady Subhadra, colored yellow. All three had large round eyes, a wide smile, and no hands or legs. 
In tow with England's early depictions of India as uncivilized and filled with idolatry and mythology, the British described Jagannātha to be a "frightful visage painted black, with a distended mouth of bloody horror." In fact, upon seeing the great procession of the chariots, they coined the term "juggernaut," which became defined as "a huge, powerful, and overwhelming force, or institution." 
It wasn't until 1967, when A.C. Bhaktivedanta Swami Prabhupada, founder of the International Society for Krishna Consciousness (ISKCON), performed the first Ratha Yātrā celebration outside of India, in San Francisco, did the festival finally become appreciated for its true spiritual significance.
Ratha Yātrā really begins two weeks before the actual procession, on a day called Snāna Yātrā, when Jagannātha, Baladeva, and Subhadra are taken out of the Jagannātha Temple for abhisheka, a public ceremony in which devotees gain the auspicious sight of the deities, who are bathed by priests with pitchers of holy water. 
In the evening after the abhisheka, because of their long bath outside, the deities traditionally get sick, and are taken back to the temple where they are kept in a private room in which they are quarantined from the public for 15 days. During this time, the temple priests — who are the only ones to have their access — offer the deities herbal remedies to help them heal, as well as provide a fresh coat of paint.
After their quarantine, they are placed on their chariots, which are pulled almost 2 miles by devotees to the Gundicā Temple, where they remain for nine days before returning to their own temple. 
Like many transcendental activities, the pastime of Ratha Yātrā has both external, or widely understood explanations, as well as more internal, or esoteric reasons behind its ritual. 
Externally speaking, Ratha Yātrā serves a couple of unique purposes. 
Confined to the temple throughout the year, the abhisheka and grand procession allows Jagannātha, Baladeva, and Subhadra the rare chance to leave their altar to be more widely viewed and glorified by the public. Instead of having to travel to the temple to attain a glimpse of their forms, the deities come out, specifically to make themselves more accessible to the public. In addition, getting sick and thus being quarantined creates a special circumstance where the priests have the opportunity to serve the deities in a more intimate atmosphere. 
Though there are many different traditions within Hinduism, most, if not all, agree on these external reasons. 
Elucidations of the holiday's internal causes, however, vary according to specific Hindu denominations. 
To better understand how and why the festival is now celebrated in major and minor cities all over the world, it's specifically important to understand the internal explanation given by Gaudiya Vaishnavism, the spiritual lineage of A.C. Bhaktivedanta Swami Prabhupada. 
According to Gaudiya Vaishnava tradition, Lord Jagannātha is a form of Lord Krishna, who is worshipped as the God of Creation. As explained in scripture, Krishna took birth on the earth about 5,000 years ago and spent his childhood as a cowherd boy in the village of Vrindavan, where he was doted on by his parents, played games with his friends, and spent time with his girlfriends, known as the gopis. 
In a lineage where the highest spiritual goal is to become a devotee of Krishna, the individuals of Vrindavan are considered the most selflessly surrendered beings in all of existence. And among those in Vrindavan, the gopis love for Krishna is said to be the most unadulterated and sincere. 
When Krishna eventually grew up and left for the city, where he took on the responsibilities of a king, the gopis fell into a state of immense separation. And though Krishna performed all of his kingly responsibilities, he too was constantly absorbed in remembrance of them. 
Once, when he was in the city of Dwarka where he ruled, he, Balarama (Baladeva), and Subhadra, happened to overhear a conversation detailing the extraordinary love and affection the gopi's felt for Krishna. 
Overwhelmed by such love, his eyes opened wide and filled with tears, and his hair began to stand on end. His arms and legs then contracted as he fell into an ecstatic state of feeling deep love in separation. Baladeva and Subhadra, who understood the love and pain felt by the residents of Vrindavan and their longing to see Krishna, fell into a similar state. Thus, the deities of Jagannātha, Baladeva and Subhadra specifically represent the triad in this profound mood of ecstatic love in separation. 
To Gaudiya Vaishnava followers, the so-called sickness Jagannātha experiences after abhisheka is actually a heavy heart due to him missing Vrindavan and the gopis. He therefore pretends to be ill, claiming he needs a change of scene to help him recover. Hence, the Ratha Yātrā festival signifies his returning to Vrindavan (represented by the Gundicā Temple), where he can have his long awaited reunion with the gopis. 
For decades, ISKCON has been organizing these Ratha Yātrā festivals all over the world, with the intention of spreading the loving spirit Lord Jagannātha displays in his ecstatic mood of being able to reunite with the residents of Vrindavan. Because experiencing Krishna in this spirit is considered so valuable on the path of bhakti (yoga of devotion), each Ratha Yātrā is done at a time that is most optimal for the highest public participation, in respect to the city it's performed in. As a result, many of them do not adhere to the original date and schedule followed by the Ratha Yātrā in Puri. 
Ultimately, observing the ceremony is about more than simply spending a nice day outside as the deities are being pulled down some street. It's about understanding the love shared between the Lord and his devotees, intensified by their long absence from each other.