Dallas, TX (February 5, 2016) — Comedian Rajiv Satyal captivated a packed house at the Hindu American Foundation's Dallas Benefit Dinner last Saturday, January 30. Hosted at the charming Hackberry Country Club in Irving, the sold-out benefit dinner was attended by the Dallas community, members of Hindu American Foundation (HAF), and interfaith leaders.
Satyal, who delivered the evening's keynote address, coupled his Hindu and Indian identities with his hilarious and heartwarming story as a successful comedian. Based in Los Angeles, his TV-clean act has made him one of the most versatile comedians working today. Satyal has garnered over 50 million online views and been featured on NBC, NPR, Nickelodeon, Netflix, Pandora, The Wall Street Journal, The Huffington Post, India Abroad, and the LA Times. He co-created the seven-city Make Chai Not War tour to India, a Hindu/Muslim stand-up show sponsored by the U.S. State Department.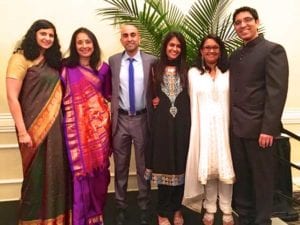 "Being the keynote speaker at the HAF event in Dallas was one of the highlights of my career – I'm not exaggerating," said Satyal. "I felt the Southern hospitality before I even arrived in town. And I felt the warmth of the room as I took the stage. For nearly an hour, it seemed not that I was talking at a bunch of people, but rather having a dialogue with the folks in the room," he added. Satyal said he looked forward to continuing to build a relationship with HAF and saw it as a fun and rewarding experience.
The program also showcased HAF's Executive Director and Co-Founder Suhag Shukla, Esq. who articulated the meaning of advocacy and highlighted the important role that the Dallas HAF chapter played in helping to improve the portrayal of Hinduism in Texas school textbooks. With over 100 textbook edits and over 200 Texas teachers trained on how to better teach about Hinduism, HAF is leading textbook reform as well as teacher training efforts across the country. Ms. Shukla has helped launch the Foundation as a leading voice for religious freedom. Nationally, she serves on religious advisory committees for the Council on Foreign Relations, the Humane Society of the United States, and the Department of Homeland Security.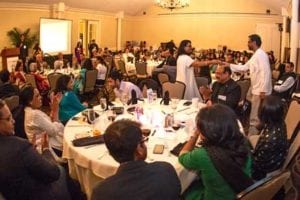 Master of ceremonies, Priya Pandit, appealed to the local community, illustrating the importance of supporting an organization with both a national and international voice. HAF's Director of Philanthropic Partnerships, Seetha Aiyar, delivered the invocation and energized the audience to think about what inspires them. "We all have many options on a Saturday night and we're thrilled hundreds of HAF Dallas area donors and newcomers came out to support this benefit," stated Aiyar. "As a leading advocacy organization, HAF is often behind the scenes, on the ground, and in the spotlight, but we cannot do this alone."
The event celebrated many of HAF's other achievements at the local and national level, including the organization's groundbreaking human rights report, which examines the challenges faced by Hindus and minorities in regions around the world. The information in this report is gathered from fact-finding missions and direct relief projects with refugee populations. Other achievements highlighted were HAF's cultural sensitivity training of TSA agents, Diwali resolutions, and HAF's highly coveted Capitol Hill internship.
The evening kicked off with cool treats offered by Frost 321. Using a delectable blend of the freshest and highest quality ingredients, Frost 321 dazzled attendees with their ice cream sorbet derived from a revolutionary liquid nitrogen process.
The event was orchestrated by Rajiv Pandit, MD, a member of HAF's executive council, as well as a group of dedicated HAF Dallas Chapter volunteers. Dr. Pandit has been active in the leadership of various organizations that advocate for Hindus. He is the co-founder of HAF's Dallas chapter, and his current focus is empowerment through education, specifically textbook reform and interfaith dialogue. HAF-Dallas is actively seeking new volunteers and community members to get involved.