Washington, DC (June 26, 2019) — On Monday June 24th more than 300 people filled the Foreign Affairs Committee Room in the Rayburn House Office Building in Washington, DC for the Hindu American Foundation's 16th annual Capitol Hill Reception.
Congressman David Schweikert (R-AZ) opened the reception as the first speaker, "As a younger man, I spent a great amount of time traveling through India, and enjoying your amazing cuisine and culture. Thank you for your work to educate others about the beauty of Hinduism."
Congressman Raja Krishnamoorthi (D-IL), the Assistant Whip of the House of Representatives, praised HAF for its efforts to elevate the US-India relationship, and remarked on his own experience as a Hindu public official in America.
Puneet Kundal, Charge D'Affaires of the Embassy of India, read a special letter written by the Prime Minister of India Narendra Modi, in response to eleven year old Ms. Arushi Yadav: "Guided by 'Sabka Saath, Sabka Vikas, Sabka Vishwaas', we will continue to make development a mass movement and provide progressive, development oriented and corruption free governance to build a strong, prosperous, and inclusive India."
Also in attendance were His Excellency Arjun Karki, Ambassador of Nepal, and His Excellency Rodney Perera, Ambassador of Sri Lanka.
In a first, this year's Capitol Hill Reception was co-hosted by HAF and the Indian American Kashmir Forum, with the partnership of Kashmir Hindu Foundation — all groups advocating for justice for the Hindu Kashmiri Pandit community.
"For too long the religio-ethnic cleansing of the Kashmiri Pandit community from the Valley of Kashmir has been overlooked by the international community," noted HAF Board Member Rajiv Pandit, himself a member of the Kashmiri Pandit community, now living in Texas.
"Some three decades ago thousands of Hindus were killed by their neighbors and Pakistan-sponsored militants, with several hundred thousand forced to flee under threat of horrific violence. Some of us emigrated from India entirely, but the majority of our community remains as internally displaced persons in other parts of India. All of us would like to see a time when we are able to return home safely," Pandit added.
Watch: History of the Kashmir Conflict, Part 1; and read the HAF guide: What you need to know about the struggle for peace in Kashmir.
In the wake of heightened violence in the Valley, HAF honored stalwarts of the Kashmiri Hindu community who have made significant and positive contributions in a variety of fields, including human rights, science, and the arts, as were individuals who have worked towards fighting for religious freedom of people around the world.
"We're humbled by the selflessness and achievements of these individuals in protecting, preserving, and promoting the indigenous cultural heritage of Kashmir, and in making incredible advances in a variety of fields," said Suhag Shukla, HAF's Executive Director. "And, after 30 years of largely remaining unheard, we were honored to recognize the efforts of American policy makers who have used their platforms to highlight the need for religious freedom and human rights for this and other minority communities."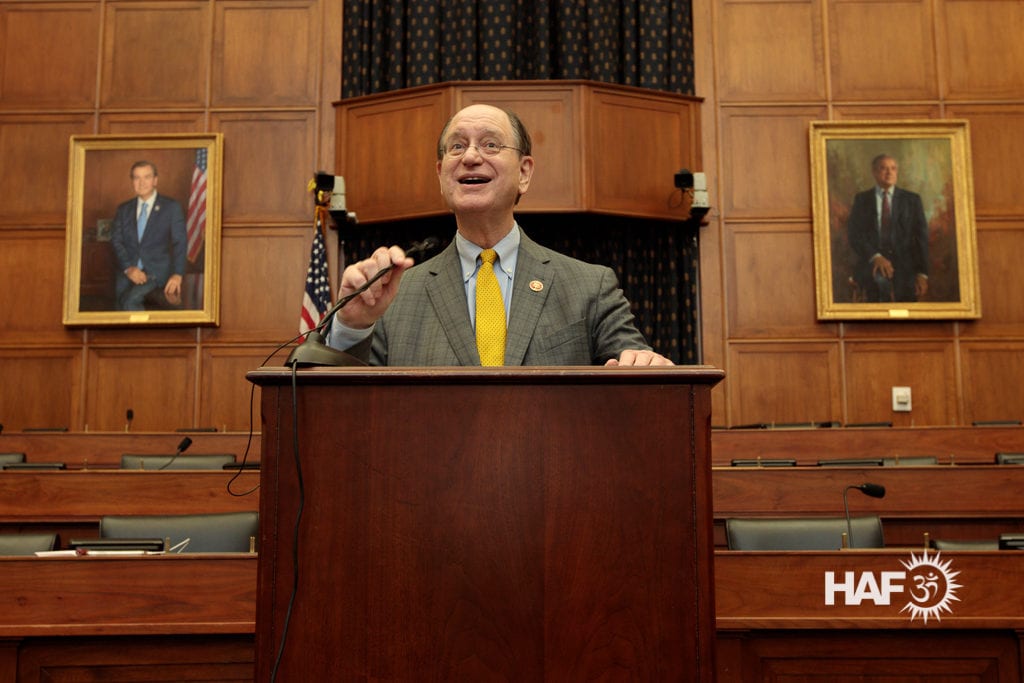 Receiving awards in 2019 were:
Representative Brad Sherman (D-CA) — Friend of the Community
Representative Brad Sherman (D-CA) (pictured, right) was given the Friend of the Community award for his efforts confronting terrorism in Souh Asia, particular in the aftermath of the Pulwama attack in India's state of Jammu and Kashmir, including pushing for getting Jaish-e-Mohammad founder Masood Azhar designated a global terrrorist by the United Nations Securiy Council.
In receiving the award, Representative Sherman praised the US-India strategic relationship, noting that it is based on shared democratic principles and that he "looks forward to the day when [India] is classified as a major non-NATO ally." Sherman went on to mention his introduction of H.Res 408, a resolution condemning the February attack in the Indian state of Jammu and Kashmir, carried out by Pakistan-based terrorist group Jaish-e-Mohammed.
Ambassador Sam Brownback — Mahatma Gandhi Award for Advancing Pluralism
Sam Brownback, US Ambassador-at-Large for International Religious Freedom (pictured, right) was given HAF's Mahatma Gandhi Award for Advancing Pluralism for his leadership at the helm of the Office of International Religious Freedom at the State Department, which has heralded a new era for the United States in elevating the voices of those who have long gone unheard. Since taking office, his keen attention and efforts to address the plight of vulnerable Hindu minorities in Afghanistan, Bangladesh, Malaysia, Pakistan, and the Indian state of Jammu and Kashmir has helped further the cause of human rights and freedom of belief worldwide.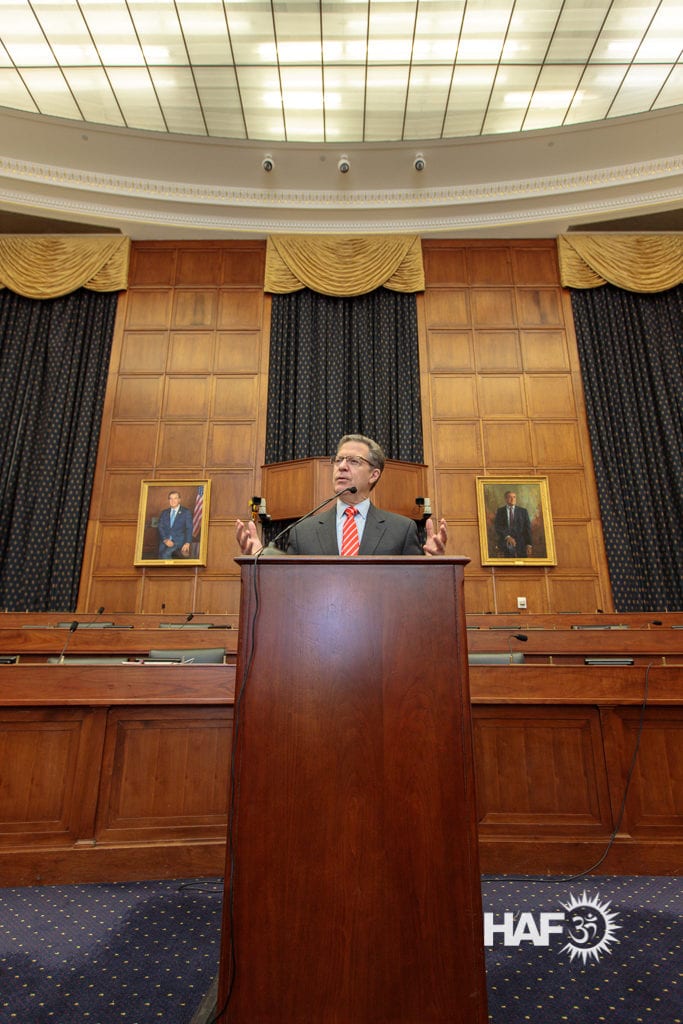 Brownback, the former governor of Kansas, remarked that the world is seeing more interactions between religious communities, stating, "The role of the government is to protect the right to everyone's religious freedom. You want to be Hindu, great. You want to be a Christian, a Muslim, great. As long as you're peaceful about it we will protect your right. This should be the standard around the world."
Bansi Pandit — Dharma Seva Award
Author Bansi Pandit was bestowed with the 2019 Dharma Seva Award — which is given to individuals or organizations who have worked tirelessly and selflessly for the greater good of Sanatana Dharma and the Dharmic community. For more than 25 years, Bansi Pandit has provided the community with many resources for the preservation of our religious and cultural traditions, with a particular focus on the needs of the second generation of Hindu Americans.
Subhash Kak, Ashok Koul, Arti Tiku Kaul — Award for the Advancement of Dharmic Arts and Sciences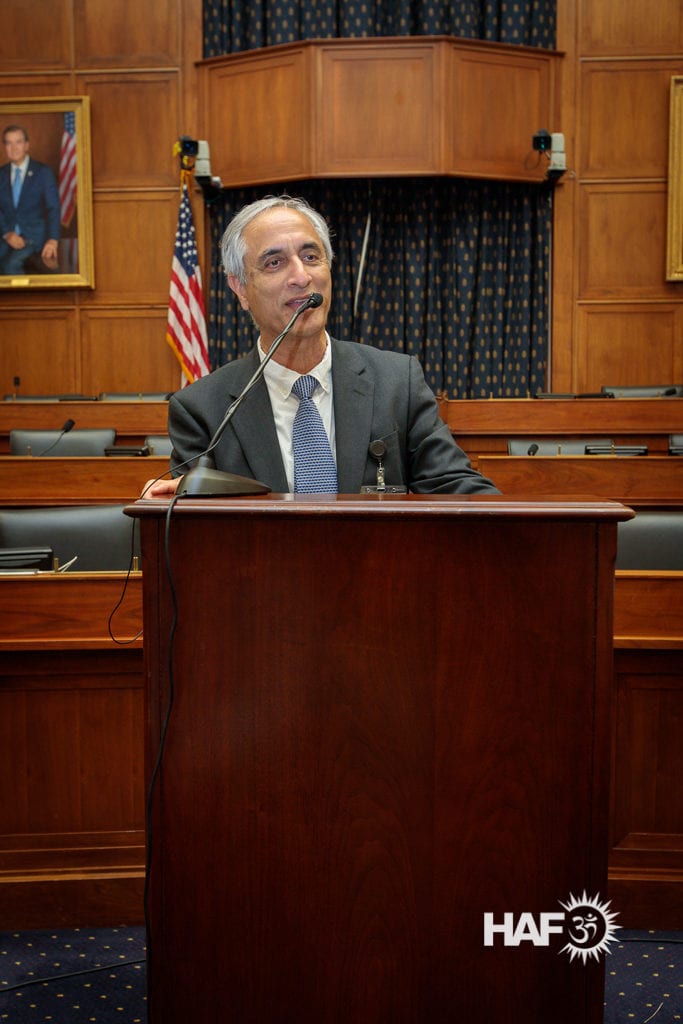 Professors Subhash Kak (Oklahoma State University; pictured, right) and Ashok Koul (Brown University) were each honored with HAF's Award for the Advancement of Dharmic Arts and Science in 2019. Kak received the award for his contributions to the fields of quantum cryptography, archaeoastronomy, history, philosophy, and poetry. Koul, an expert in South Asian languages, was recognized for his more than 30 years experience teaching Hindi, making significant contributions to the field of linguistics. And Arti Tiku Kaul was lauded for her work in promoting Kashmiri culture through music and poetry.
Vijay Sazawal, Deepak Ganju, Sunil Fotedar — Award for the Advancement of Hindu Human Rights
The three recipients of HAF's 2019 Award for Advancement of Hindu Human Rights all have made notable contributions in preserving Kashmiri culture in the decades since the Kashmiri exodus. For more than 25 years Vijay Sazawal (Indo-American Kashmir Forum) has given a voice to the Kashmiri Pandit community, whos suffering would have otherwise gone unnoticed in the United States. Likewise, Deepak Ganju (Shehjar Magazine), has unflaggingly promoted awareness of the genocide perpetrated against the Kashmiri Pandits. Sunil Fotedar, has been a pioneer in creating online archives of Kashmiri culture, religion, and history, as well as the human rights violations against the Kashmiri Pandit community.