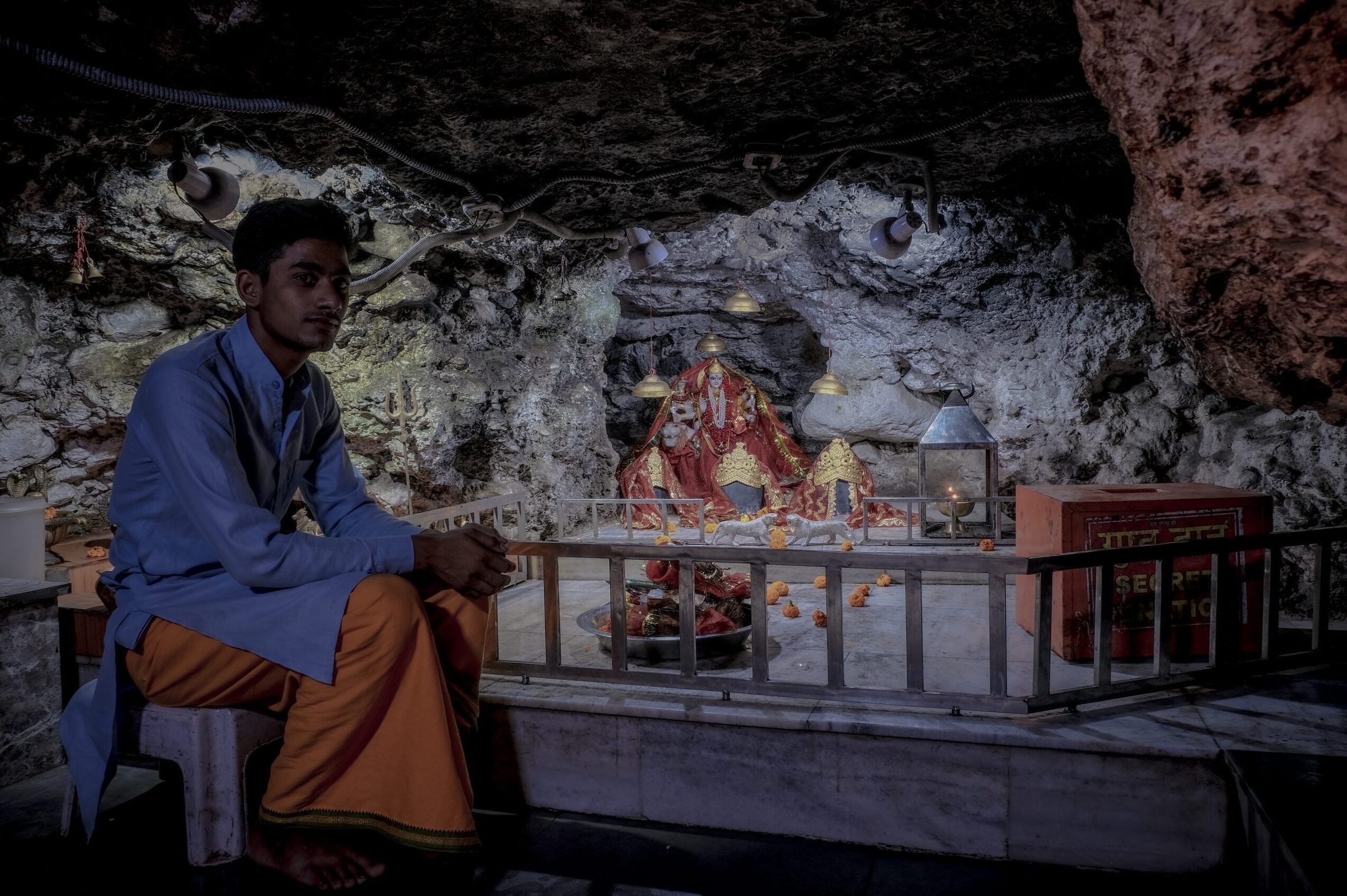 Of the many things that make Hinduism notable amidst the world's major religions, one of the most compelling and significant is the omnipresent importance placed on the Divine's feminine aspect.
Known as Shakti, or the creative and dynamic cause behind the compassionate, gentle, and fierce maternal energies that exist in our lives, Hindus have a truly earnest and spirited way of honoring the Divine Mother, who manifests in countless goddess forms as distinct expressions of her awe-inspiring love and power.
Seeing each and every one of these expressions as extraordinary guides who can help us unlock a specific aspect of our higher spiritual selves, worshipers travel far and wide to visit the different pilgrimage sites devoted to their most sublime and unique personalities.
And while all such sites are more than worthy of a pilgrim's pursuit, there are some, as is sometimes the case, that are so inspiring and unique, they are not just worthy, they are like hypnotic spiritual magnets, drawing countless from all over to their presence.
One of these most ancient, revered, and popular sites, which can be found more than 5,000 feet above sea level on the slopes of the Trikuta Hills near Jammu and Kashmir's town of Katra, is the shrine dedicated to Vaishno Devi, a goddess whose darshan (auspicious glimpse) is believed to not only bestow peace and prosperity, but fulfill the wishes of all who sincerely approach her.
A truly magnanimous personality, various tellings (each a little bit different) describe her conception as actually arising out of the profound compassion of three other goddesses, Lakshmi (the goddess of fortune), Saraswati (the goddess of wisdom), and Kali (the goddess of transformation), during a time when the earth was going through a period of particular corruption and turmoil.
Hoping to help relieve the world's burdens, the three of them pooled their collective tejas (spiritual strength), from which emerged a beautiful young girl. Charging her with the task of preserving righteousness in the world, they asked her to be born in the house of their great follower Ratnakar, and act as a divine example and beacon to all by spending her days immersed in meditation. Once her consciousness reached the appropriate level, she would then attain that whom she was named after, Vishnu, "the preserver of the universe."
Agreeing to their request, the girl thus took birth as Ratnakar's daughter shortly thereafter. Born with a sharp mind, her hunger for learning made itself abundantly apparent as she grew older, and so her father arranged for the best instructors to come and teach her all that they knew. When none, however, could satiate her thirst for spiritual knowledge, her father suggested she take up meditation, and immerse her mind in thoughts of the Divine.
Taking his advice, she learned the art of spiritual contemplation, and before too long, desired to go to the forest, where she could become more intensely absorbed in her practice. Though sad at the prospect of his daughter's departure, Ratnakar knew it was meant to be, and therefore gave his blessing.
And meant to be it was, for while she was in the forest, delving ever deeper into the well of her devotion, Rama, the avatar of Vishnu known as the embodiment of dharma (right and virtuous living), is said to have discovered her during his famed exile.
Though Vaishno Devi immediately understood his divine identity, and subsequently asked to be married to him at once, Rama, who was in the midst of searching for Sita, the goddess he was already married to, told her he could not.
Discerning the immensity of Vaishno Devi's devotion, he assured her the appropriate time for their union would come, but later during his appearance as Kalki, the avatar of Vishnu who ushers in a new age of truth and righteousness by wiping out the widespread darkness and corruption that culminates at the end of Kali Yuga (the age of time we're currently in). Until then, she should establish her residence at an ashram that would be set up for her at the base of the Trikuta Hills, and spend her days blessing mankind, relieving those who come to her of their sufferings.
Determined to carry out his orders, she hence made the arduous journey northward to the described location, and wasted no time in resuming her meditational practices in full earnestness. As her extraordinary personage and activities, in due course, became apparent to some, and that some grew into many, her glories inevitably spread far and wide, causing those seeking her blessings to arrive in flocks.
Unfortunately, one who came to see her, a man by the name of Bhairon Nath, was so enamored by her beauty, he began harassing her to marry him. Wanting to rid herself of his advances after he one day tried to grab her, Vaishno Devi fled up the mountain to a cave where she hoped to continue her meditation in peace.
When Bhairon, however, stubbornly chased her all the way to her destination, Vaishno Devi had had enough. Invoking the destructive force of Kali, she turned towards her stalker and cut off his head.
Free once again to resume her practice without disturbance, she decided to take advantage of the solitude and further absorb her consciousness in connection with the Divine by relieving herself of the encumbrances that come with a body. Thus letting go of her human figure through the power of her spiritual potency, Vaishno Devi assumed the face of a rock, immersing herself in an even stauncher meditation for the rest of time.
Standing more than 5 feet tall, this rock form has three heads or pindis (sacred petrified stone), one said to be imbued with the potency of Lakshmi, one Saraswati, and one Kali, which constitute the sanctum sanctorum of the venerated cave known as the Vaishno Devi shrine.
Legend has it that this shrine was first discovered roughly a thousand years ago, after Vaishno Devi appeared in the dream of a stalwart devotee named Sridhar and showed him the location. While, for hundreds of years following this discovery, the cave, for the most part, remained shrouded in obscurity, word of Vaishno Devi's presence there gradually began spreading from the 16th century onward.
And in the 1800s, when Maharaja Gulab Singh, the first Dogra ruler of the princely state of Jammu and Kashmir, founded The Dharmarth Trust as an endowment for religious charity, the shrine really started to become more developed and its management systematized.
Though, after his death, The Dharmarth Trust continued to look after the shrine for many years, the site's increasing popularity caused its care to be handed over to the state in the late 1980s, which was more equipped to facilitate the greater influxes of pilgrims.
Since then, the shrine's popularity has exploded even more, as millions — especially during festivals like Navaratri — visit Vaishno Devi every year, hoping to attain her darshan.
She is after all, a manifestation of the supreme and energetic force of existence, whose motherly compassion compels her to indiscriminately bestow the divine blessings of wealth, wisdom, and power, on all who humbly enter into her presence.
If you enjoyed this piece, then you may also be interested in reading "9 things to know about Navaratri"