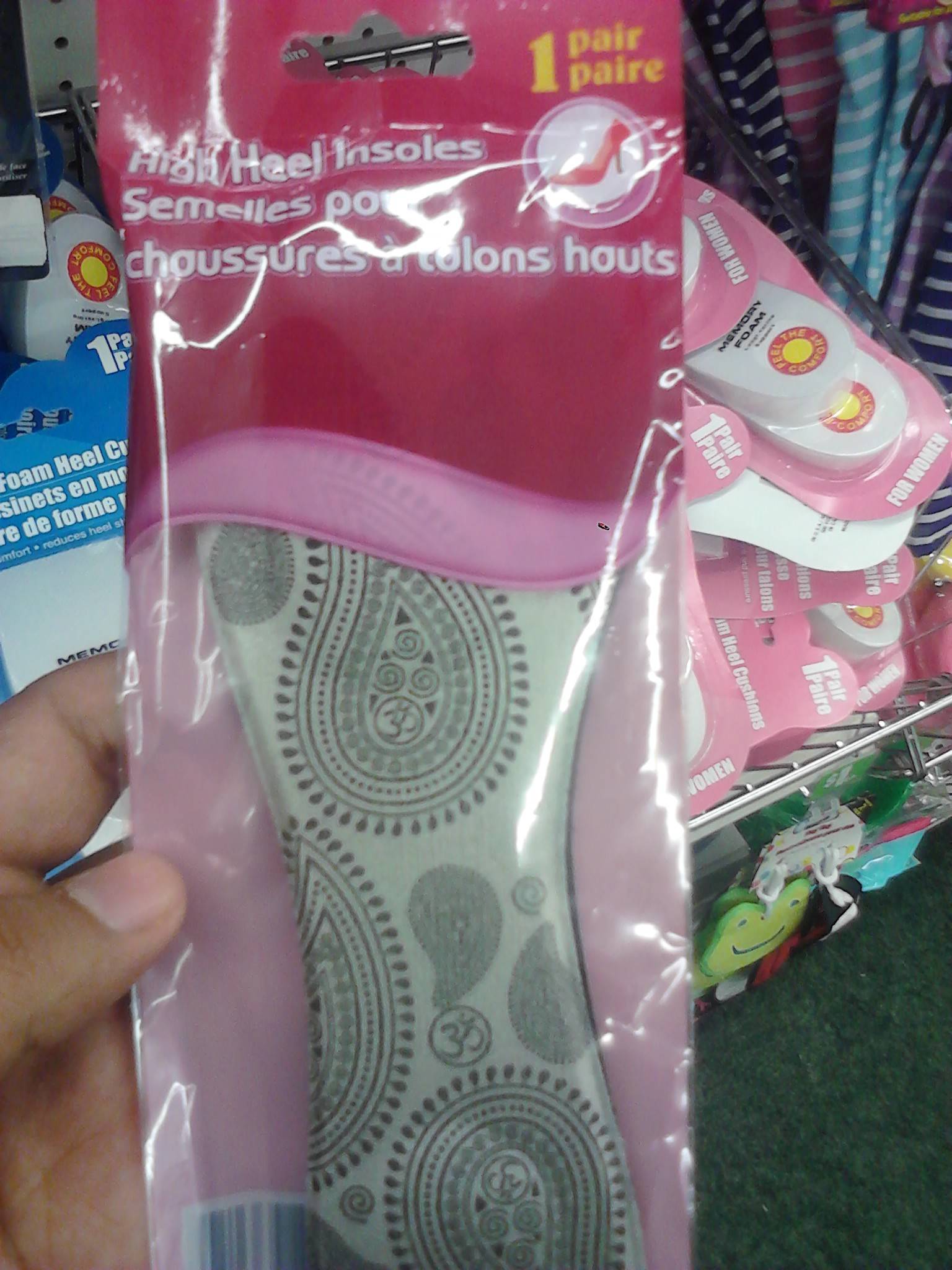 The letter below was sent by the Hindu American Foundation to Dollar Tree on Friday, June 26, 2015. 
Dear Sir or Madam,
On behalf of the Hindu American Foundation, we write to request the immediate removal of the "High Heeled Insoles," as they use the sacred "Om" religious symbols in a manner which is offensive to Hindu American community and to Hindus worldwide. The placement of the "Om" graphic on an insole is highly disrespectful, the reasons explained in greater detail below. This product, brought to our attention by a Hindu community member in Michigan, who is also a customer of Dollar Tree, is a shoe insole with a paisley print, which features multiple depictions of the Hindu symbol "Om" on its bottom side.
Sacred symbols of the Hindu and Buddhist religions are found in many places in today's marketplace, such as greeting cards, posters, and advertisements, and the plethora of images from the Indic faiths are pervasive in culture. We welcome the exposure and education of these religions to other Americans. However, certain uses of religious imagery, namely, when coming in contact with the feet, are viewed as highly disrespectful and objectionable by the Hindu community.
Hindu culture views the entire body to be divine. However, the feet, because they are in frequent contact with the ground, dirt, and dust, are considered unclean. If something unclean touches something that is sacred or unclean, it is seen as a sign of profound disrespect. Therefore, Hindus avoid touching religious imagery with their feet.
The Om symbol is a sacred and essential aspect of our religion. This insole, featuring the symbol as a decorative pattern, not only touches the shoes, but touches the feet as well. Therefore, the display of Om on this product is seen as highly offensive to the followers of our religion.
The Hindu American Foundation is an advocacy group providing a progressive voice for our community. Seeking to represent over 2.5 million Hindus in America, we work on issues regarding public policy, education, human rights, and foreign relations, while promoting interfaith relations, tolerance, and pluralism.
We await your direct and formal response as well as the removal of this product from Dollar Tree stores.
Sincerely,
Suhag Shukla Esq. Executive Director and Legal Counsel
Aditi Dinakar, Advocacy Intern
Hindu American Foundation