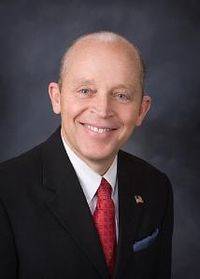 The letter below was sent by the Hindu American Foundation to Idaho Senator Steve Vick on March 3rd, 2015.
Dear Senator Vick,
On behalf of the Hindu American Foundation (HAF), a national advocacy organization, we write in response to your recent statements denouncing a Hindu prayer in the Idaho Senate. As both Hindus and Americans, we find your objections highly offensive.  We urge you to publicly apologize not only to those Hindus who you have so blatantly disrespected, but to the countless Americans who value and understand the importance of diversity in our country.  Furthermore, we hope you will take the time to learn more about the pluralistic philosophy of Hinduism, and we at HAF are happy to serve as a resource.
In an effort to directly address your concerns with Hinduism and set the record straight, please take a moment to carefully read the information below.
"They have a caste system."
Hinduism does not require, or impose caste-based discrimination. The caste system is a social construct which exists in most South Asian religious communities, including Hindus, Muslims, Buddhists, Christians, and others.  Nor is the caste system unique to South Asia, as caste structures can be found in Japan, Indonesia, Africa, and Europe.
"They worship cows."
As a simple conversation with a Hindu would reveal, Hindus do not worship cows.  Rather, Hindus see the divine in all living beings and respect them accordingly.  Of course, even if Hindus did worship cows, it is difficult to see why this would disqualify them from offering an opening invocation before the legislature.
"[The United States was] built on the Judeo-Christian, not only religion, but work ethic…"
"The Government of the United States of America is not, in any sense, founded on the Christian religion."  Don't take our word for it, as the previous statement is an exact quote from the Treaty of Tripoli, signed in 1797 by President John Adams, who is presumably more knowledgeable about the founding of this country than any of us.
"It goes back to my concern about the way this country was built, if you compare it to a country that was built on the Hindu faith."
The United States was built by citizens of all faiths and backgrounds, including Hindus.  Hindu Americans have made their mark in several fields, from healthcare to technology to business to government.  Hindus are an integral part of the foundation and fabric of America.
"[Allowing the prayer would] send a message that we're not happy with the way America is."
On the contrary, religious freedom and tolerance is part of the American fabric.  In addition to Christians of all backgrounds, the United States is home to Jews, Buddhists, Muslims, Hindus, and Sikhs.  As such, opening the Idaho Senate with a Hindu prayer signals an acceptance and appreciation of America's diversity.
Unfortunately, Hindu Americans today face increasing levels of harassment, bullying, and violence.  Just last week, the Sanatan Dharma Temple and Cultural Center of Kent, in your neighboring state of Washington, was physically attacked.  The vandals finished off the damage by spray painting the word "FEAR" on the temple walls, ensuring that worshippers knew they were unwelcome.  Through our work at HAF, we hear every day from Hindus who are concerned with the level of ignorance, hostility, and vitriol they face.  Idaho is home to a small but burgeoning Hindu population, including Bhutanese Hindu refugees in Twin Falls.  They deserve acceptance and respect, not ridicule, from their elected officials.
We are disappointed that when Rajan Zed, the Hindu chaplain giving the invocation, stood before the Idaho Senate today, you chose not to listen to the invocation.  We urge you to apologize for your disrespectful remarks and further encourage you to reach out to Idaho's Hindus to learn more about their faith.
Regards,
/s/
Harsh Voruganti, Esq., Associate Director of Public Policy
/s/
Samir Kalra, Esq., Senior Director
/s/
Suhag A. Shukla, Esq., Executive Director/Legal Counsel