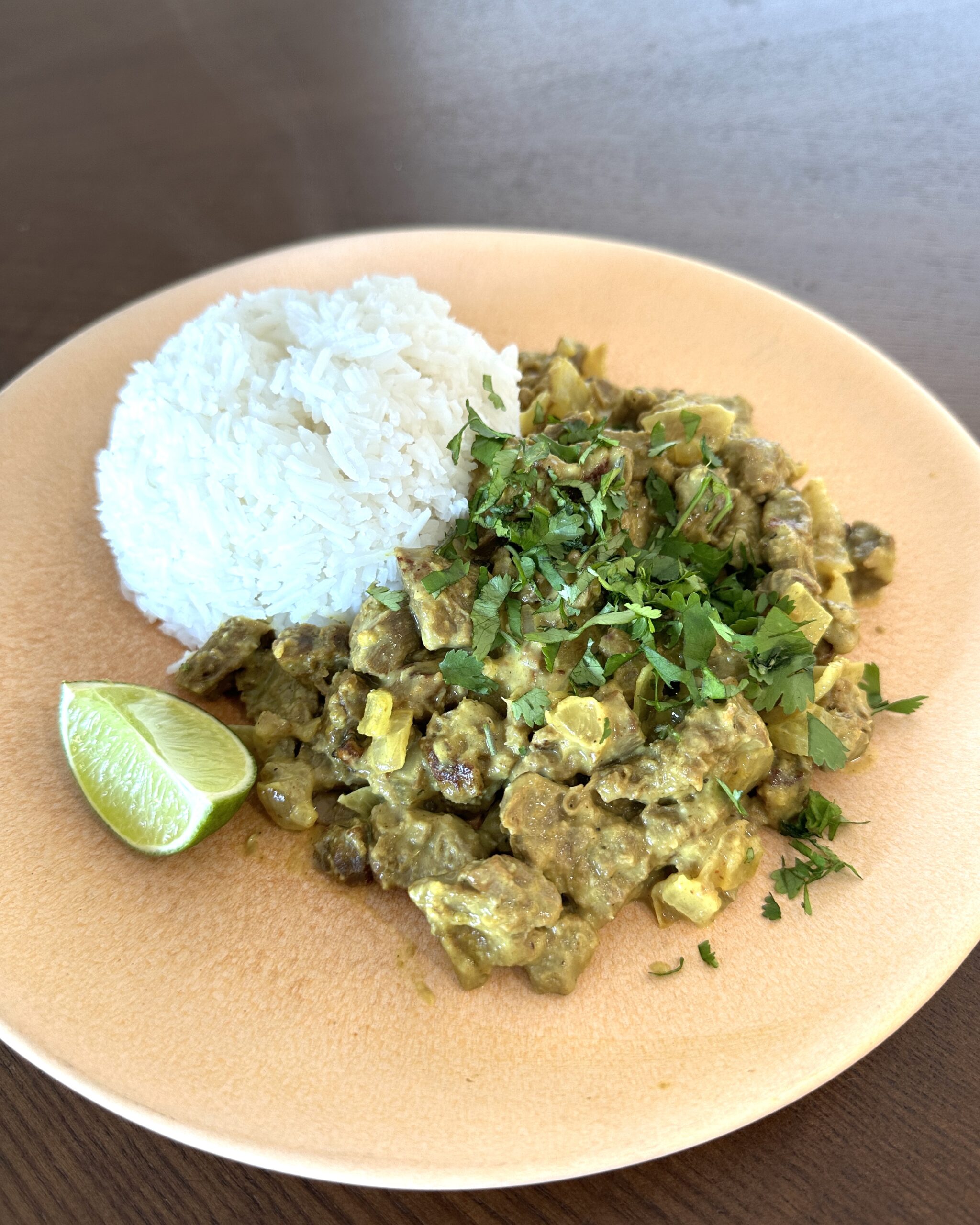 This January, HAF's Senior Director of Communications Mat McDermott is participating in Veganuary. As part of that we're sharing some of the vegan recipes he's been making.
I normally don't go in for vegan recipes that recreate ones traditionally made with meat. There are so many vegan things to eat without having to do so. But this January I've decide to challenge myself by going against my habit and cook some plant-based meat alternatives.
This recipe is an adaptation of the ginger-lamb coconut milk curry in Jefrey Alford and Naomi Duguid's Mangoes & Curry Leaves cookbook. The method in this one is similar to the original recipe, but it cooks in half the time due to using plant-based meat.
INGREDIENTS
10oz Beyond Steak plant-based seared tips (1 package)
FOR THE MARINADE
2 tsp ginger paste (or minced ginger)
0.75 tsp coriander, ground
0.5 tsp sea salt
0.25 tsp cayenne, ground
0.25 tsp turmeric, ground
FOR THE CURRY
1 tbsp neutral-flavored cooking oil
0.5" cinnamon stick
3 green cardamom pods
2 cloves
1.25 cups yellow onion, coarsely chopped
2 green chilies, halved and deseeded
1.25 tsp ginger paste (or minced ginger)
0.75 tsp garlic paste (or minced garlic)
1.5 cups coconut milk
coriander leaves, as garnish
lime wedges, to serve 
NUTRITION
Servings: 2

Rough nutrition per serving  (based on calculations from MyFitnessPal): 374 calories, 34g protein, 15g carbs, 19g fat. 
Marinade time: 1 hour; Cooking time: 20 minutes
METHOD
Combine all the marinade ingredients in a mixing bowl; add a sufficient amount of water to make this into a paste.

Place the Beyond Steak tips into the bowl; stir to coat the pieces.

Set aside, covered, for 1 hour at room temperature. If you need to do this step farther in advance of serving, place in the refrigerator.

Heat the oil in a large saute pan or wok. 

Add the cinnamon, cloves, cardamom to the pan; saute for a few minutes.

Add the chopped onion and slit chilies; saute until the onion soften and become translucent. 

Add the garlic and ginger; saute until the raw smell goes away.

Add the Beyond Steak. Make sure they get exposed to the yeat of the pan, pushing aside the onions and chilies if required to do this. Saute until they become browned. This will likely take about 8 minutes, but monitor as they cook. 

Lower the heat a bit. Add the coconut milk, stirring to combine the entire mixture. Bring to a simmer and cook for a few minutes until the mixture all comes together. 
Serve with plain rice, garnished with coriander, with a lime wedge on the side.