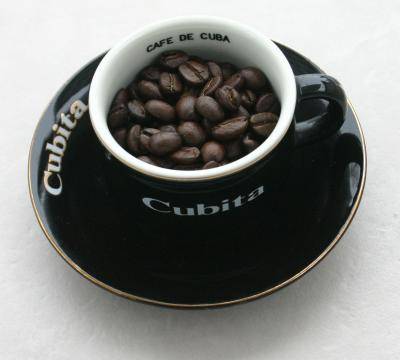 If I learned one thing during my time in Washington D.C., it's that Cuban coffee is taken very seriously in Miami. Although I was born and raised in New Jersey, HAF has given me the opportunity to intern for Representative Ileana Ros-Lehtinen, who represents Florida's 27th district. I have learned a lot from this experience- far more than just the importance of Cuban coffee.
I will never forget my first day on the job. After working with HAF during the Annual D.C. Advocacy Days, I began my internship with the Representative. When I walked into the office, it was hectic, loud and confusing. My intern coordinator was nowhere to be found, and I was put on phone duty immediately. Of course, I had read the manual of how to answer phone calls, but I was thrown into the new office with no experience and no idea who the staff members were. Slowly, as the day went on and as I began to meet other interns returning from their assignments, I became more comfortable with the situation. By the next day, I was a pro at answering phone calls. I began to take on more responsibilities, such as responding to constituents and doing research for foreign affairs hearings. While in the Representative's office, I was also able to sit in on hearings and give tours of the Capitol. I have met many wonderful people, from bankers to teachers.
In addition to my time on Capitol Hill, I was given the opportunity to work part-time for the Hindu American Foundation. I was thrilled, because I got the best of both worlds. I can see both sides of advocacy while at HAF and on the Hill.
My time with HAF began with their Annual D.C. Advocacy Days. I had the opportunity to meet several Congressmen and their staff members and discuss issues facing the Hindu community, domestically and internationally, such as violence against the Hindu minority in Bangladesh. In addition to advocating for human rights and Hindu rights, I was able to get to know my five roommates, who are also HAF interns. We stayed up the prior night, preparing our discussion points for D.C. Days and got to know each others' interests and goals. I learned quickly that we all have the same goal: to advocate for issues that affect Hindu Americans. So, although we live in a hectic suite of six interns, I can confidently say that I am close to all my roommates, and I can't imagine being here in D.C. without them.
Since then, my work with HAF has mainly been with Hinduism 101: Teacher Training. Because of my interest in finance, statistics, and education, I was given the opportunity to find and reach out to foundations that can help  HAF expand Hinduism 101 to schools and teachers across the nation. The program is primarily focused on teaching the basics of Hinduism to teachers so that they may better understand their Hindu students and be better equipped to lead in an increasingly diverse country. Although I had taken several years of philosophy in middle and high school, I never had the choice of learning about Hinduism because our teachers were not educated in Hinduism. Whenever the topic of Hinduism did come up outside the classroom, it was overshadowed by talk of the caste system or falsely labeling it as polytheistic. My hope is that Hinduism 101 will open doors for teachers to include classes on Hinduism and ensure that the information is accurate.
In addition to the Hinduism 101 project, I had the opportunity to work on a legal compilation for HAF. I was able to learn about the important legal work that HAF does, alongside many other faith-based organizations, to promote the separation of church and state. I was also able to work on a presentation that would be shown to first responders who would have to enter Hindu homes or temples in cases of emergency.
Working for both sides of advocacy has truly been eye opening. Before applying to intern at HAF, I had never given thought to Hindu American advocacy. I realize now, that our voices as Hindu Americans or even more simply as United States citizens or residents makes a difference. HAF has provided me and my peers a venue to voice our concerns for the Hindu American community while strategically and effectively creating change.
This summer has given me insight as to what I can do to be a Hindu American advocate, even if I am not speaking to Representatives or Senators. I have learned that I can be a Hindu American advocate even by speaking to my friends about how they can help create a more inclusive community. I learned that even explaining to my co-interns the basics of Hinduism was helping advocate for the Hindu American community.
Although I might not go home and make Cuban coffee in New Jersey, my time in Washington, D.C. has helped me understand my role as a Hindu American and has given me the resources to advocate for religious freedoms and an inclusive society. I have also made lifelong friends who have made this experience in D.C. exciting and fun!