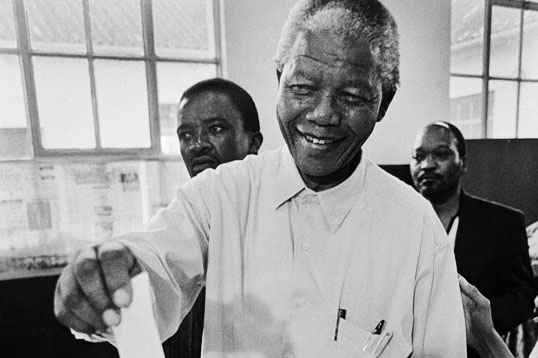 As many of us await the opening of the highly-anticipated Nelson Mandela biopic, Long Walk to Freedom, it's important to understand just how much of an impact Mandela had on global faith. To many Hindus around the world, Mandela embodies the faith's scriptural embrace of pluralism, tolerance, and shared humanity.
Prior to his imprisonment at Robben Island, Mandela worked closely with Hindus and other South African Indians to agitate against Apartheid, which had devastated both the native African and Indian populations. Though Indians in South Africa had made some gains, particularly after the days of Mahatma Gandhi's civil disobedience there, they were still considered second-class citizens and unable to enjoy any of the rights of whites. For Hindus and Muslims, freedom to worship became a major issue as well, as white South African authorities frequently imposed restrictions on religious ceremonies and had previously not recognized non-Christian marriages in the country.
But Mandela's imprisonment would ultimately help shape his views on religious pluralism and the realization that if he were ever freed, South Africa would have to embrace both multiple cultures and faith traditions to exorcise the demons of Apartheid. Mandela bonded with his Hindu fellow inmates at the prison, particularly when Hindu priests would make ceremonial visits. He noted this in a 1991 speech commemorating Diwali, just over a year after his release from prison:
Diwali brings back for me memories of days on Robben Island. Regularly at this time of year when our Hindu friends the world over were preparing to celebrate the Festival of Lights we would be visited by Hindu priests. …They would come and offer prayers with us and bring with them parcels of sweetmeats. The authorities were insistent that these parcels were only for believers in the Hindu faith. Through our struggles we were able to challenge the authorities on this narrow conception and we insisted that all the embracing philosophies that Hinduism is based on extended a hand to all of humanity. …It humbles me to be associated with a festival that goes back over 5000 years. I also feel privileged and proud that our country is blessed with so much diversity and richness of cultures and traditions. The Festival of Diwali and the history and significance that is a part of the festival carries innumerable lessons for us all and I can refer to only a few. We have been engaged in the battle against the forces of darkness along lines similar in the Hindu scriptures. The policies of apartheid and its creator, the National Party have inflicted serious damage on the country and its people.
Mandela's speech also touched upon the notion that blacks and Indians in the country needed to stand together at a time when the country was at a critical juncture in forming a post-apartheid government. Mandela believed that unity and pluralism could overcome hatred and suspicions among South Africans of different backgrounds. He also lived and breathed the idea that confrontational pacifism — which was Gandhi's legacy — would overcome any weapon or oppressive policy. Even as black leaders such as Steven Biko or Hindus such as Krishna Rabilal were killed for the anti-apartheid activism, Mandela was firm that violent retaliation was a zero-sum game. It became a hallmark of his political career after he became the country's first black head of state. As he would remind South African Hindus:
We are committed to building bridges and helping to embrace all of humanity under one umbrella and move forward in strength and confidence to a better future. We believe that this is not different from what Hindu scriptures have also been saying.
At this time of Diwali and as I light this sacred lamp I am aware of how this lamp symbolizes the triumph of: Enlightenment over blind faith; prosperity over poverty; knowledge of ignorance; good health and well being over disease and ill health; (and) freedom over bondage. In our struggle we will be celebrating this triumph together. But we have a difficult road to walk before we can claim that victory for us all in this country.
While the last sentence has proven quite prophetic due to South Africa's continued struggles as a multi-racial, multi-faith democracy, Mandela's life — and his own spiritual journey from radical to pacifist — have shown that taking the long road can lead us to better days ahead. For Hindus in South Africa and across the world, Mandela symbolizes a path guided by dharma — a commitment to righteous action without consideration of consequence. For showing us that path, we are truly indebted to a great soul.
Amandla!
This article originally appeared on Huffington Post.