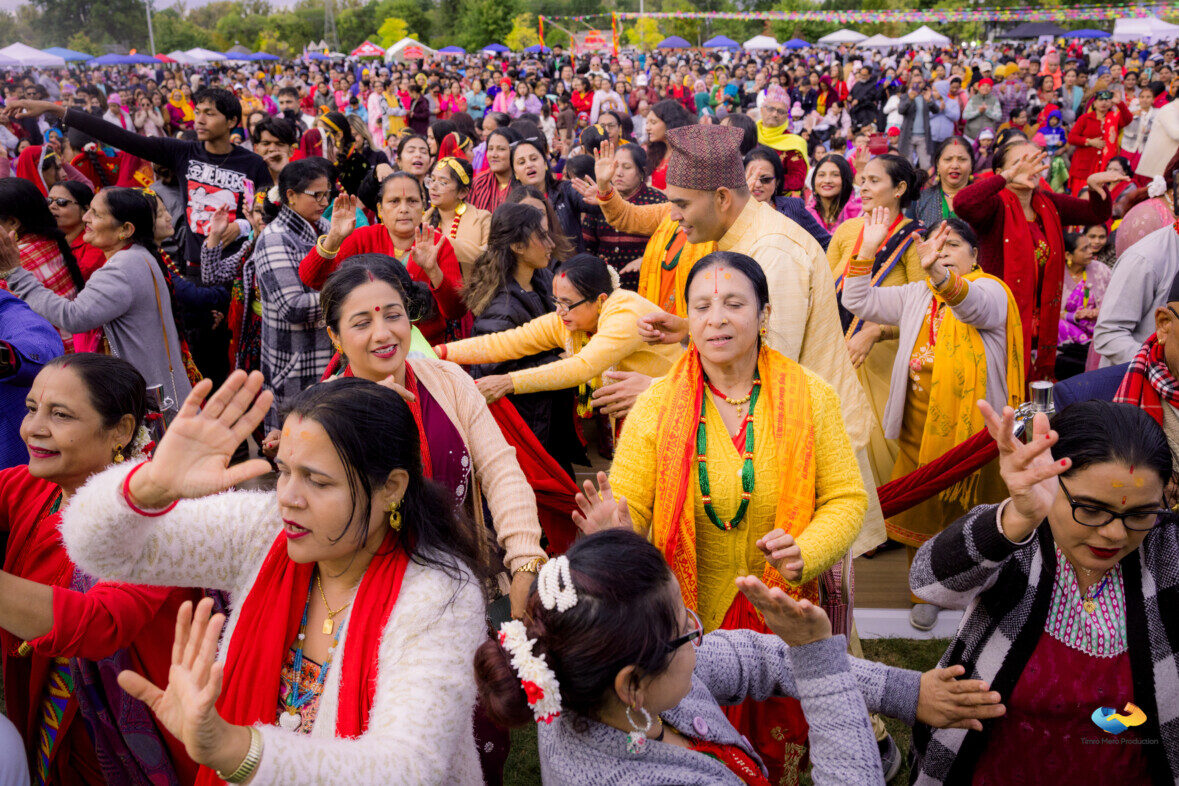 The supreme source of creation, according to Hindu texts, naturally comprises all of life's dimensions, and therefore includes not only a masculine aspect, but a feminine one as well.
Known as Shakti, or the creative and energetic force of the Divine, the latter provides a spiritual balance to the former, and is thus revered by adherents through various goddess forms, who are particularly recognized during certain festivals of the year — a special one being Navaratri.
A nine-night observance that honors the role the loving, compassionate, and gentle, yet sometimes fierce, feminine energy plays in our lives, Navaratri is famously topped off with a 10th-day celebration of Vijayadashami (commemorating the victory of Goddess Durga over the demon Mahishasura).
Of course, with Hinduism being the incredibly diverse tradition it is, there are many who choose instead to spend the day meditating on a different victory, that of Rama over the demon-king Ravana. While, in this case, it isn't a goddess directly who destroys the unscrupulous enemy, it is one who inspires such destruction, as it's the immeasurable power of Sita's love and devotion that fuels Rama's drive to vanquish her dishonorable captor. 
So, regardless of which pastime one chooses to focus on, the unrelenting light of Shakti dispelling the darkness of corruption is an ultimate lesson every celebration endeavors to appreciate. And, depending on the community, each can look a little different.
The following is an interview with Bhuwan Pyakurel, a former refugee from Bhutan who immigrated to America in 2009, and is now a City Council Member in Reynoldsburg, Ohio. Having participated in the festivities his whole life, he shares with us his unique perspective: how he celebrated, how he celebrates now, how his outlook and appreciation have evolved over the years, and more.
What are your earliest memories of Navaratri and or Dussehra? What about the holiday period initially resonated with you?
I'm originally from Bhutan. So my earliest memories of this holiday, of this festival, go back to Bhutan, where Dussehra and Diwali used to be known as Dashain-Tihar.
We would keep all the cattle and animals in a cowshed [a symbolic gesture of respect and protection for them], Ramayana recitation would happen in our village, and on the day of Dussehra, or Dashain, everybody would take the day off and go to different relatives' houses. And during Navaratri, people would read Chandi [sacred text related to Durga], and perform Durga puja [worship].
Can you describe, in detail, how you observe the festival time today? What, specifically, makes your community's form of celebration unique to others?
Dashain is the biggest thing, even bigger than Tihar or Diwali. During Dashain, all relatives go to an elder's house. There, he or she will give the younger family members tika [uncooked rice mixed with sindoor and yogurt] on the forehead, and jamara [barley seeds sowed at the beginning of Navaratri and then harvested during Dashain] on the ear as blessings. Such blessings are given in the prosperous spirit of bestowing one with the long life of a chiranjivi [immortal beings], and the pride and will of Rama's father, King Dasaratha.
How has your appreciation for the celebration evolved as you've gotten older? What about it, now, resonates with you the most?
Receiving the blessings is the biggest part of the day — biggest part of the year. Even in today's busy world, we take the time during Dashain to get these blessings and eat and spend time with each other. These things are the binding forces that bring families together, as we spend the sacred time discussing all the challenges and successes we experienced throughout the year.
What issues have you experienced in observing your celebrations in America?
There are a few things. In 2020, when I got elected, we started celebrating Diwali in our City Hall. The first year was just a small thing. I had some pandit jis from the community come. They recited a few slokas [Sanskrit verses]. And I got the resolution recognizing Diwali as a Hindu holiday.
The second year, because of covid, we had to do it on an even smaller scale, outside of City Hall, which the mayor attended. But last year, it was one of the biggest events of the city, where around 6,000 people showed up to celebrate Diwali in a public park. And this year will be even bigger. We are estimating around 10,000 people from across the state, and a few other states as well, including Pennsylvania, Ohio, and Kentucky. Most of them are former Bhutanese refugees and are now Bhutanese Americans.
Because, at one point, we didn't think it would ever be possible to come together in such a fashion, the excitement among the community is immense. But it's still a give and take. Everybody has such busy schedules here in America. Some work in the morning, some work during the night, and kids can't alway get time off of school if a holiday falls on a weekday. Ultimately, of course, we appreciate the fact that we get to celebrate at all.
At one point in time in Bhutan, the king wouldn't let us observe our holidays. So though there are some scheduling challenges here, we are incredibly grateful to this nation for giving us the privilege to celebrate.
How do you believe the Hindu American Foundation (HAF) has helped in addressing those issues?
On a wider scale, I can see that HAF is very much involved in the Hindu cause all throughout the country. I followed your efforts against SB403 in California, as well as a lot of the other advocacy work you've been doing. In fact, the resolution I got passed recognizing Diwali as a Hindu holiday was based on resources I pulled from HAF's website.
So on those fronts, I think HAF has been doing a phenomenal job. When it comes to the Bhutanese community in particular, however, though HAF has helped in the past, much more work needs to be done. And I believe those days will come. HAF has a big platform, and it can unite all Hindus from across the world to work together on a larger scale.
What is your hope for the future, and what role do you believe HAF will play in helping to make it a reality?
I have very big hopes. I'm always optimistic. I have seen so much progress happen the last 10 to 12 years during my time here in America. 
As I mentioned, the country where I was born, Bhutan, didn't give me a place to live because of my dharma [spiritual way of life]. And the largest democracy on Earth, India, would not even recognize me as a human being. I was thrown out of the country and we were forced to live in a refugee camp for 18 years in Nepal. Even there, though we spoke the Nepali language, adopted their culture, and practiced their traditions, we weren't given the opportunity to become a citizen. The only country that has recognized me as a human being is the United States, which has given us so many opportunities. So there's a lot of hope — a lot of excitement.
Having said that, there are still significant challenges for Hindu communities across the country. We, as Hindus, for example, need to do better at learning who we are — understanding our scripture, understanding our ideas and our philosophies. So I think HAF has an important role to play on that end, and the advocacy work needs to grow to a larger scale.
Going further, I think it's important to make clear that HAF is for all Hindus, regardless of their country of origin. A significant number of people believe that only people of Indian origin are Hindu, which obviously isn't the case. Of course Hinduism originated in India, there's no doubt there, but it's important to make clear that anyone can be Hindu, and that there are many from all different parts of the world.
How do you feel about being a part of the HAF community and watching it grow?
I feel great, because it means there's hope, there's possibilities, and there's opportunities. It means there's a group working for you, doing the research to provide the resources that will enable us to grow and bring people from the Hindu community together. Hindu dharma, after all, is eternally effective at promoting world peace, and HAF gives fundamental hope to all Hindus in this country by moving our people and values forward.
If you enjoyed this piece, then you may also be interested in reading "On celebrating Navaratri and Dussehra: through the lens of HAF's Policy Director, Samir Kalra"