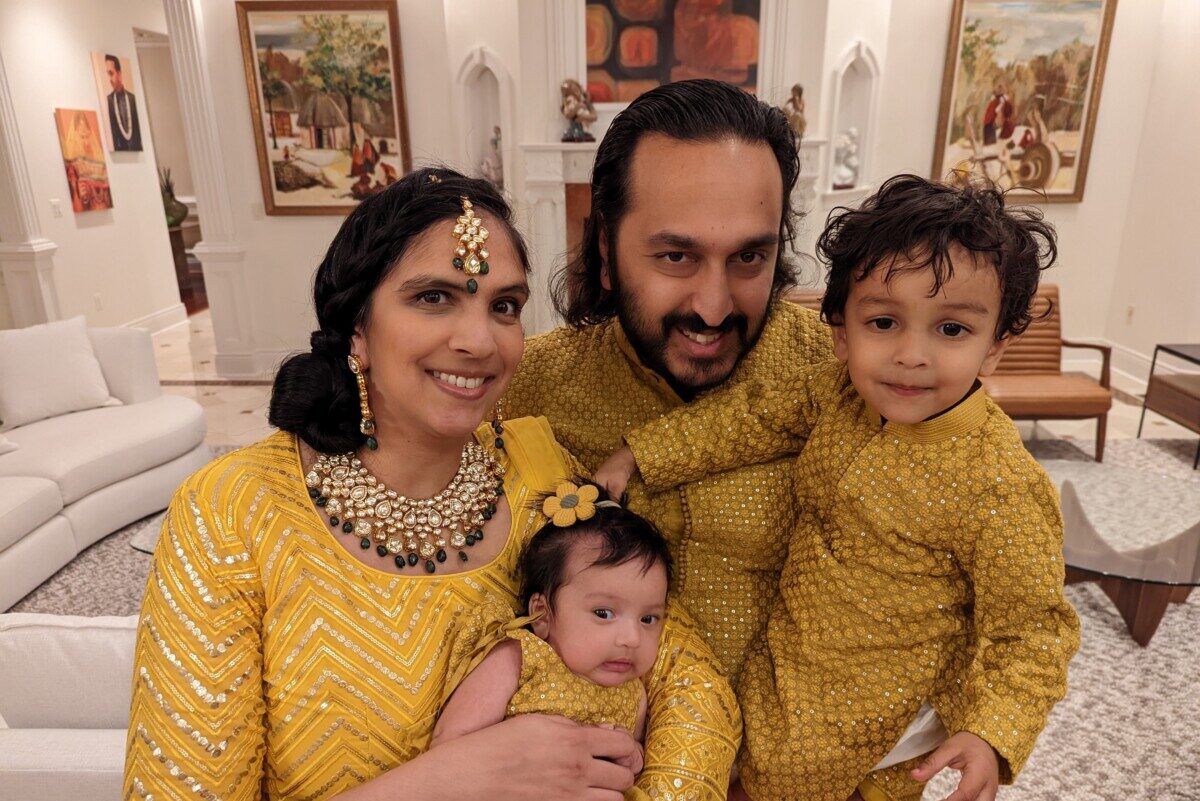 The supreme source of creation, according to Hindu texts, naturally comprises all of life's dimensions, and therefore includes not only a masculine aspect, but a feminine one as well.
Known as Shakti, or the creative and energetic force of the Divine, the latter provides a spiritual balance to the former, and is thus revered by adherents through various goddess forms, who are particularly recognized during certain festivals of the year — a special one being Navaratri.
A nine-night observance that honors the role the loving, compassionate, and gentle, yet sometimes fierce, feminine energy plays in our lives, Navaratri is famously topped off with a 10th-day celebration of Vijayadashami (commemorating the victory of Goddess Durga over the demon Mahishasura).
Of course, with Hinduism being the incredibly diverse tradition it is, there are many who choose instead to spend the day meditating on a different victory, that of Rama over the demon-king Ravana. While, in this case, it isn't a goddess directly who destroys the unscrupulous enemy, it is one who inspires such destruction, as it's the immeasurable power of Sita's love and devotion that fuels Rama's drive to vanquish her dishonorable captor. 
So, regardless of which pastime one chooses to focus on, the unrelenting light of Shakti dispelling the darkness of corruption is an ultimate lesson every celebration endeavors to appreciate. And, depending on the community, each can look a little different.
The following is an interview with Kavita Pallod, a second-generation Marwari American who was born and raised in the United States. Having participated in the festivities her whole life, she shares with us her unique perspective: how she celebrated, how she celebrates now, how her outlook and appreciation have evolved over the years, and more.
What are your earliest memories of Navaratri and or Dussehra? What about the holiday period initially resonated with you?
Some of my earliest memories are of just doing puja [worship] at home on Dussehra, more than Navaratri for us as Marwaris. And, you know, just a really festive atmosphere. Of course, Dussehra felt like "ok, Diwali is coming really soon."
But as I got older, I started celebrating Navaratri more as I made more Gujarati friends. I started going to garba [traditional folk dance] and celebrating with others beyond our immediate family, which was really special. When I thus think of what resonated with me most about Navaratri and Dussehra — besides of course, honoring the feminine spirit in our lives — I think of the community that came from being able to celebrate these festivals together. And being able to grow in adopting and adapting that energy to our own communities in the states where, sometimes, I've felt a little more isolated. Here, of course, everyone was like, "hey, what are you doing for Christmas, what are you doing for Easter?" But that wasn't the case for Navaratri or Dussehra.
So when we were able to connect with others to be able to celebrate, it just felt really, really special.
Can you describe, in detail, how you observe the festival time today? What, specifically, makes your community's form of celebration unique to others?
I think this is a Maheshwari thing — it may just be a Pallod family thing — but we do a vahana puja, or puja for your car, on Dussehra. 
My mom told me that on Dussehra, three things happened: Durga defeated Mahishasura, Rama defeated Ravana, and the Pandavas picked up their weapons, signifying the end of their exile, and in many ways, the beginning of the Mahabharata war.
Something about picking up the weapons relates to being able to take the time to really appreciate your own vahana, your own vehicle, which can be profound in thinking that "oh we're taking care of our vehicle, which does so much for us on a daily basis." Hence, when we go into other parts of the festival, we also take time to honor the vessels we cook food in, because that is so much of our life too.
So again, it's wearing new clothes, cleaning the house, making delicious food, and having a time to dedicate to really seeing and celebrating with family this idea of bringing more and more light into our lives, especially as it gets darker and darker outside. And with these pujas, honoring the things in our lives that keep us healthy and functional.
How has your appreciation for the celebration evolved as you've gotten older? What about it, now, resonates with you the most?
It's been really interesting how my celebrations have changed since getting married and having kids of my own. There's, unfortunately, a little less of the sense of fanfare because, you know, I'm not cooking away for weeks the way my mom did, or doing a lot of the other things that made it feel really different growing up. But we're still really trying to hold onto that feeling for our kids by spending more time just talking about what the holiday period signifies, and spending more time reading the books and doing the celebrations in that way.
During Navaratri in 2020, for example, it felt really powerful, in some ways, to honor the Feminine Divine while voting for Kamala Harris, who ended up being the first female Vice President. Certainly not a traditional way to celebrate, but a really meaningful one for me, nonetheless. Now having a daughter as well as a son, I'm just thinking more and more everyday about what it means to really embody respect for the more feminine parts of our personalities — for the more feminine energy we need to live our lives. I've really been thinking how to embody courage while also embodying grace, and how to embody beauty while also embodying power, for her and for all of us too.
So maybe that hasn't yet meant taking my family for garba or anything like that, but it's still been a real time to reflect on how we're living those values in our daily life, and bringing that energy to all of us. 
What issues, if any, have you experienced in observing your celebrations in America?
You know, I think that question has evolved too. Growing up, it just felt very isolating at times. I didn't grow up with many Indian or Hindu students around me in schools, so though I was excited, there was no one to talk to about what these festivals meant, or how others were celebrating. That was hard. 
I now feel like we're at a moment in time where our right to celebrate is being undermined by our own sometimes, in unfairly characterizing some of these festivals that are so important to us as inherently casteist, misogynistic, or otherwise problematic. I really struggle with that, and the challenges people have in seeing how these festivals are still evolving, and how they represent so many things to so many people.
My hope is that my kids won't have to face a lot of the questions about what it means to really be someone who celebrates Navaratri or Dussehra.
How do you believe the Hindu American Foundation (HAF) has helped in addressing those issues?
I think HAF has been really fundamental to being able to own what it means to be Hindu without being demonized and attacked, and saying "don't misrepresent and don't misunderstand our festivals. HAF has also helped Hindu students, Hindu parents, and Hindus in general, feel really comfortable with their Hindu identity in this country so that we can celebrate these festivals in the ways that we want, and the ways that most resonate with our practices and beliefs.
What, ultimately, is your hope for the future, and what role do you believe HAF will play in helping to make it a reality?
I kind of hinted at this already, but my hope is that my kids will be able to freely celebrate Hindu festivals without feeling, at any time, demonized or unfairly misrepresented.
So again, I'm really grateful to the work HAF has already done in making this possible for them, though I know there's a long way to go in continuing to create a space where it's just ok to be Hindu, to be proud to be Hindu, especially on the holiest days of the year.
How do you feel about being a part of the HAF community and watching it grow?
So proud. Just amazingly proud every day in seeing the scope of the work HAF is able to do. And seeing, more and more, people taking the time to understand how the challenges that face Hindu Americans these days are growing and evolving, and how HAF is doing the work to really respond and, again, create the space for all of us to feel proud and comfortable in our identities.
If you enjoyed this piece, then you may also be interested in reading "On being a voice in the global kirtan choir: Jahnavi Harrison"