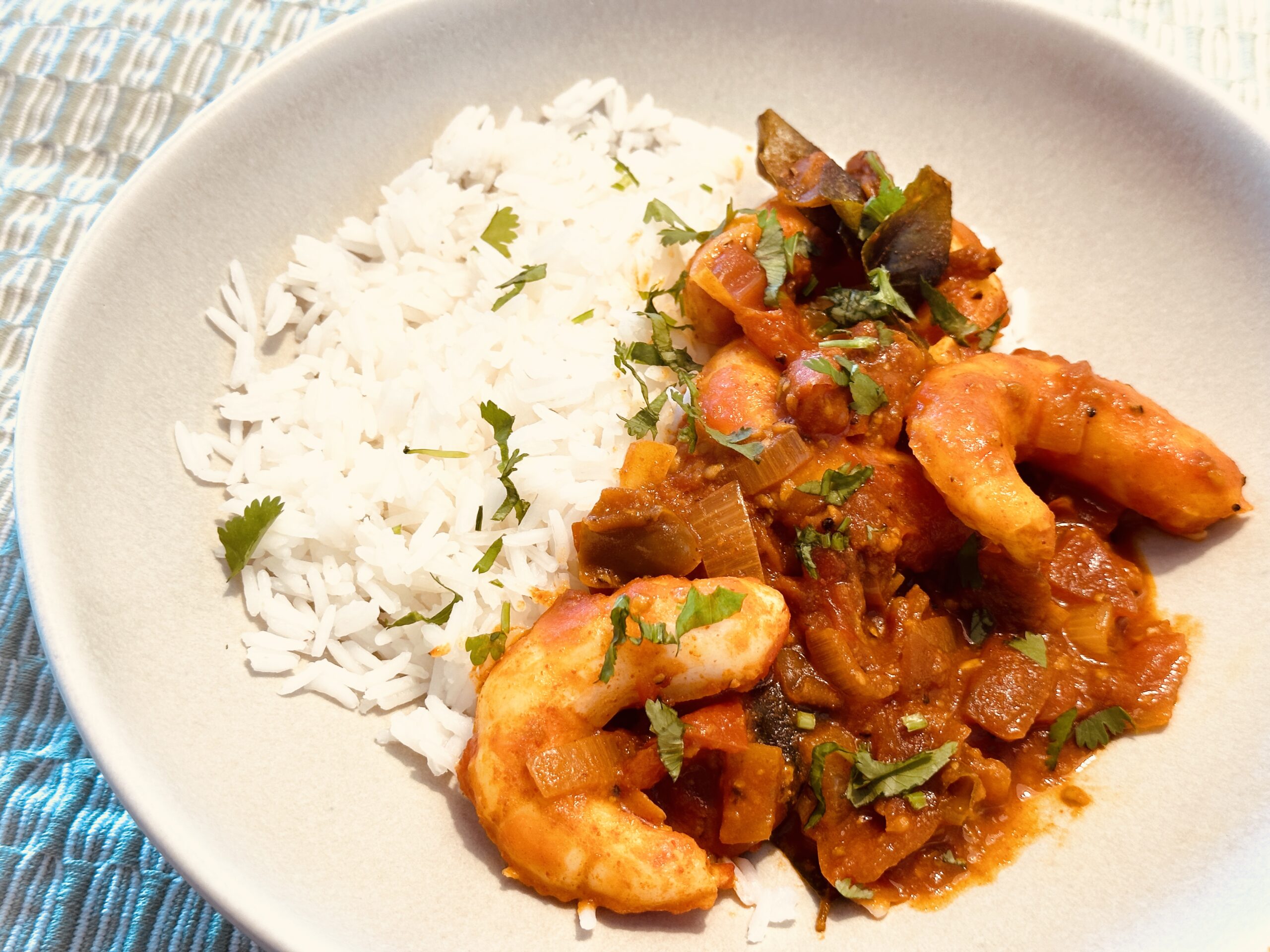 This January, HAF's Senior Director of Communications Mat McDermott is participating in Veganuary. As part of that we're sharing some of the vegan recipes he's been making.
I normally don't go in for vegan recipes that recreate ones traditionally made with meat. There are so many vegan things to eat without having to do so. But this January I've decide to challenge myself by going against my habit and cook some plant-based meat alternatives.
For this one I'm well out of any reference point I have. As a child I was raised eating meat, but due to some family members being allergic to shellfish, we never had it. Which is to say I have no reference point for the texture and taste of shrimp, as I've never eaten it. I'm unsure if this recipe is a good approximation of what the animal-based version would be, but the taste of the masala is good and the texture of the vegan shrimp is nice as well. 
Also worth noting on this one: Vegan shrimp, at least the version I used from BeLeaf, has no protein — unlike the animal product. I bring this up because if many plant-based meat alternatives are made from legumes of some type or wheat gluten, both of which are excellent protein sources. For a more macro-balanced meal, you'll want to include a  protein-rich dish to complement this one nutritionally.

INGREDIENTS
300g BeLeaf vegan shrimp  (1 package)
1 tsp neutral-flavored cooking oil
1.5 tsp ginger-garlic paste
0.5 cups shallot, coarsely chopped
2 springs curry leaves
2 medium tomatoes, chopped
1 tbsp Kashmiri chili powder
1 tsp coriander powder
1 tsp black pepper, ground
0.5 tsp turmeric powder
0.5 tsp sea salt
fresh coriander, for garnish
NUTRITION
Servings: 2

Rough nutrition per serving  (based on calculations from MyFitnessPal): 210 calories, 1g protein, 36g carbs, 6g fat. 
Cooking time: 20 minutes
METHOD
In a large wok, heat the oil. When hot, place the ginger-garlic paste in it and fry until the raw smell goes away.

Add the chopped shallot and curry leaves. Cook until the shallots turn translucent.

Add the chopped tomato. Cook until the tomatoes turn fully mushy.

Add the dry spices, stirring to incorporate.

Add the vegan shrimp, stirring to ensure all of them are coated in the masala. 

Add one-quarter to one-half cup water to the wok, cover, and heat until the vegan shrimp is warmed through. (This brand of vegan shrimp is ready to eat, just requiring heating. The amount of water needed will vary depending on how much moisture your tomatoes release.)

After a few minutes, take the wok off the heat and serve, garnish with chopped coriander leaf.