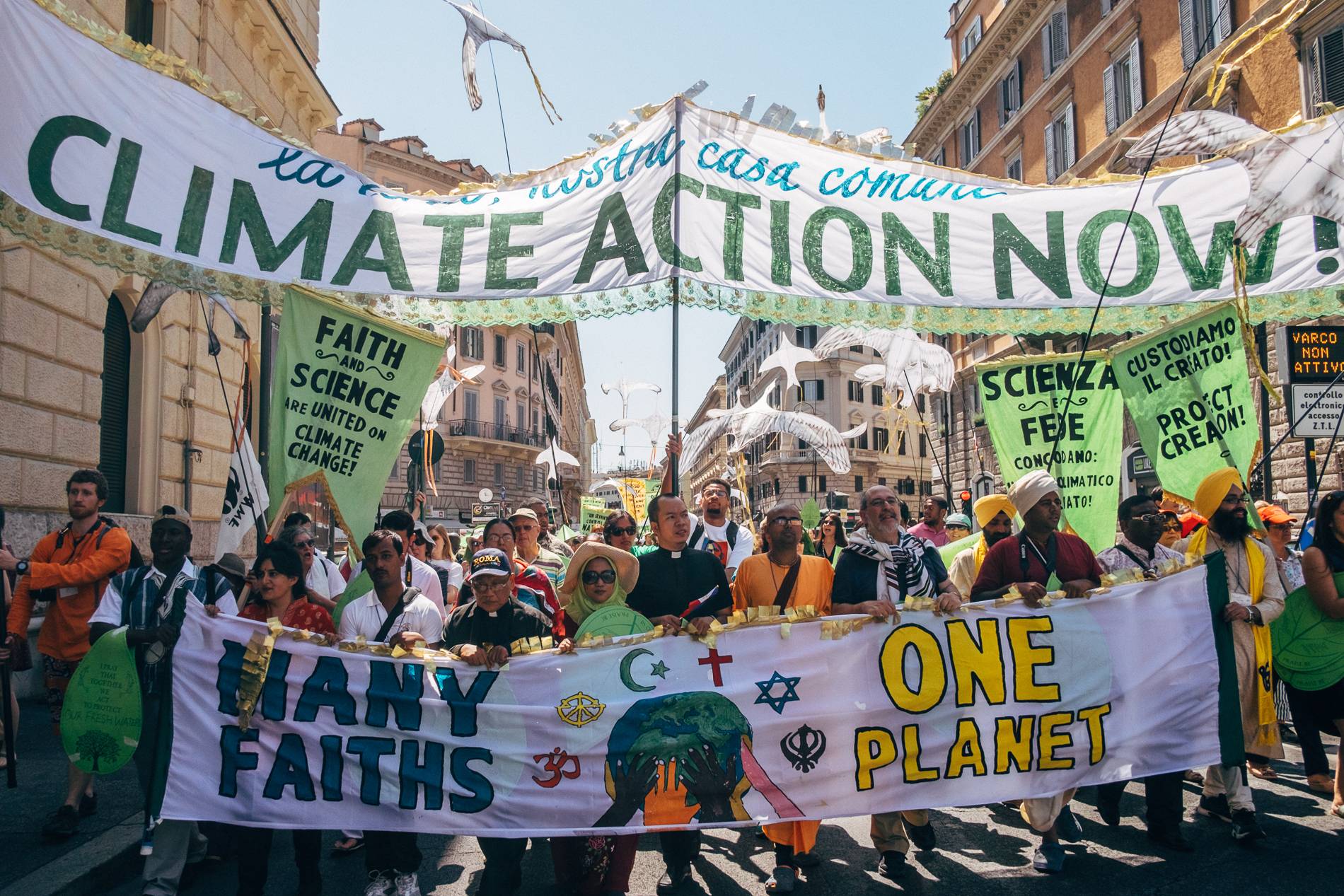 On an unseasonably warm morning, leaders from the Hindu American Foundation (HAF) and Hindus from around the world joined 5,000 participants of numerous faiths to march towards the Vatican, urging action against climate change from Pope Francis, religious and government leaders, and the global community. Participants flooded St. Peter's Square with bright banners, large paper birds, and hundreds of paper leaves with prayers of their intention to care for the environment.
After the march, HAF participated in Green Faith and Our Voice's Emerging Leaders Multi-Faith Climate Convergence, which brought together over 120 young leaders from across the world who use faith to motivate action towards climate change. I was fortunate to receive a full scholarship to attend this five day conference and to help represent the Hindu American community along with Hindus from the US, UK, India, and Fiji.
Over five days, I worked with my fellow conference attendees to tackle the issues of climate change and discuss how faith inspires us to act. We came together and shared the roadblocks we faced, whether it be within our community or government. From there, we developed action plans for tangible projects and goals to overcome those hurdles. These projects ranged from educating young adults in the classroom about their responsibility towards the environment to building a self-sufficient, eco-friendly school in India. Many of these action plans showed a fiery passion for the climate. I, along with our partners at the Bhumi Project and the International Society of Krishna Consciousness (ISKCON), set out to publish a statement detailing how Hindus can use scripture to promote compassion towards nature.
This Convergence of young leaders saw individuals from all religious, cultural, and socioeconomic backgrounds, coming together out of concern for our environment. Many participants shared stories of how climate change personally impacted them. One of the most poignant stories came from a young Fijian Hindu woman named Betty, who implored the group for sand. Along with her friends and family, she has witnessed her island and surrounding islands slowly disappear because of rising sea levels. All she could ask for was sand to buy them time.
While much of this conference could have been dedicated to griping about the current situation, we all sought action to lessen these problems. After Betty shared her story, many approached her asking how they could help. One gentleman from Atlanta asked how he could leverage his connections in the business and entertainment sectors to get her sand. It didn't stop there, a group of DC environmental advocates, including myself, approached her about holding a Congressional briefing to discuss the very real impact of climate change on island nations. This was the nature of the group – see a problem and try to find a grassroots solution.
As I continued to hear these moving stories, I thought about the many ways in which climate change impacts the Hindu American community and why we should act. Then, I was reminded another story of personal climate change.
A fellow conference attendee spoke about his childhood in India, where he lived along the Ganges. After coming back as an adult, he saw that the once raging holy river was reduced to a sand bed and trickling stream in his town. To imagine some of Hinduism's most sacred sites disappearing was disconcerting.
In the Vedic times, our rishis recognized the need to have balance and harmony between humans and the environment.
Aum dyauḥ śāntirantarikṣaṁ śāntiḥ
pṛthivī śāntirāpaḥ śāntiroṣadhayaḥ śāntiḥ |
vanaspatayaḥ śāntirviśvedevāḥ śāntirbrahma śāntiḥ
sarvaṁ śāntiḥ śāntireva śāntiḥ sā mā śāntiredhi ||
May peace radiate there in the whole sky as well as in the vast ethereal space everywhere. May peace reign all over this earth, in water and in all herbs, trees and creepers.
May peace flow over the whole universe. May peace be in the Supreme Being Brahman.
May there always exist in all peace and peace alone.
– Yajur Veda 36.17
As someone who turns to scripture to determine how I lead my life, I knew there was no avoiding my responsibility towards the environment. Our scriptures, along with Betty's heartbreaking plea for sand, motivated me to be a more vocal advocate for the environment.
In my personal life, it was easy to make small adjustments that are better for the environment. Buying local, recycling, and using renewable energies were simple ways to reduce my carbon footprint. Yet when I thought about what I could do through HAF, I knew the impact could be far larger.
Through the power of the Hindu American community, I plan to work with HAF chapters on green initiatives they can implement locally. Working alongside the strategic partners I met at the conference, I hope to highlight to lawmakers the very real impact climate change has had on numerous communities. Finally, by continuing HAF's partnership with the Bhumi Project, we can engage the youngest Hindu Americans on how they can be advocates for the environment through the Bhumi Pledge.
Reflecting upon this overall experience, I'm reminded of a quote shared with me during the conference: "We don't inherit the world from our ancestors, we borrow it from our children." As advocates for our community, let us ensure that there is a clean healthy world for us to give back to our children.