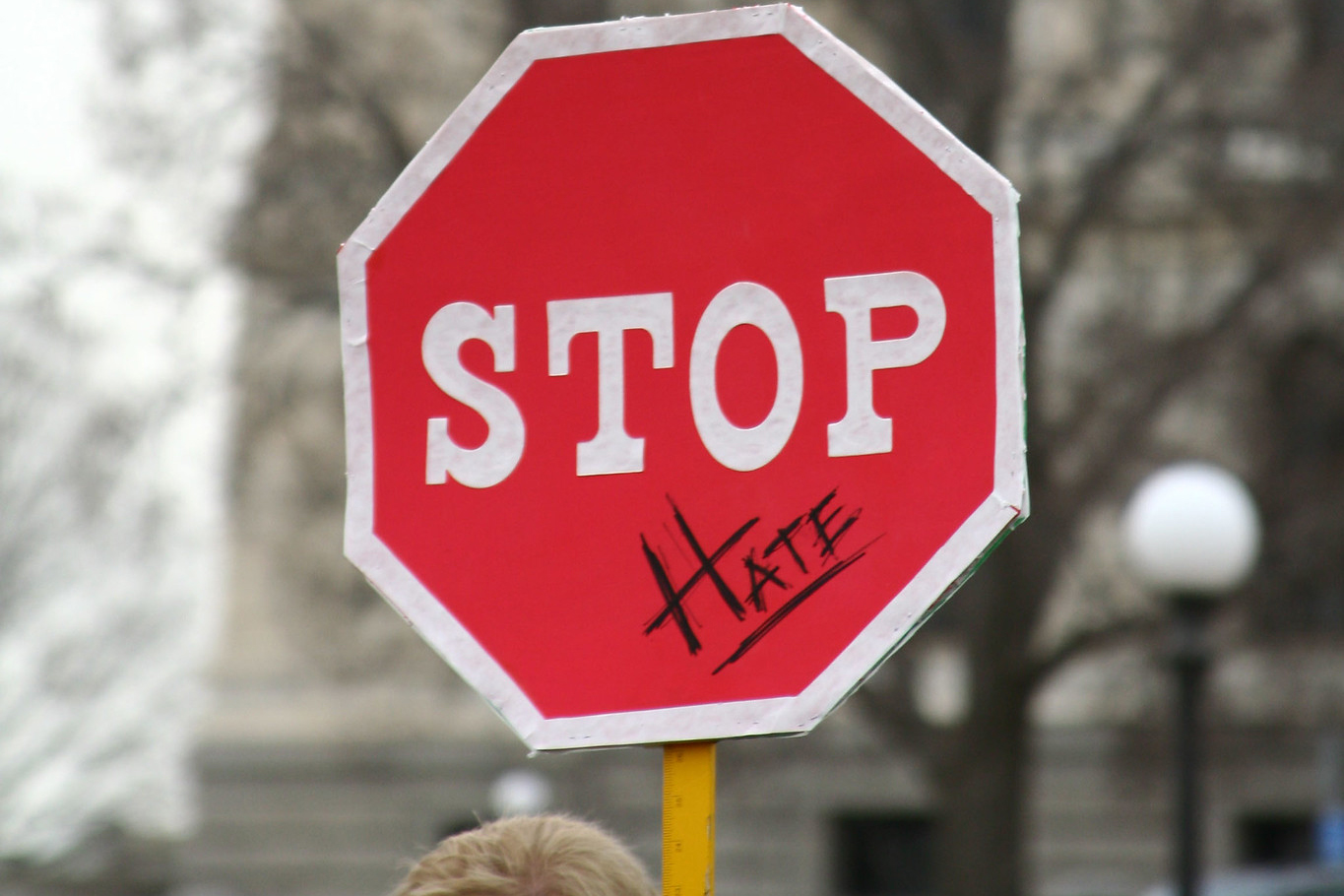 Hindus in America are reeling, a community now on edge. In the past several weeks we've witnessed four hate crimes across the nation. 
Two attacks occurred in August, when vandals twice broke into the grounds of a Hindu temple in Richmond Hill, New York and repeatedly took a sledgehammer to a statue of Mahatma Gandhi, while repeating anti-Hindu slogans. 
A week later, a Hindu man ordering a bean burrito at a Taco Bell in California was assaulted by man who spit at him, mocked his vegetarian diet and let loose a flurry of invectives. "You f*****g ugly ass Hindu… Cow urine, that's what you shower in," he screamed. 
Nearly simultaneously, a viral video shows a woman in Texas approaching Hindu women of Indian origin, without provocation threatening to shoot them, yelling, "Go back to India, we don't want you here, I hate you f******g Indians."
In the midst of this, on India's Independence Day, a few business owners in Edison, New Jersey included in a local parade a bulldozer with photos of Indian political leaders. This was perceived by some as an endorsement of those leaders' alleged anti-minority policies. The incident was used to target unrelated Hindu American temples, organizations, and even student groups, as somehow complicit. That those business leaders claimed no Hindu motivation for their actions and apologized, didn't matter.
Hate crimes deploying well known anti-immigrant slurs and Hinduphobic rhetoric are not new to New Jersey, where dozens of "Dotbuster" attacks of the late 1980s shook our community. 
Despite this history of attacks on Hindus, we lack an accurate understanding as to the prevalence of anti-Hindu attacks. The FBI only recently began tracking anti-Hindu crimes as a separate category.
At the root of these attacks and slurs are centuries-old racist, colonial stereotypes that paint Indians as bizarre, immoral, and cruel. Sometimes the attacks are captured on video, but often they're more subtle. 
On the right, Hindus are considered collaborators in the "great replacement" or seen as heathens. On the left, Hindu American institutions and individuals are demonized, as after the ill-conceived parade float, through fear-mongering about an imagined Hindu threat of global takeover. We're labeled "Hindu supremacists," alleged to have dual loyalty to the Indian government and even falsely accused of funding violence in India. 
Social media also fuels physical attacks and is increasingly an unsafe space for Hindus. A recent report by Rutgers University's Network Contagion Research Institute found that "derogatory posts toward Hindus [are] present in subcultural social media platforms including 4chan, Telegram and Gab," and that, "anti-Hindu memes, hashtags and slogans [are] growing prolifically across these fringe online platforms as well as Twitter."  
Ironically, though this anti-Hindu disinformation report was released at Rutgers, Rutgers-Newark is often at the center of a spate of this disinformation.  
Last year, Hindu students at Rutgers protested against a Rutgers-Newark professor, Audrey Truschke, who joined other scholar-activists in denying that Hinduphobia even exists, and released a "field manual" which fear-mongers about the dangers of Hindu students espousing "Hindu-centric ideas." When she posted on Twitter that a revered Hindu deity is a "misogynist pig," her response to Hindu students feeling targeted was to gaslight them saying they were doing the bidding of India's ruling political party. Shocked, Rutgers University's Student Assembly passed a rare resolution acknowledging the reality of Hinduphobia, and the university administration reportedly made efforts to understand student concerns. 
All of this has real world consequences. Dehumanizing Hindus allows for prejudice and bias to manifest in different ways, including the hate crimes we witnessed.
But sometimes acts of hate galvanize change. Political leaders have weighed in, calling out Hinduphobia and the anti-Indian attacks, as have Hispanic leaders and Armenian Americans. And Hindu Americans are increasingly defending themselves, either by speaking up for themselves or taking those who defame them to court.*
Hate and fear are rooted in ignorance. But when social media, and even those entrusted to educate, exacerbate divisions, we must call it out and demand better. 
*Professor Audrey Truschke, mentioned in this piece, is a co-defendant in a pending lawsuit for defamation and conspiracy to defame filed by the Foundation.
This article was originally published on September 13, 2022 on NJ.com.