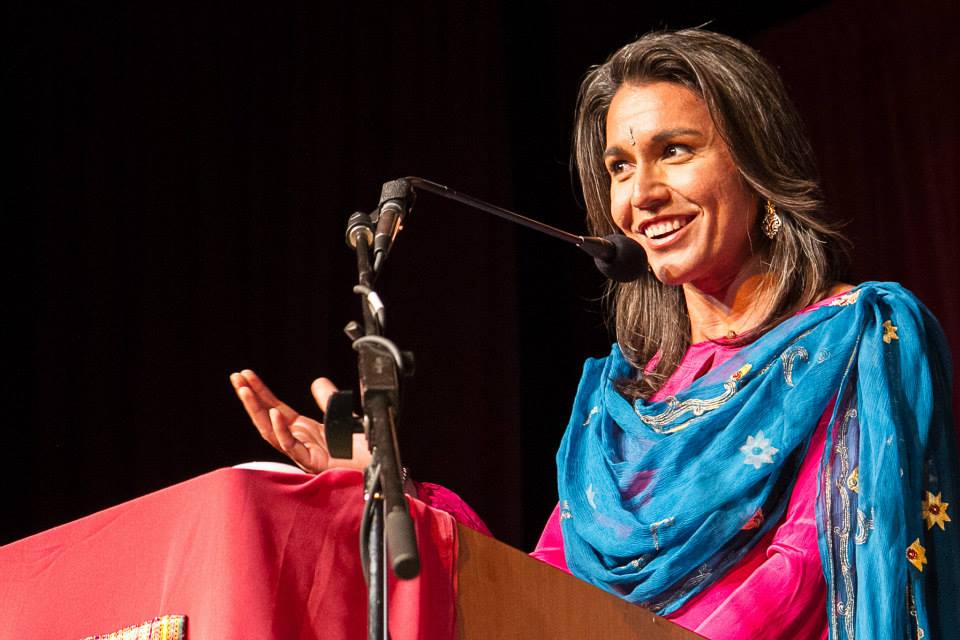 UPDATE: Editor, Jeffrey Goldberg, has failed to correct the misrepresentations and errors made in The Atlantic article referenced below.  He has also refused to respond to a coalition letter signed by 41 representatives of prominent Hindu and Indian organizations sent January 27th and followed-up upon several times thereafter.
The Atlantic has long been respected for its well-reasoned articles and moderate views of the world. But every once in awhile there's a piece like The GOP's Favorite Democrat Goes to Syria by Krishnadev Calamur, where innuendo trumps insight.
An American congressman making an unannounced trip to Syria is indeed newsworthy, as is any difference of opinion she may have with the prevailing US policy promoting regime change. But what is not is Calamur's insinuation of malfeasance because of Rep. Tulsi Gabbard's (D-HI) religion. The illogical leaps he takes in order to correlate an American alt-right with India's center-right by way of Gabbard being Hindu falls far below the Atlantic's ordinarily high quality journalistic standards.
There are several instances in the article where such leaps are made. Calumur's first reads:
"Gabbard's worldview aligns closely with Trump's stated foreign-policy positions: For instance, she says she believes Assad should remain in power while the U.S. targets ISIS (as does Trump)."
Here Calamur attempts to set the scene of Rep. Gabbard, the anomaly — a holder of a worldview, readers learn in later lines, that can only be the product of her being Hindu.  But she is not the only Democrat whose views on Syria align with the new president and many of his supporters. The fact is her views are shared by a number of other members of Congress on the Democrat's side of the aisle. Recently Senators Tim Kaine (D-VA), Joe Manchin (D-WV), Claire McCaskill (D-MO), and Jeanne Shaheen (D-NH) have all expressed a need to reassess US policy vis-a-vis Syria.
He goes on to write:
"She has also lauded Narendra Modi, the Indian prime minister whose political party draws inspiration from Hindu nationalism and some of whose members have been linked to anti-Muslim violence (Trump called Modi a "great man.")"
Yes, Tulsi Gabbard has met with India's prime minister, Narendra Modi — as have dozens of other American lawmakers. Many travelled to both New York City's Madison Square Garden and California's Silicon Valley to attend massive Indian American community welcome rallies for the immensely popular leader.  Congressmen from both sides of the aisle and members of the Obama Administration have also visited India to demonstrate their commitment to expanding the US-India strategic partnership.  President Obama met with Modi eight times in the last four years, described his relationship with Modi as one of his highest foreign policy priorities, and even called to say goodbye during the last days of his presidency.  
That Calamur connects Gabbard with Modi as if this occurred in isolation betrays the broad-based welcome and cooperation between the US and India's leader.  Moreover, the specific mention of anti-Muslim violence in the same breath as India's ruling party proffers a tired and lazy stereotype that to be Hindu is reflexively to be anti-Muslim.
Calamur continues:
"And, much like Trump and his supporters, she has criticized President Obama over his reluctance to calls ISIS an "Islamic" group, saying the president "is completely missing the pointing of this radical Islamic ideology that's fueling these people.""
This statement is rather ironic for an article appearing in The Atlantic.  Graeme Wood's  What Isis Really Wants,  Caner Dagli's The Phony Islam of Isis, and Simon Cottee's What's the Right Way to Think About Religion and Isis have all sought to elicit deeper understanding and thoughtful debate on the role of Islam, or lack there of, in the ideology of ISIS throughout the pages of the Atlantic. ISIS' interpretation of Islam is also an ongoing conversation within the Muslim community, many members of which would agree with the representative. What a reader should expect is a plurality of perspectives on a very complex topic.  But by presenting Gabbard's critique in this way, Calamur takes one step further in advancing his stereotyped thesis — that a Democrat could only hold such a view — one that is held as he implies by other Islamophobes like Trump and his supporters — because she is Hindu.
And then comes multiple overt attempts to malign Gabbard's (and her family's) religious beliefs:
"The elder Gabbard, a Republican turned Democrat, is a practicing Roman Catholic, but has been tied to an extreme form of Hinduism that has been called a cult. Her mother, Carol, is a practicing Hindu, and Gabbard converted to the religion while in her teens. "
It's interesting that Gabbard's criticism of President Obama in not calling ISIS an "Islamic group" is worthy of censure by Calamur, but he sees no bigotry in referring to the Congresswoman's family's Hindu religion as 'extreme.' First, what place does the religious identification of the parents of an adult elected representative have in any serious political commentary? Second, Calamur resorts to linking to discredited stories to bring up this completely irrelevant point in order to imply dark motivations to the Congresswoman.  From various reports, Gabbard considers herself to be a part of the larger Gaudiya Vaishanava sect of Hinduism that boasts millions of adherents around the world, and promotes selflessly serving the greater good, and cultivating a loving relationship with God.
"The congresswoman has been a vocal advocate against the persecution of Hindus, especially in Muslim-majority countries, but denies she supports Hindu nationalists groups in India."
Calamur equates concern for the persecution of minority Hindus as support for Hindu nationalist groups in India.  By his calculation then, UN Human Rights Office of the High Commissioner, US State Department, United States Commission on Religious Freedom, both the Senate Foreign Relations Committee and House Foreign Affairs Committee, and well known human rights groups including Amnesty International, Human Rights Watch, Center for Inquiry, the Hindu American Foundation, and countless others must also support Hindu nationalists groups since they've expressed concern for persecution of Hindus and other minorities in countries like Afghanistan, Bangladesh, and Pakistan.
Here are some statistics for Calamur to consider:
The Hindu community in Afghanistan, which was estimated at 200,000 in the 1970s, is now nearly extinct, with between 3,000 and 7,000 Hindus and Sikhs remaining after years of violence and persecution. Many of the Hindus and Sikhs that fled the country continue to endure problems as refugees.

In 1947, Hindus constituted nearly 30% of Bangladesh's population. By 1991, an estimated 20 million Hindus were "missing" from Bangladesh. Today, Hindus comprise less than 9% of the population. Islamist parties routinely engage in violent street riots, forced economic blockades and shutdowns known as "hartals," and carry out large-scale attacks and targeted killings on religious minorities and secular activists.

The Pakistani Hindu community now constitutes less than 2% of the population compared to 15% at the time of Partition.  They and other minorities are subjected to constitutional and legal discrimination, systematic violence, bonded labor and economic exploitation, and social prejudice. The education system fosters hatred and intolerance towards non-Muslims, including Hindus, Christians, and Jews, while promoting violent jihad. And an estimated 1,000 Christian and Hindu women are abducted and forcibly converted to Islam every year. Often, after being abducted, these girls are forcibly married to unknown men, raped, sold off, or forced into prostitution.
"Gabbard also denies her religion has shaped her opinion of Islam, telling Quartz that her views were shaped by "serving in the Middle East." "
This is where Calamur finally comes out and clearly states what he has insinuated all along — that to be Hindu is to be anti-Islam. Which Hindu teaching would Calamur argue shapes Gabbard's "opinion on Islam," considering Hinduism's theological commitment to pluralism and acknowledgement of the existence and legitimacy of multiple religious paths?  Or Hinduism's long history of co-existing, and at many points throughout history, surviving, with Islam throughout South Asia?
Calamur takes one more wild shot, saying:
"Gabbard is reportedly a favorite of Steve Bannon, the former CEO of Breitbart News…"
So too are Bernie Sanders and Elizabeth Warren, according to the same report Calamur cites in which Bannon praises Gabbard. It doesn't matter that the context of Bannon's statement is simply that the three are in each their own way outsider figures. But these are inconvenient endorsements in Calamur's failed attempt to connect dots that don't exist.
Though presented as a simple statement of facts that Gabbard has broken rank with her party on regime change in Syria, there is something much more insidious woven through Calamur's piece — an attempt at linking the motivations for Gabbard's policy beliefs solely to her religious beliefs. In the end, what the US Constitution prohibits, Calamur freely imposes — a religious test on the first Hindu to serve in the US Congress.  That kind of reporting is better reserved for the tabloids, or better yet, fake news, not The Atlantic.