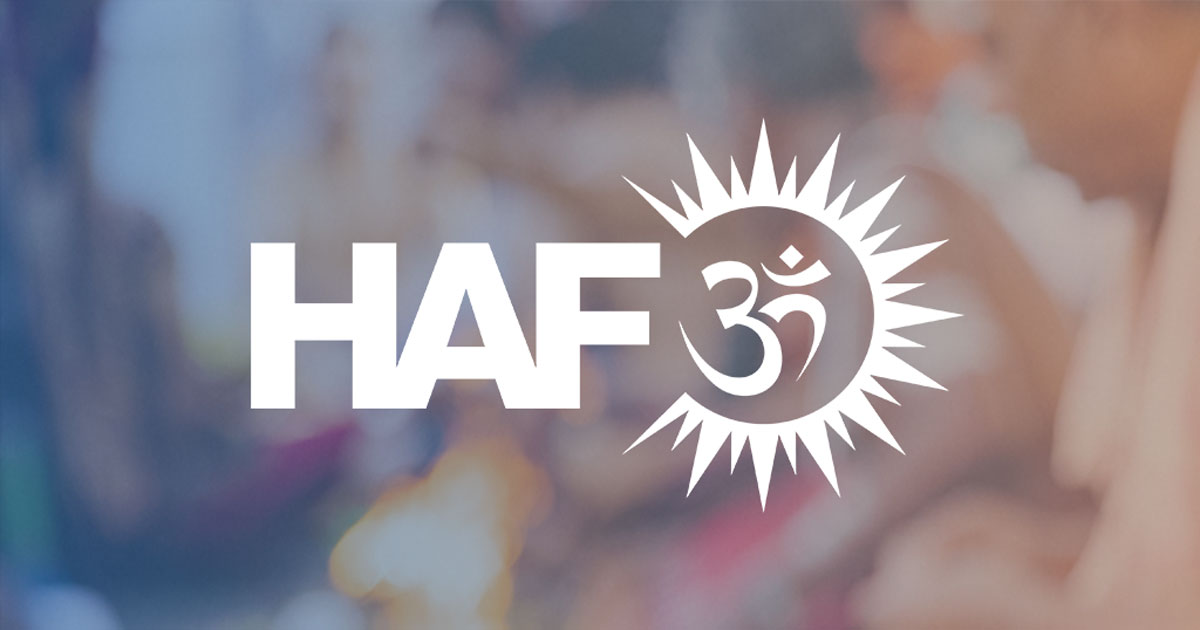 The following piece is by Lea Silverstein, a joint  intern this summer at HAF and the National Council for the Social Studies.
Working at two different offices are two completely different experiences – or so I thought. I quickly realized that working in two contrasting environments with similar missions provided me with a chance to make a bigger impact through several outlets.
I had a pretty clear idea of what to expect from my time at the Hindu American Foundation. I thought that I was going to be the outsider who wouldn't know what anyone was talking about; the one that the interns, in addition to the staff, would judge because of my lack of knowledge; and lastly, that I would not be able to explain Hinduism to someone else. Well, lo and behold, all of that proved to be false.
I knew this was not going to be the case when I was given the "Hinduism 101" presentation my first week. I started asking a lot of questions during the presentation and started apologizing every time I asked something. Finally, the Associate Director of Programs, Aesha, said, "Don't apologize for what you don't know." This statement had a big impact on me because I realized that this was central to my work. The teachers that the Hinduism 101 trainings would be given to are in the same situation as I was. They would be doing this program because they saw its mission as essential, and that is the same reason why I wanted to intern at the Hindu American Foundation. In my short time here, I've become a "Dharma Ambassador", or an official representative to teach about the Hindu religion. I've researched, read, and presented about Hinduism enough that I feel I can provide teachers with resources they need to teach Hinduism better in public schools.
I thought my start at the National Council for the Social Studies would be the opposite from that of the Hindu American Foundation. This was partially because this was not new territory for me. I have worked for associations before, I've been studying social studies the past 4 years, and I had even recently become a member of NCSS. Despite all of this, I have still been presented with new challenges that started from day one. On my first day, I was already contacted by teachers asking for advice about how to engage their online communities. The next day I was talking to them on the phone about resources, best practices, and more. What I had previously thought about the slower nature of association work was definitely proven wrong.
These two organizations intersect in many ways. For example, NCSS and HAF both had "advocacy days", in which interested parties gathered in D.C. and Maryland to speak with their elected representatives about important issues. I was fortunate enough to attend one or more of these events and learned a great deal about the Hindu American community, social studies teacher community, and even the Hindu American social studies teacher community. The lesson of utmost importance I learned was that advocacy does not turn into direct change overnight. Were senators going to draft up legislation the minute you left those Congressional meetings? No. While that goal would have been nice to accomplish, the more attainable and just as important goal is to establish yourself as a resource. This way, staffers know who to contact for resources, information, and current events related to the topic. You are enabling them to form legislation based on the information that you gave them!
Both organizations, while might look different on the outside, are quite similar on the inside. They both have established themselves to act as a resource to both the community as well as the government (local and national); both have several stakeholders to please, including donors, members, and boards of directors; and perhaps most importantly both advocate for a better American education. While I have only been with these two organizations for a short time, I have already learned how to collaborate and help two organizations accomplish their missions.