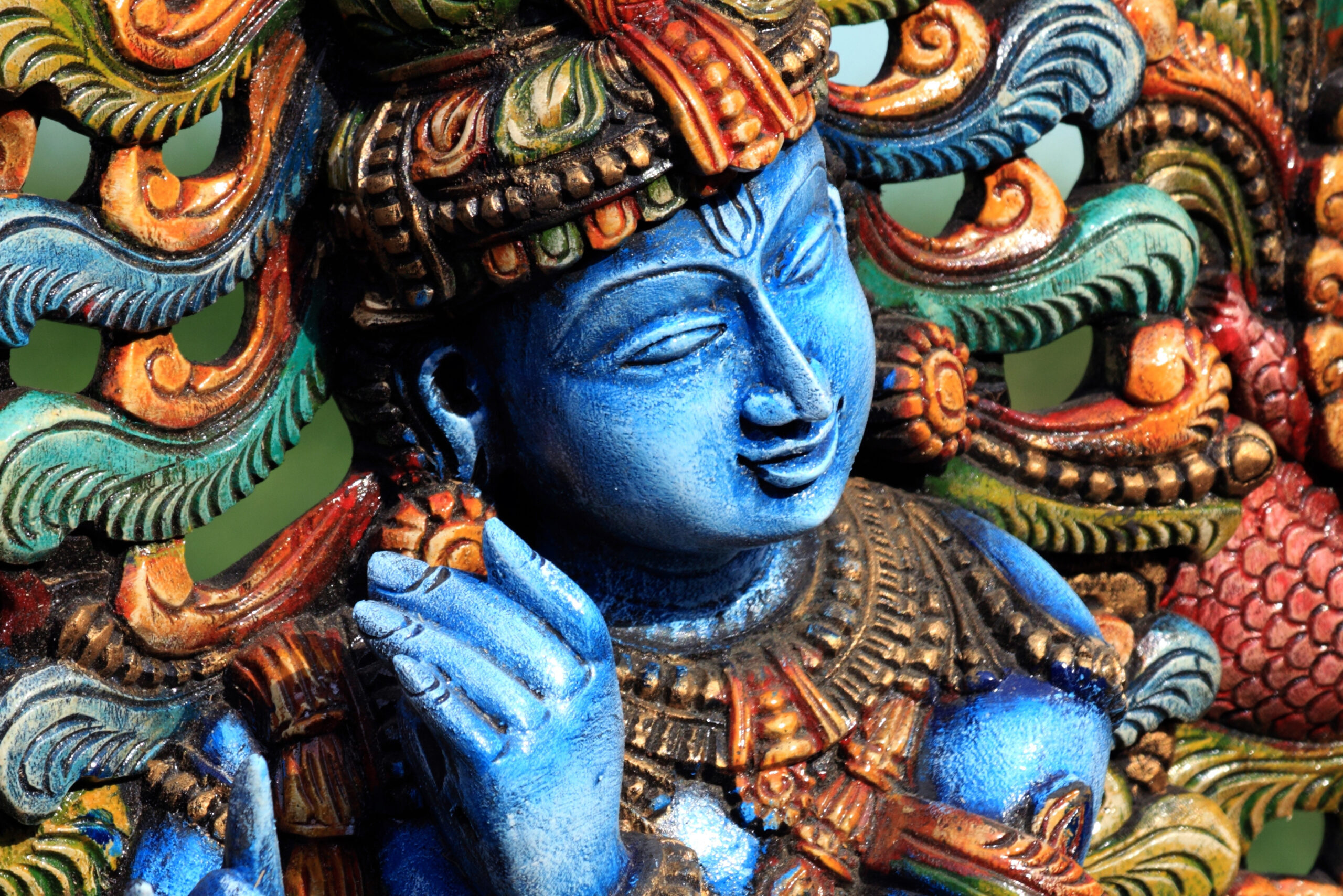 1) He is known as the "all attractive" one
In some traditions, Krishna is seen as an avatar of Vishnu (the god of preservation), who descends as an upholder of dharma, or righteousness, during a time of great moral peril. Depicted with a darkish complexion, he is among Hinduism's most popular deities, and so the common translation of his name is "black," even if linguistically, there's no direct correlation.
From the Sanskrit root meaning "to attract," his name also translates as "all attractive." For the traditions where he is viewed as more than just an avatar, but as the supreme divine being from whom all of creation manifests, emphasis on this translation is especially placed.
Said to possess all of life's opulences to a limitless degree, he is the embodiment of sweetness, charm, and more importantly, unconditional love. Maintaining the appearance of an ever-fresh youth, his earthly pastimes, in addition to protecting virtue, are meant to attract all into his association, in whatever capacity best suits the individual.
Like a tender father who wants nothing more than to have a loving relationship with his children, Krishna does all he can to facilitate these relationships, while still giving everyone the free will to move towards or away from him as they please.

2) His childhood pastimes are especially cherished and celebrated
While Krishna is believed to take on numerous appearances in his goal of preserving dharma and connecting with others, many consider his original form to be that of a young cowherd boy, who lives in a village known as Vrindavan.
His childhood home, the simple setting is absent of the responsibilities and distractions Krishna assumes in his other manifestations, and therefore optimally conducive for what he desires more than anything: bhakti yoga, or the uninhibited exchange of devotional acts in their most earnest, attentive, and personal display.
In fact, the countless pastimes that take place in the village are meant for the sole purpose of promoting such exchanges from his family and companions, who are his best devotees.
Hoping to follow in their footsteps, others on the path of Krishna bhakti also worship Vrindavan's residents, placing a special focus on Radharani, his eternal consort, and foremost servant. Radiating a boundless depth of love that mystifies even Krishna, her devotional acts illuminate the heart, elevating the village's sacred magnificence to the pinnacle of spiritual reverence.

3) He is the speaker of the Bhagavad Gita
Upon completing his childhood pastimes in Vrindavan, Krishna left the village and became a city monarch, performing many noteworthy deeds, though none more famous than that found in one of Hinduism's great epics: The Mahabharata.
Narrating a dynastic struggle between two groups of cousins vying for the crown of a ruling capital, the story builds towards an impending war, with the virtuous Pandava brothers forced to take up arms if they want to win back a kingdom that was stolen from them. Though they are fully equipped to defeat the enemy, the opposing army is filled with their family and friends, so Arjuna, the most skilled warrior among them, becomes plagued with doubts as the battle is about to commence.
Faced with the prospect of slaying so many of his loved ones, he despondently turns to Krishna, who has been a loyal adviser and friend to them all, and asks if the throne is really worth the cost. Motivated by envy, their cousins might be in the wrong, but surely the crime doesn't justify fratricidal bloodshed. Thus filled with grief, he casts his weapons aside, falls to the ground, and spirals into a sort of existential crisis.
Seeing him in such a state, Krishna begins a dialogue with Arjuna, offering answers to fundamental questions about life, duty, the nature of reality, and the path to liberation. Explaining, ultimately, that every person is an eternal spiritual being who can find sacred harmony by performing their responsibilities in service to the Divine, he convinces Arjuna to surrender to the order of a higher power, and fight in faith that it will be for the greater good of the world.
Known today as The Bhagavad Gita, or "The Song of God," the profound discourse is cherished as a timeless and universal text, distinct from The Mahabharata. Offering powerful insights that transcend the boundaries of religion, its impact has been remarkably far-reaching, inspiring people of all cultural backgrounds to humbly aspire towards Arjuna's spiritual example.

4) Some believe he incarnated roughly 500 years ago
Though Krishna concluded his earthly pastimes thousands of years ago, there are some who believe he came yet again, as Caitanya Mahaprabhu, a 15th-century saint born in West Bengal.
Said to be a uniquely magnanimous manifestation imbued with Radharani's unrivaled compassion, he is described as a combined incarnation of the Divine's masculine and feminine energies, making him a distinctly dynamic envoy of sacred devotion. Leading by his own example, he transcended all forms of religious tyranny, and expressed singular importance on calling out to God in deep earnestness by the free and open chanting of Hare Krishna, a mantra especially effective at evoking Divinity's munificent love.
Because music is a markedly potent vehicle of conveying raw intrinsic feeling, Mahaprabhu taught that the pinnacle of such chanting is reached through kirtan, or the process of eliciting one's spiritual feelings in song to the Divine. And not just alone, but with others, for the emotional strength of a group is ever more palpable and moving than that of the lone singer.
Thus today, Gaudiya Vaishnavas, the lineage of devotees who follow Mahaprabhu, continue his legacy by enthusiastically practicing kirtan throughout the globe. The International Society for Krishna Consciousness (ISKCON), a spiritual movement that is part of this lineage, has been exceptionally prolific, boasting hundreds of temples and centers worldwide, in which all are welcomed to participate, regardless of who they are, or where they come from.

5) His birth is celebrated on Krishna Janmashtami
As one of Hinduism's most popular festivals, Krishna's birth is honored by people all over the world in various capacities depending on their cultural customs. And though each celebratory form adds to the rich spiritual depth exhibited during the holiday, because Vrindavan is Krishna's most cherished home, extra attention is given to the way it observes the occasion, with particular pomp and splendor.
Home to thousands of temples, the village becomes abuzz with the bustling influx of pilgrims, the lively chimes of bells, and the stirring strains of kirtan, as festivities begin 10 days prior to Krishna's actual birthday. Buildings and homes are adorned with fresh marigolds, jasmine, and other fragrant blossoms, and sacred offerings of incense, sandalwood paste, camphor, and rosewater add to the aromatic blend, soothing the heart and enlivening the senses. Gurus, teachers, and priests conduct public readings from texts like The Bhagavad Gita and Bhagavat Purana, absorbing all in the appropriate devotional spirit in preparation for the climactic event, while regular dances and dramas displaying Krishna's pastimes help to do the same.
And when the day finally arrives (the one leading up to his birth at midnight since ancient India didn't consider it a new day until dawn), this spirit is taken to another level, with many choosing to fast as a way of controlling and focusing the senses in deeper meditation.
Eventually, Radha and Krishna's murtis (deity forms) are publicly bathed by temple priests in an auspicious ceremony called abhisheka, before being hidden from view and dressed in new outfits. Eager to see them again, devotees are rewarded when the clock strikes 12. The altar curtains are drawn back, and the deities give Krishna's birth-time darshan (auspicious sight) to the exuberant scene of kirtan, dance, and prayerful abandon.
Afterwards, everyone enjoys a sumptuous feast of prasada (sacred food blessed by the deities), bringing the colorful day to a triumphant close, and those who couldn't be there find solace in one fact: that the festival isn't about extravagance. It's about Vrindavan's mood, which can be replicated anywhere, provided one has the right devotional intention.
If you enjoyed this piece, then you may also be interested in reading "5 things to know about Radharani"