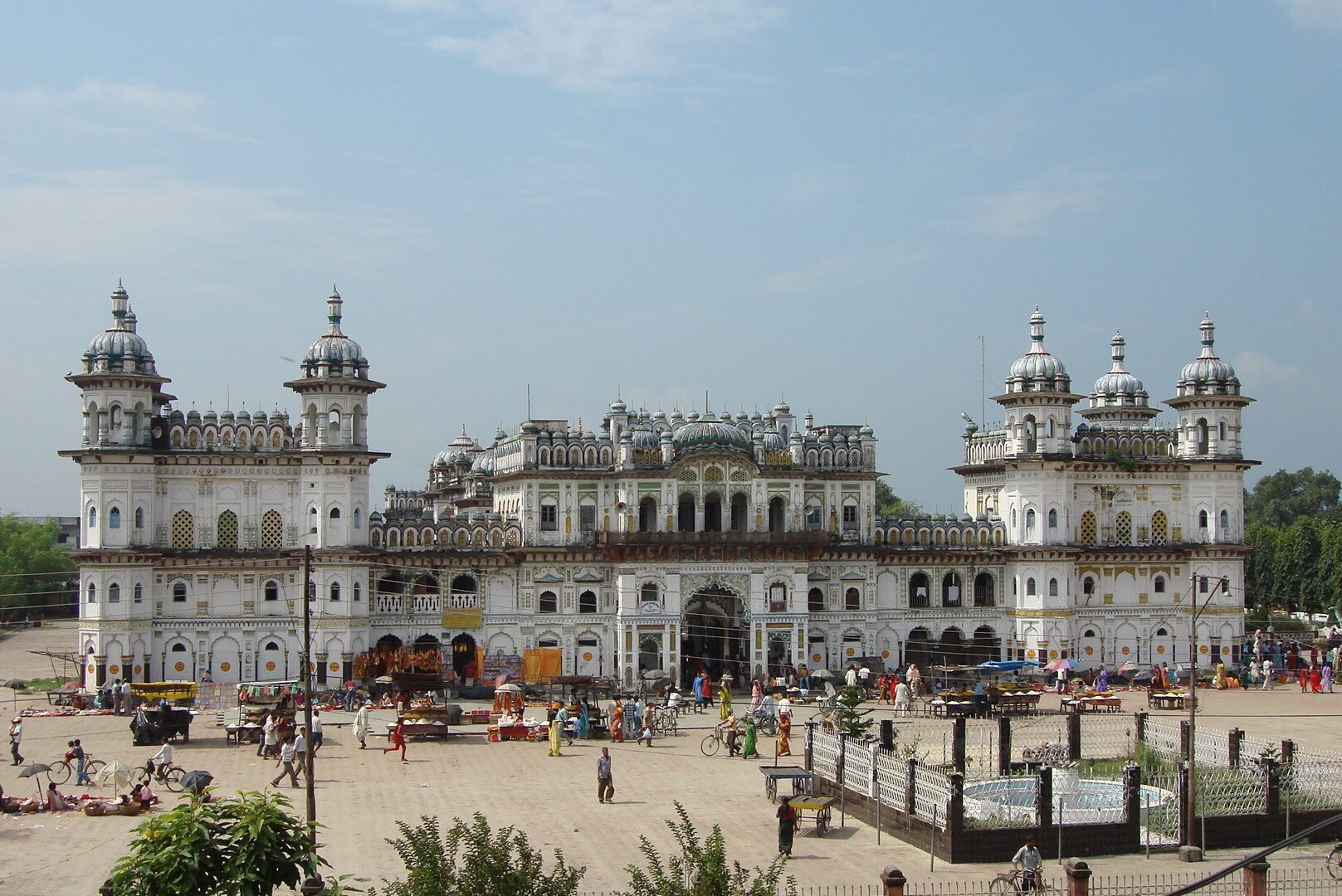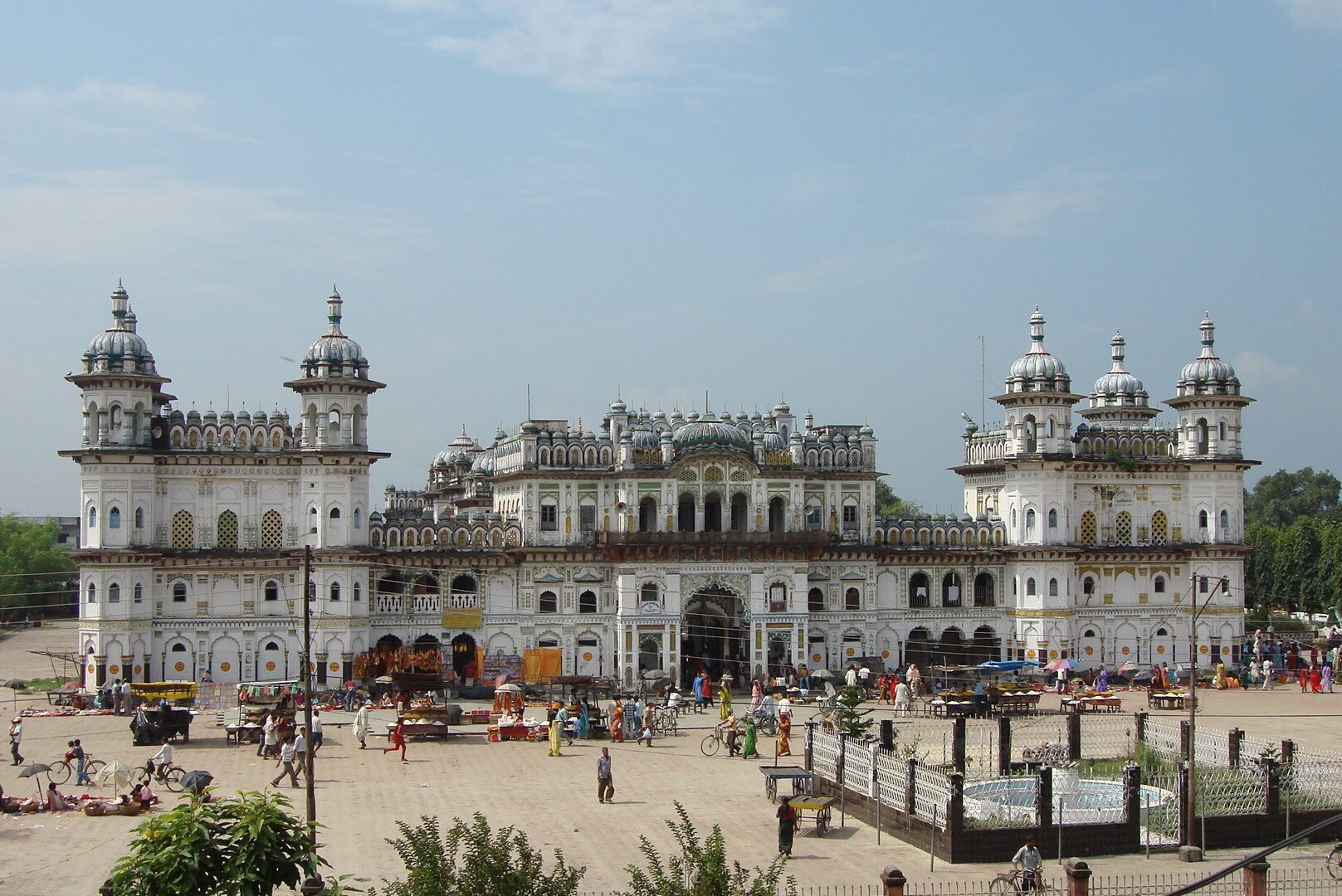 "Time is inevitable" — a truth we often read in books, hear in movies, and see play out around us in unforgiving fashion. It is the great subduer, described as being undefeated in its onslaught of change, bringing all things to an inexorable end.
Sometimes, however, there are places we encounter that seem to defy this truth, that continue to persist in the face of time's inexhaustible waves, manifesting in more than one era for eyes of multiple generations to behold. 
In the Dhanusha District of Nepal, Hindus believe one can find such a place, the city Janakpur, known today as capital of the country's Madhesh Province, but said to have once been the capital of a great and ancient kingdom called Mithila.
Enclosed on the north by the Himalayas, on the east by the Kosi river, on the south by the Ganges, and the west by the Gandaki river, Mithila, as conveyed in Hindu texts, was ruled by the Vaidehi dynasty, of which the kings held the title Janak, hence the name of its capital, Janakpur.
As recounted by Richard Burghart in his 1978 essay The Disappearance and Reappearance of Janakpur, in the 23rd generation of this dynasty, Mithila became afflicted by a great drought, and so the Janak of that time, King Seeradwaja, desperate to gain the blessings of Indra, the god connected with rain, decided to perform a great sacrifice in his honor.
It was in the process of this great sacrifice, as Seeradwaja turned the soil with a golden plough, that something miraculous happened: there, lying in the furrow, he discovered a beautiful baby girl. Immediately overcome by affection, he picked her up, took her home, named her, and made her his daughter, raising her as princess of the kingdom.
For those who aren't familiar with all the details of the Hindu epic the Ramayana, this princess was none other than Sita, the goddess of the great epic. To make a long story short, when Sita came of age, she was married in Janakpur to Rama, the divine incarnation of Vishnu.
Later, while living in the jungles of the Vindhya mountains after Rama was exiled from his home in Ayodhya where he was supposed to inherit the throne, Sita was kidnapped by the powerful Ravana who, deluged by her beauty, wanted her for himself.
Rama, of course, with the help of his brother Lakshman, the mighty Hanuman, and an army of  vanaras (the race of intelligent forest dwellers Hanuman belonged to), found Ravana and defeated him in battle. Rescuing Sita, the couple returned to Ayodhya, where its citizens welcomed Rama with open arms, as he triumphantly took his rightful place as king.
As for Janakpur, Hindu texts say it continued to be ruled by the Vaidehi kings until many years later, when a great war (known today as the culmination of India's second epic, the Mahabharata) brought an end to the dynasty.
Destroyed by the opposing army, the remains of the city were engulfed in jungle, as the auspicious site of Sita's birthplace disappeared from the eyes of the world, becoming in the minds of many, nothing more than an imagined obscurity of the ancient past.
Naturally, such obscurity was not destined to last, for in the 16th and 17th centuries CE, when the practice of Rama worship spread throughout the Ganges basin, so did a desire to discover the various sacred sites connected to his beloved pastimes.
And for a while it seemed this desire was being satiated, as many of these places, like Ayodhya (Rama's birthplace), and Chitrakut (where he, Lakshman, and Sita spent 12 years of their exile), were indeed found and established as sites of pilgrimage.
Yet, as the years rolled by, and the location of Janakpur continued to remain a mystery, it seemed fate was playing a cruel trick on Rama and Sita's devotees, depriving them of a most cherished spiritual sanctuary.
It eventually became apparent, however, that fate was merely taking its time, waiting for the right people to come along, one's whose devotional longings were so potent, that Rama and Sita could not help but reciprocate, and in ways that were most extraordinary.
The first two devotees to become recipients of this reciprocation, according to the oral testimonies of various bards and pandits, were ascetics named Chaturbhuj Giri and Sur Kishor, both of whom arrived at the ancient site of Janakpur during roughly the turn of the 18th century CE.
In Giri's case, it's said he traveled to northern Mithila to find a place of solitude in the region's wilderness so that he could deepen his focus of devotion to Rama and Sita by further disciplining his mind, body, and speech.
One day, while taking a break in the course of his journey to sleep under the shelter of an old banyan tree, Rama appeared to him in a dream.
"Where you now lie sleeping," Rama told him, "is the land on which the ancient city of Janakpur once stood…Before departing for Ayodhya after my marriage with Sita, I gave to my father-in-law four images of myself so that he might gaze upon them to help ease the pain of our separation. These images lie buried in this ground. Raise them up so that they can once again be gazed upon by those who wish to obtain release from this transient world of dualities."
Initially overwhelmed with joy at the sound of his beloved deity's voice, Giri quickly became dejected.
"How can I serve you in this lonely jungle," he replied. "I do not have the means by which to build you a palace or offer you nice meals. When devotees, hearing of your presence, eagerly travel to this place to seek your divine vision, but quickly realize how poorly you live, I will hang my head in shame." 
Rama, whose sustenance is derived not from opulence, but only from the sincere love of his devotees said, "I will be content with whatever you're able to offer me — be it some water, fruits, or even a handful of uncooked rice. If it's brought to me by a devotee, then these things will be more than sufficient."
Encouraged by Rama's words, Giri woke up and swiftly began digging. Quickly discovering the described murti tangled in the roots of the banyan tree, he erected them in the shade of that same tree, and immediately began his worship of them.
Kishor, on the other hand, is said to have already had within his possession an image of his beloved deity, a murti of Sita as a maiden. Treating her with the affection of an uncle, he carried her with him wherever he went, be it the temple garden to pick flowers for weaving, or the local bazaar where he would lovingly ask her which sweet she wanted.
Though his devotion was immense, he felt unsettled in his service, believing it was only in Janakpur, the city of her father, where Sita actually spent her youth, that he would be able to most appropriately worship her in the form of a maiden. One day, while muttering these thoughts to himself, the murti of Sita unexpectedly responded.
"Leave me here and go to the land enclosed by the Himalayas, Ganges, Kosi, and Gandaki," she said. There, when I reappear to you, you will know you have found the fulfillment of your desire, the place of my father's kingdom."
Eager to follow Sita's instruction, Kishor did as he was told, losing no time in setting out for the described location alone. Sometime after reaching the jungles of northern Mithila, he stopped for rest under a margosa tree. There, as he sat to soothe the aching of his feet, the murti of Sita he had left behind suddenly emerged from the ground, soothing the aching of his heart
Knowing he had found the destination of his desire, Kishor jubilantly began singing, expressing his devotion to Sita with a renewed and most powerful vigor. She was finally where she belonged. And so was he.
Not long after Giri and Kishor discovered ancient Janakpur — it's uncertain who discovered it first — other ascetics, anxious to experience it for themselves, also followed. It's believed that cowherds and shepherds, who would bring their herds and flocks to the area due to its greener pastures during the spring months, sometimes came across the ascetics residing there.
Beholding the deities for themselves, the cowherds and shepherds, upon returning home, would tell the people of their villages about the discovery of Janakpur. As more and more seekers thus began visiting the sacred site, word of its existence soon reached the king of Makwanpur, the ruler of those lands.
Intrigued by what he heard, the king made his own trip to Janakpur, where he was given the opportunity to offer worship to the deities of Rama and Sita himself. After several such visits, he eventually bestowed on the ascetics rights to manage the income of the land on behalf of the deities. 
Soon, much of the jungle was cleared and the land was cultivated, the rent from which was used to build temples and facilities for visiting pilgrims. Reluctant to leave the spiritual sanctuary, many of these pilgrims opted to stay, building homes near the monasteries. As more immigrants arrived and turned to trade, a bazaar was established. Thus, the city of Janakpur, in its new incarnation, began taking shape.
Though these stories surrounding the reemergence of Janakpur gladden the hearts of devotees worldwide, inspiring them to deepen their own devotional practices, there are those outside of the Hindu faithful, obviously, who give little credence to such tales.
Archaeological evidence reveals, in fact, the larger region Janakpur was rediscovered in wasn't all just desolate jungle as the bards and pandits claim in their stories, but had already been settled by a medley of agricultural Hindu chieftaincies, leading many to theorize that Janakpur too was probably already settled.
Because there's no evidence that can confirm whether this theory is actually true, the best one can do is recognize the possibility that Janakpur was inhabited before Giri and Kishor's arrival, and that the two of them could have just verified a local tradition, which they then spread to others.
Whatever the case, nothing can take away from the reality that Janakpur has grown into a most remarkable spiritual destination over the centuries. Now a hub of religious and cultural tourism, the city is home to more than 70 Hindu temples, the foremost of which is the 60-roomed and three-storied majestic Janaki Mandir, dedicated to Sita.
Hosting thousands of visitors every year, the temple's devotees are a reminder that the power of a pilgrimage site is not manifested by any particular location, but by the sincere devotion of those who reside there.
As long as such devotees exist on this earth, so will Janakpur, even when the waves of inexhaustible time does all it can to wash it away.