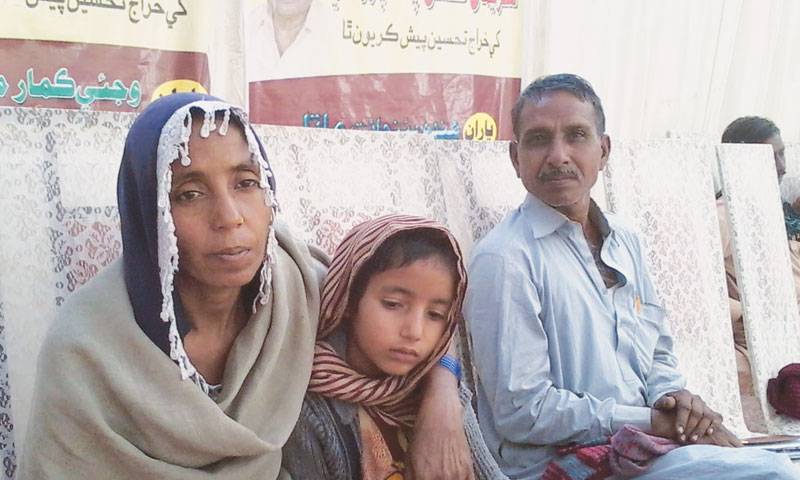 Recent news headlines have rightly been focused on the barbaric kidnapping of more than 200 high school girls in Nigeria. Human rights activists, women's rights groups, celebrities, and politicians alike have all spoken out forcefully and unequivocally against the savagery of Boko Haram, the al-Qaeda inspired terrorist group responsible for the abductions.  The collective outrage against Boko Haram's heinous acts has even inspired a global #BringBackOurGirls campaign and has led to the deployment of American and British military advisors in Nigeria to assist in the search operation for the girls.
Strikingly, such campaigns and voices have largely been absent from the public discourse surrounding a similar phenomenon that has been taking place in Pakistan for a number of years now.
While the scourge of sexual violence, honor killings, and the Taliban's merciless attacks on girls like Malala Yousafzai are all too familiar to international observers of Pakistan, little is known about the pernicious practice of abducting and forcibly converting non-Muslim girls to Islam.
The Hindu American Foundation (HAF) has been one of the few organizations comprehensively documenting these occurrences over the past several years in its annual human rights report. The Foundation's latest report, entitled Hindus in South Asia and the Diaspora: A Survey of Human Rights 2013, points to an alarming trend of an estimated 1,000 Christian and Hindu girls kidnapped and forcibly converted to Islam every year, with approximately 2,000 abducted in 2011 alone.  These girls are subsequently married off to Muslim men, often two to three times their age, or sold into sexual slavery.
Although it is the same odious and radical ideology motivating the actions of religious extremists in both Nigeria and Pakistan, there is an important distinction.  In contrast to the seemingly spontaneous nature of Boko Haram's kidnappings in Nigeria, the pattern in Pakistan is highly sophisticated, organized, and systematic, and in many cases, abetted by the state.  Furthermore, in Pakistan, these incidents occur steadily and consistently month after month.
In the southern province of Sindh, for example, where the majority of the country's dwindling Hindu population resides (Hindus officially comprise less than 2% of the total population, down from 15% in 1947), approximately 20-25 Hindu girls are abducted and forcibly converted every month.
A disproportionate number of the victims are mere children, some as young as six years old, such as Jumna, who was kidnapped along with her ten year-old sister, Pooja, while selling clay toys and utensils door to door in Mirpurkhas, Sindh.  After their abductions, the girls were taken to a mosque and converted to Islam, and then forced to live with a Muslim man, Rajab Pathan.  Fortunately, the girls were recovered from Pathan's home and Jumna has been reunited with her family, although Pooja still remains separated from them while a court inexplicably deliberates her fate.
As the uncle of another kidnapping victim so aptly stated, "What do children as young as Jumna and Pooja know about Islam and their own religion for that matter that they'd want to convert? This is the height of injustice."
In a recent Deutsche Welle article, Pakistani human rights activist, Ramesh Jaipal, described the role of mosques and seminaries in perpetuating these practices as follows, "Hindu girls are converted under the patronage of religious outfits.  All the abducted girls from Sindh are brought to Bhurchandi Sharif shrine [a Sufi Muslim shrine] which provides legal aid and protection to the kidnapper and plays a key role in the conversion and marriage of under age girls."
Mosques and seminaries, however, cannot successfully churn out converted Hindu and Christian girls like a well oiled machine without the connivance of state institutions, including the police and the judicial system.
Rather than assist desperate Hindu and Christian parents recover their stolen daughters, the police actively deter them from filing criminal complaints, often colluding with the abductors to threaten and intimidate the victim's family into silence.
And in the event that a police investigation is initiated or a case makes it to court, conversion and marriage certificates issued by a mosque are accepted without question, thereby disregarding the girl's age, the involuntary nature of the conversion, and other extenuating circumstances.  To make matters worse, during pending trials, parents are frequently prevented from seeing their daughters, while the abductors and their heavily armed supporters are given unfettered access to the victims.
As a result, unlike Jumna, the vast majority of kidnapped girls in Pakistan never make it back home. In fact, most are never seen or heard from by their families again.
So as the international campaign to bring back Nigeria's kidnapped girls continues, let's not forget about the thousands of "Missing Girls" in Pakistan too.  #BringBackOurGirls